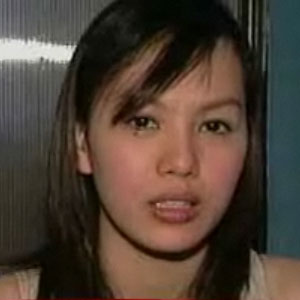 ---
Sex Bomb dancer Cynthia Yapchiongco was mugged by thieves last November 2, Sunday, while waiting for a taxicab on Sapphire St., Ortigas, Pasig City.
It was past eleven at night and Cynthia was waiting for a cab. She was all alone. Suddenly, a group of men carrying sharp weapons approached her. The thieves grabbed Cynthia's cell phone and began dragging her to a waiting tricycle.
It seemed like an easy hold-up, except that the assailants didn't know how tough the Sex Bomb Dancer could be. She fought back.
In an interview with 24 Oras today, November 5, Cynthia related how she fought it out with the muggers.
"Yung isa, hawak ang paa ko, yung isa hawak ang kamay ko," narrated Cynthia. "Lumalaban talaga ako at hindi ko binigay phone ko. Hinihila nila ako papunta sa isang itim na tricycle na walang plate number at walang bubong."
The muggers got away with Cynthia's phone, but they gave up on dragging the dancer to the getaway tricycle. The scuffle left Cynthia with cuts on her left arm, a bruised right knee, and small cuts on the left side of her stomach.
ADVERTISEMENT - CONTINUE READING BELOW
With the 24 Oras team, Cynthia proceeded to the Eastern Police District earlier today to report the hold-up. The officer in charge, SPO1 Ronald Rioja, assured Cynthia that the police would conduct a follow-up operation on the incident.
Cynthia was just glad that she got out alive. The only thing troubling her now is the trauma from the incident.
"Sobrang na-trauma na ako," Cynthia said weeping. "Ayoko na lumabas mag-isa. Takot ako sa dilim... sa gabi hindi ako makatulog. Sobrang nakakatakot."