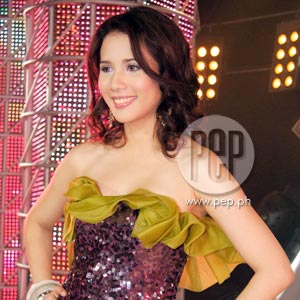 ---
Singer-actressKarylle granted an exclusive interview with Philippine STAR's Ricky Lo thatcame out today, November 9. Karylle, herself a columnist in the said dailybroadsheet, talked about her recent breakup with Dingdong Dantes afterthree years of going steady.
Karylle revealedthat "the breakup happened end of September." Although, before that, she saidthat they were still "trying to fix things." But in the end, they both decidedto end their relationship.
As for the cause ofthe breakup, Dingdong said that it was "conflict of priorities" in his previousinterview. As for Karylle, she said, "There were many reasons that can't besummed up in just one statement...It's only the two of us whoknow everything. People won't get the whole story."
But Karylle remains positive despite the breakup. She saidto Ricky: "You know, whatever happened, I just think of the three years that wewent steady and the things I learned from it. And the beautiful memories."
While others choose to forget whatever memories they havebefore a breakup, like burning pictures, Karylle decided to put all her pictureswith Dingdong in one album and keep it on a shelf.
ADVERTISEMENT - CONTINUE READING BELOW
"I was treasuring the beautiful memories," Karylle said. "Ididn't throw the pictures away; hindi ko naman sila pinunit. Otherwise, itwould be like I'm throwing away memories. Ayoko naman gawin 'yon. Sayang angmemories. 'Yon na lang ang aalalahanin ko."
Karylle also clarified impressions that she is still indenial, since she took time to talk about her breakup with Dingdong.
"It'shard to talk if you are not yet ready, baka kung ano pa ang masabi mo," she explained. "I decided to take the road less traveled. Should I just cry and cry?Iiyak na lang ba ako nang iiyak? I didn't do that."
Instead, she went into counseling and on a retreat.
"It did me a lot of good. I'm thankful to the priest whosuggested that I do that. It gave me time to think things over. I was finallyable to sleep soundly."
Karylle said that she already had three breakups. But sheconsiders her breakup with Dingdong "times 10" more painful.
ADVERTISEMENT - CONTINUE READING BELOW
Karylle explained, "Because you know why, we had good timestogether; ang ganda rin kasi ng pinagsamahan namin. So, mahirap...well, hindinaman talagang mahirap... I just really took my time. You know, it's hard tofake things, to tell yourself 'I'm okay, I'm okay' when you know very well thatyou're not okay. 'Yon ang in denial."
Although talks about Karylle's breakup with Dingdong hadbeen going around for a few weeks before their actual confirmation, Karylle stilllooked perfectly okay. She appears on SOP and performs in the musical playWest Side Story as if nothing's wrong between her and Dingdong.
Karylle said that the reason could be all the good things happening to her.
She related, "During the retreat, one of the questions was,'What are you most thankful for? Give me seven.' You know, five of the sevenhappened just recently, the blessings. One of them is the realization na maramirin pala ang nagmamahal sa akin."
ADVERTISEMENT - CONTINUE READING BELOW
When Ricky asked Karylle if she is now moving on, shereplied: "I won't say, 'Moving on.' I'd rather say, 'Moving forward' para masmabilis, mas visual."
But Karylle refused to answer Ricky's question aboutthe possibility of getting back together.
When asked if Dingdong was faithful to her, Karylleanswered: "He said he never cheated on me and I trusted him."
Did she believe him?
"Well, I trusted him," Karylle repeated.
Karylle and Dingdong said in their previous interview withRicky that there was "no third party involved." The Philippine STARentertainment editor asked Karylle again if this is true.
"Basta, all I can say is that I asked him and he said,'None.' Kanino pa ba naman ako magtatanong? So, I trusted him with thatanswer," Karylle replied.
Are Karylle and Marian Rivera okay? Marian has been Dingdong'sonscreen partner for over a year now, and some people say that Marian might bethe cause of the breakup.
ADVERTISEMENT - CONTINUE READING BELOW
Karylle said that she always makes it a point to say 'Hi' toMarian every time they meet.
"Kahit isang daangtao pa ang nakaharang, nakikipagsiksikan ako just to say 'Hi!' to her," saidKarylle, adding that Marian says "Hi!" in return.
In her recent interviews, Marian denied any involvement inthe breakup of Karylle and Dingdong. She also insisted that she has no romanticrelationship with Dingdong.
What can Karylle say about this?
"Ewan ko!" she said with a laugh. "I don't know. Isang taolang naman ang dapat kong tanungin at 'yon ang sagot niya. So, 'yon lang 'yon.Yung iba pang alam ko, sa ibang tao ko na nalaman."
ADVERTISEMENT - CONTINUE READING BELOW
Last Friday, November 7, it was announced that Karyllehas decided to leave GMA-7 and move to ABS-CBN. Some showbiz experts say that Karylle's transfer is also a way for her to move on, since Dingdong and Marian are considered to be the hottest love team in GMA-7.