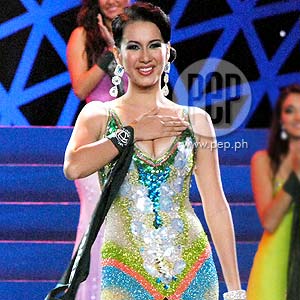 ---

Karla Paula Henry, the country's representative for the MsEarth pageant was crowned as Ms Earth 2008. She won over Ms Tanzania, MiriamOdemba who was chosen as Ms Earth Air.
The young Cebuana lass bested 84 other contestants at thecoronation held at Casino Filipino in the Clark Expo Amphitheater in Pampanga.Ms Mexico, Abigail Elizalde Romo was Miss Earth Water and Tatiane Alves of Brazil washailed Ms Earth Fire.
The show was hosted by international singer Billy Crawford,together with Riza Santos, who represented Canadain the 2006 edition Ms Earth and Priscilla Meirelles Almeda, Ms Earth 2004winner who represented Brazil.
The candidates of Miss Earth had been touring the Philippines andcreating environmental awareness among Filipinos and millions of people in othercountries.
Before the pageant proper began, the winners of the specialprizes were announced. Karla Henry had claimed her prize as Miss Photogenic. MsPanama, Shassia Ubillús, was hailed best in nationalcostume. Ms Mexico was best in Swimsuit. Venezuela's DanielaTorrealba was best in long gown. Ms Australia was best in talent Andrea Carolina León of Ecuador was chosen as MissFriendship.
The coronation proper began when the 85 contestants werethen whittled down to 16. The line-up called representatives from Mexico, Spain,Thailand, Poland, Brazil,Philippines, Nigeria, CzechRepublic, Colombia,Romania, USA, Russia,Tanzania, Korea, Venezuela,and Switzerland.
The top 16 displayed their shapely figures in theirswimsuits. From there, they were once again trimmed down to the final 8. Thosecalled were Spain, Brazil, Tanzania,Philippines, Venezuela, Colombia,Mexico and Switzerland.
The remaining candidates were elegant in the evening gown paradebut only four had to be chosen to go on to the final round. And these were Mexico, Philippines,Brazil and Tanzania.
ADVERTISEMENT - CONTINUE READING BELOW
The clincher question for the pageant that host BillyCrawford asked, "If you had the chance to speak the newly-elected US presidentBarack Obama about the state of our global environment, what will you tellhim?"
The 21-year old Karla Henry said, "For me, what I would tell thenewly-elected president of the United States, being one of the most powerfulcountries in the world, I would encourage him to use the environment or toimplement environmental knowledge in the curriculum of all schools, whether inthe United States or in the Philippines. Environmental knowledge is somethingall of us must share. But most importantly, we must teach the youth for itsomething we should instill in them so that in the near future they will be theones to take care of our mother earth. I firmly believe in the saying that thechildren are our future."
Her answer was greeted with cheers from the enthusiastichome audience.
Miss Earth, considered to be one of the three big beautypageants in the world, is produced by Carousel Productions and broadcast onABS-CBN last night, November 9.