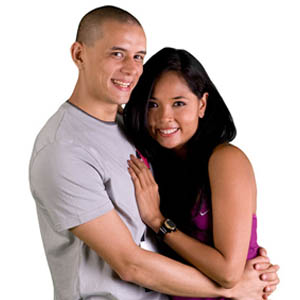 ---
Dating couple Geoff Rodriguez and Tisha Silang of the Philippines made itto the final leg of Amazing Race Asia 3 after finishing second in tonight'sepisode. Tisha and Geoff will join Malaysia's Ida and Tania, who stepped on themat first, and Hong Kong boys Vince and Sam, who came in third place, in the 11thand final leg.
The finale episode of Amazing Race Asia 3 will be aired nextThursday, November 20, in AXN.
Amazing Race Asia 3 is the third installment of the popularreality game show, which is actually a spin-off of the Emmy award-winningreality show Amazing Race. It is hosted by Singapore-based Chinese-American actor Allan Wu.
Geoff and Tisha now have the chance to becomethe first team from the Philippines to win Amazing Race Asia and the $100,000cash prize. They will also have the chance to erase or at least duplicate thethird-place finish of Marc Nelson and Rovilson Fernandez last season.
Geoff and Tisha are actually good friends with Marc and Rovilson.
ADVERTISEMENT - CONTINUE READING BELOW
At the start of the 10th leg, Geoff and Tishawere in third place; behind the teams from Hong Kong and Malaysia. In fourthplace was A.D. and Fuzzie of Singapore.
Geoff and Tisha were behind most of the 10thleg when they made some critical errors. First was when they failed to answercorrectly the year Mahatma Gandhi, India's major spiritual and politicalleader, was born (1869). Then, in Detour (a task that all teams must perform), both Geoff and Tisha had a hard timecounting the exact number of nuts inside a sack.
Luckily, all teams got lost going to the Roadblock (a task that only one member of the team can pefrorm) inMuscat, Oman, so Geoff and Tisha arrived there the same time as the otherteams. Geoff also finished the Roadblock easily, enabling them to come in second, behind the team from Malaysia.
The team from Singapore, which finished last, goteliminated.
Amazing Race Asia 3 started with ten teams from different Asian countries, including India, South Korea, and Thailand. After each leg, one team gets eliminated, although there are pre-determined non-elimination legs.
ADVERTISEMENT - CONTINUE READING BELOW
Throughout the race, Geoff and Tisha made some enemies mainly because of Geoff's attitude that turned off the other teams. It was also only Geoff and Tisha who chose to use the Yield and U-Turn against the other teams this season. A team that was yielded would have to wait for a pre-determined time before continuing the race, while the team that was U-Turned has to do the other detour that they did not previously complete.
Tisha was crowned Bb. Pilipinas-Universe in 1998 butresigned due to her Canadian citizenship. She also tried hosting before in someshows of GMA-7, including Mornings@GMA. Tishaalso had a relationship with TV host Paolo Bediones.
Geoff, on the other hand, was a member of the all-male groupPowerboys, which also included Jordan Herrera, Frank Garcia, Greg martin, and JaySalas.