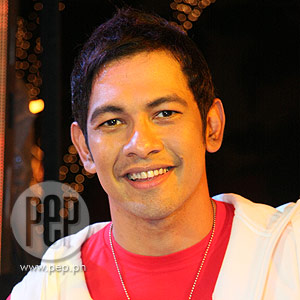 ---
Mr. Pure Energy Gary Valenciano's 25thanniversary concert—Gary V: Live at 25—goes onstage tonight, November 14 and tomorrow night, November15, at the Araneta Coliseum. This is a bigcelebration to mark the singer's 25th year in showbiz. It's certainlya milestone.
More than a culmination of his 25 years in entertainment,the concert is the start of big things to come. The music celebrity looksforward to his next 25 years as a singer and performer.
Gary will sing his hit songs and he will bejamming with some of the most popular bands. "I am going to have some of thebest bands in the industry as my guests," said Gary V in a recent interview. "I will be performing with Rivermaya, Sugarfree, Bloomfields, and Salamin.There are other guests we are getting."


After 25 years, his tag as Mr. Pure Energy sticks. "Energy could meananother type of performance, not necessarily onstage. It could be in front ofthe camera, on the big screen, or on the TV screen. And I am also lookingforward to doing other things, like teach music." He has won in the Awit and Aliwawards several times.
The energetic singer admits that he still gets thejitters before entering the concert stage, no matter that he has donethis a thousand times, in various places around the globe.
"Well, maybe it's not really nervousness, but more ofexcitement. After 25 years, what else can I do that I haven't done yet? Thereare so many things that I'd like to venture into but had nothing to do withconcerts. Music yes, but concerts maybe not. I am thinking, what else can I givethe public that I haven't done in the 25 years that I've been in the business."
"But Direk Rowell [Santiago] said that the point is, thepeople would go to the concert, wanting to hear my songs. But I countered I'vedone those songs many times. But Rowell says it doesn't matter. He says thereare really people who'd come and watch just to hear me sing their favorite GaryV song."
ADVERTISEMENT - CONTINUE READING BELOW
STILL GOT THE MOVES. At 44, and with 25 albums to his name, Gary V looks years younger than his age. It's amarvel how he is still able to do those awesome dance steps and moves. At times, he says, he has a hard time coping with his sonGabriel when they dance together onstage. So does he keep himself fit?
"I used to go to the gym. But I've been busy rehearsing forthe concert so I can't work out as much as I want too. But my doctor told methat I have to do something [physical activity] every day. I told him I ride mymountain bike Tuesdays, Thursdays and Saturdays. And when I ride my bike, Icover anywhere from 20 to 30 kilometers.
"My doctor said I have to program my body so that I am ableto do cardiovascular exercises every day. He said I can choose on which day I cando heavy cardiovascular exercises but I have to do something everyday."
He canride his bike around the village where he lives. Or he treks to the mountainsof San Mateo, which is near his place in Antipolo.
So, how would he describe Gary V after 25 years? "Wow! Stillthe same in many ways, thankful in many ways, and above all, blessed in manyways," he replied.
GARY AS FAMILY MAN. How is he as a husband? He and Angeli have beenmarried for 24 years.
"I don't like to rate myself because you might say I'mtoo hard on myself. On a scale of 1 to 10, I'd rate myself as 6," he said,which elicited a howl of protest from the group he was talking to.
"There are certain things and certain mannerisms that I havethat I feel, at times, I get insensitive because I tend to tell myself,Angeli knows me so, okay lang if I act this way. But I have to understand alsothat there are certain things that she'd like to do also that she can't dobecause she cares for me and she gives up her time for me," said Gary.
ADVERTISEMENT - CONTINUE READING BELOW
"Angeli's life is basically Gary and her children," he continued. "Even ifwe say she's a manager of many artists, her life is really her family. And Ifeel that I need to do the same with regards the priorities I have. That mypriority in life is first, God, and what comes up next is her, more thananything else. Sometimes I jumble around my priorities. That's why if you askme to rate myself as a husband, I'd say six. O sige na nga, seven!" helaughed.
With any relationship, Gary says that arguments surface once in a while.
"If there are no arguments, it seems you have anabnormal relationship. But those arguments make you learn from each other andgive you strength. But that's my personally analysis on me as a person, as ahusband and as a father," he explained.
What it is in his marriage to Angeli that has managed themto withstand the test of time? No intrigue has ever threatened to destroytheir relationship. No news about their marriage being in peril. No tsismis that Gary was womanizing or anything that would tend toundermine the union.
"I guess God sees my heart," he said. "He knows I am not perfect. Irely on Him for all of those things. Maybe also, I guess other people's livesare far more active in terms of coming out in front of the camera and being seenwith other people. Even if there's no relationship between this guy and thisgirl, yet if they are seen together, some people tend to conclude otherwise.
"Many times, the real standard of friendship during thesetimes is being doubted. I have to talk to my sons and to the young people inASAP that they have to be careful because things are not as they used to be."
But if there's one thing that Gary V is most happy about his life and career, that is the God-given opportunity be an instrument for changing lives through his music, anointed by the power of God. Gary'smusical history is rich with stories of people who found theLord by listening to his songs when they were in their most desperate situation.
ADVERTISEMENT - CONTINUE READING BELOW
On his 25th year, Gary prepares a spectacularshow for his avid followers, giving back the glory of his life andcareer to the Lord and Savior Jesus Christ. Gary V. Live at 25 is expected tobe the biggest and most historic concert event for the singer, even the ultimate concert perhaps to cap all anniversary shows this year.