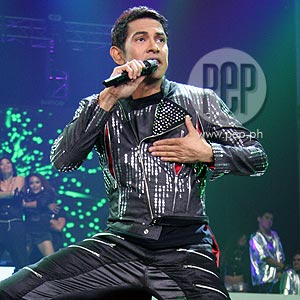 ---
Anniversary concertsare always a nice excuse to reminisce past glories. But Mr. Pure EnergyGary Valenciano made it very clear right from the start that he's equally, ifnot more, excited about what the future still holds for his stellar career. He'd rather thansit on his hard-earned laurels.
Last night, November14, Gary V proved that he is still on top of his game as hecelebrated his 25 years in the entertainment industry by dishing out theopening salvo of his two-night grand concert, Gary V: Live at 25, at the AranetaColiseum in Cubao, Quezon City.
The concert was the culmination of all the tributes given to Gary by friends and colleagues monthsbefore the big event—most notably the tribute album produced by Star Recordstitled GV 25 and Universal Records' latest offering, GaryValenciano: The Platinum Ballad Collection.
SHARINGTHE STAGE. Known for constantly reinventing hismusic, Gary and his team obviously tried their best to serve many songs aspossible that would best chronicle the singer's journey—a tricky task, givenGary's extensive catalog dating back to 1984 when he released his self-titled debutalbum.
ADVERTISEMENT - CONTINUE READING BELOW
The production teamwisely trimmed down the materials and selected tight numbers familiar toeveryone. As it turned out, the tunes rendered that evening best represent Gary'ssuccess, commercially speaking, for the past 24 years.
Gary opened the nightwith the upbeat number "Shout for Joy" before introducing his first guest, TheBloomfields. Again, Gary's choice of guests reflected the 44-year-old performer'sdesire to reach out and work with the young artists of today.
Rivermaya, Gloc 9,Sugarfree, Laarni Lozada, Rachelle Ann Go, Karylle, Jericho Rosales, ThePhilippine All-Stars, and the percussion super group Brigada—all put their owndistinct style on well-loved Gary V tunes.
As expected, theballads—"Kailangan Kita," "Narito," "Paano," and "Each Passing Night," to namea few—paired with Gary's passionate performance worked their magic on the crowd.His duet with Laarni, Rachelle Ann, and Karylle elicited loud applause from theaudience, owing to the ladies' impressive interpretation of the songs.
Paying homage to hismusic back in the '80s, the energetic singer-performer also dished out earlyhits like the coming-of-age anthem "Growing Up" (with Gloc 9), "Wag Mo Na Sana,"and "'Di Bale Na Lang Kaya" (with Jericho).
ADVERTISEMENT - CONTINUE READING BELOW
Although he gainedpopularity as a certified pop singer during his younger years, Gary bravelyshifted to inspirational music as a way to announce his newfound devotion as aChristian. "Could You Be Messiah" and "Take Me Out of the Dark" once againshowed that side of Gary.
GaryV: Live at 25 served as a family affair as well, withGary's children Paolo, Gabriel, and Kiana performing together with their proudfather.
MORETO GIVE. One of the highlights was Gary's public declarationof affection for his wife and manager, Angeli Pangilinan, whom Gary credited forsaving his life many times throughout his difficult battle with diabetes.
The crowd gushed in unison the moment Gary played the familiar notes of the heartbreakingballad "Sana Maulit Muli" on a keyboard. Unknown to most people, the couple collaborated onthe song, with Gary and Angeli sharing credits both for its music and lyrics.
Gary ignored his hoarsevoice near the tail end of the concert as he still let everything out singing "SaYahweh," "Only Hope," "I Will Be Here," and the Christian hymn "Warrior Is AChild."
ADVERTISEMENT - CONTINUE READING BELOW
His greatest test,however, was reserved for an unexpected "showdown" with the Concert King, MartinNievera. Back in the '80s, Gary and Martin were pitted against each otherthough both repeatedly dismissed the supposed rivalry as being merely generated by the media to create excitement. In a press conference before the concert, Garyhumbly said that Martin had always been a step ahead of him. Back when Gary was still feeling his way up, the Concert King already had huge venues and grand productions.
Gary performed Martin's signature hit 'Be My Lady."When Martin emerged from the back to join Gary, the entire Araneta Coliseumerupted in cheers ranging from excitement to complete disbelief. The tworespected singers took turns singing their songs without overshadowing each other. Gary capped the evening with the loveballad, "How Did You Know."
Throughout the concert,Gary often joked about how age has slowed him down and how difficult it is now forhim to keep up with the young ones when it comes to exchanging dance movesand hitting the high notes. Those remarks were definitely only self-effacing. Gary still has what it takes togroove and sing like he always used to. But more than proving his versatility,Gary V: Live at 25 illuminated Gary's unfading passion—and his heart—for never-aging music.
ADVERTISEMENT - CONTINUE READING BELOW