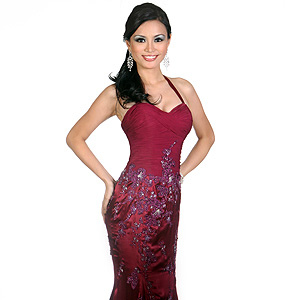 ---
Despite failing toclinch the 2008 Miss International Pageant title, Patricia Fernandez of thePhilippines still managed to make her countrymen proud after making it to thesemi-finals of the beauty pageant. The recently concluded event wasstaged last November 8 at the Venetian Hotel in Macau, China.
Patricia was joined inthe semi-final round by other representatives coming from Japan, Ecuador,Lebanon, Turkey, Venezuela, Puerto Rico, Poland, Colombia, Czech Republic,Spain and China.
Alejandra Andreu of Spain bagged the coveted crown while MissColombia, Maria Cristina Diaz-Granados Dangond emerged as first runner-up.
BEAUTYAND BRAINS. Patricia graduated from the Universityof the Philippines where she obtained a degree in BA Speech Communication. As forher hobbies, the pretty lass cited swimming, singing, and playing the piano assome of the activities she enjoys doing.
Before going to Macau to compete, asend-off party was organized exclusively for Patricia at the Mandarin Suites atGateway Mall in Cubao, Quezon City where she asked everyone to pray for her. Duringthe occasion, Patricia brandished her piano-playing skills before the guests while singing kundiman tunes.
She's also adept inspeaking Mandarin and Niponggo, and had months of extensive trainingat the Dale Carnegie Training—the celebrated UK-based personal and managementdevelopment institute.
Curiously, Patricia'sinterest in beauty pageants only intensified after she wrote a thesis on the subject. "It opened my eyes to this industry. Now I really wantto get the chance to represent the country," she revealed during an interviewconducted by the Bb. Pilipinas committee.
Patricia made known herintention to become a teacher someday by pursuing inter-cultural communicationstudies. "I think communication plays a big role inbridging the inter-cultural gap. If only we would be able to resolve this,people will be able to understand each other better," she stated in her profile.
ADVERTISEMENT - CONTINUE READING BELOW
ThePhilippines has produced four winners in the Miss International pageantsince its inception in 1960: Gemma Cruz-Araneta (1964), Aurora Pijuan (1970),Melanie Marquez (1979), and Precious Lara Quigaman (2005).