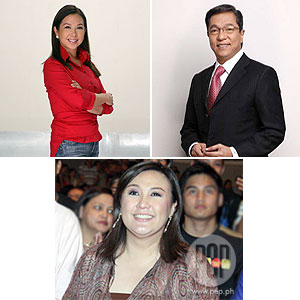 ---
ABS-CBN Broadcasting Corporation dominated thisyear's Golden Dove Awards given out by the Kapisanan ng mga Broadkaster ngPilipinas (KBP). The awarding ceremony was held at the Taal Vista Hotel inTagaytay City last Monday, November 17.
The Lopez-owned network amassed a total of 26trophies out of the 49 award categories, including the coveted Best TV StationAward, an honor they also earned last year. ABS-CBN's radio station DZMM bagged the award for Best AM Radio Station.
Veteran broadcaster Korina Sanchez bagged threeawards: Best Magazine Host for Television, Ka Doroy Broadcaster of the Year,and Best Public Affairs Host for Radio.
Korina's longtime co-anchor Ted Failon received the award as Best Television Newscaster for TV PatrolWorld. Ted and Korina's radio program Tambalang Failon at Sanchez, aired on DZMM, won the Best Public Affairs Program.
ABS-CBN's coverage of the Manila Peninsula Siege,which took place on November 2007, was hailed as Best Newscast.
Maalaala Mo Kaya'sepisode titled "Sako" starring Joshua Domingo took home the award forBest Drama Program.
ADVERTISEMENT - CONTINUE READING BELOW
Sharon won the Best VarietyProgram for the episode "World Class" shown last May 18. This episode featured Filipino talents who are currently making wavesabroad like Charice Pempengco, the Philippine All-Stars, and Lea Salonga.
Now on its 17th year, The Golden DoveAwards is an annual event organized by the KBP and is dubbed as "thecountry's answer to the international TV Emmy Awards."
GMA-7 is not a member of the KBP, thusexplaining the absence of their shows in all the categories.
Here is the complete list of winners in the 17th Golden Dove Awards:
Best Stations
BestTelevision Station: Channel 2 (ABS-CBN Broadcasting Corp.)
BestAM Radio Station: DZMM-AM (ABS-CBN Broadcasting Corp.)
BestFM Radio Station: DWJM / JAM 88.3 (Raven Broadcasting Corp.)
Best Programs
Television
BestNewscast: News Patrol "Manila Peninsula Seige" (ABS-CBN BroadcastingCorp.)
BestPublic Affairs Program: XXX, March 1,2008 episode (ABS-CBN Broadcasting Corp.)
BestGames/Variety Program: Sharon, "World Class'1, May 18, 2008 episode(ABS-CBN Broadcasting Corp.)
BestComedy Program: No Winner
BeatDrama Program: Maalaala Mo Kaya, "Sako" episode (ABS-CBN Broadcasting Corp.
ADVERTISEMENT - CONTINUE READING BELOW
BestCulture & Arts Program: Mag-TV Na Atin To! (DZRR TV3 Baguio)
BestChildren's Program: Sine Eskwela, "Global Warming" episode (ABS-CBN Broadcasting Corp.)
BestDocumentary Program: Runaways Human Trafficking, Mar. 25, 2008 episode (ABS-CBNBroadcasting Corp.)
BestScience & Technology Program: Matanglawin, "Mad Science" episode(ABS-CBN Broadcasting Corp.)
BestPublic Service Program: Salamat Dok (ABS-CBN Broadcasting Corp.)
BestMagazine Program: Matanglawin, "Barangay Maahas" (ABS-CBN Broadcasting Corp,
BestSpecials: Bantay Bata 10th Anniversary (ABS-CBN Broadcasting Corp.)
BestSports Program: UAAP Cheerdance Competition 2008 (ABS-CBN Broadcasting Corp.)
Radio
BestNewscast: RMN News (Radio Mindanao Network)
BestPublic Affairs Program: Tambalang Failon at Sanchez (ABS-CBN Broadcasting Corp.)
BestGames / Variety Program: Todo-Todo Walang Preno (ABS-CBN Broadcasting Corp.)
BestDrama Program: Radyo Balintataw (Manila Broadcasting Company)
BestScience & Technology Program: Doctors Online (DZAS Far East BroadcastingComp.)
BestChildren's Program: Usapang Pambata (Notre Dame Broadcasting Corp.)
BestDocumentary Program: Tabas ng Batas (Far East Broadcasting Comp.)
BestCulture & Arts Program: Radyo Balintataw (Manila Broadcasting Company)
BestPublic Service Program: DZRH Operation Tulong (Manila Broadcasting Company)
BestMagazine Program: Heard on Thursday (Audiovisual Communicator Inc.)
ADVERTISEMENT - CONTINUE READING BELOW
BestSpecials: Year-End Countdown Special '07 (Audiovisual Communicator Inc.)
BestSports Program: MBC Sports (Manila Broadcasting Company)
BestComedy Program: Countdown Top Seven (Audiovisual Communicator Inc.)
Best Personalities
Television
BestNewscaster: Ted Failon, TV Patrol World (ABS-CBN Broadcasting Corp.)
BestField Reporter: Nony Basco (ABS-CBN Broadcasting Corp.)
BestPublic Affairs Program Host: Sonia P. Soto (Central Luzon Bctg.)
BestPublic Service Program Host: Cherly Cosim (ABS-CBN Broadcasting Corp.)
BestMagazine Program Host: Korina Sanchez, RatedK (ABS-CBN BroadcastingCorp.)
BestScience and Technology Journalist: TJ Manotoc (ABS-CBN Broadcasting Corp.)
Radio
BestNewscaster: May Ortega (ManilaBroadcasting Corp.)
BestField Reporter: Noel Alamar (ABS-CBN Broadcasting Corp.)
BestPublic Affairs Program Host: Korina Sanchez (ABS-CBN Broadcasting Corp.)
BestPublic Service Program Hosts: Marvin Javier & Hannah Seners, Bantay OFW (RadioMindanao Network)
BestGames/Variety Program Host: Chico Garcia (Audiovisual Communicators, Inc.)
BestMusic Radio Jock: Delamar (Audiovisual Communicators, Inc.)
BestMagazine Program Host; Philip Bardon a.k.a. Reggie Valdez (ABS-CBN BroadcastingCorp.)
BestScience & Technology Journalist: Angela Palmones (ABS-CBN BroadcastingCorp.)
Best Public ServiceAnnouncements (PSA's)
ADVERTISEMENT - CONTINUE READING BELOW
BestTelevision PSA: "Values Campaign" (ABS-CBN Broadcasting Corp.)
BestRadio PSA: "Panunumpa" (RadioMindanao Network)
Best Station PromotionalMaterials
BestTelevision Station Promotional Material: "2007 Christmas Station ID" (ABS-CBNBroadcasting Corp.)
BestRadio Station Promotional Material: "Investment Scam" (ABS-CBN Broadcasting Corp.)
KBP Lifetime AchievementAward
PosthumousAwardees:
Mr.Guillermo Torres, Sr. (UM Broadcasting Network KBP Legal Counsel)
Atty.Fernando Ma. Alberto (KBP Legal Counsel)
Awardee:
Mr.Rino M. Basilic (Associated Broadcasting Corp.)
KaDoroy Broadcaster of the Year Award: Ms. Korina Sanchez (ABS-CBN BroadcastingCorp.)