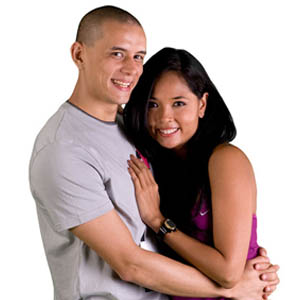 ---
The Philippine team of Geoff Rodriguez and Tisha Silangfinished second in the third edition of The Amazing Race Asia (TARA).
After 11 legs that took them to seven countries, datingcouple Geoff and Tisha came behind winners Hong Kong boys Vince and Sam, whostepped on the mat first. Friends Ida and Tania of Malaysia came in third place.
Best buddies Vince and Sam won the cash prize of 100,000 U.S. dollars.
At the start of the 11th and final leg in Muscat,Oman, Geoff and Tisha were in second place behind Ida and Tania. Although Vinceand Sam began the race four hours behind the other two teams, they were able tocatch up, thanks to some lucky breaks.
But if there is any consolation to Geoff and Tisha, they wereable to beat the third-place finish of Marc Nelson and Rovilson Fernandez atlast season's TARA.
Tisha was crowned Bb. Pilipinas-Universe in 1998 but resigned because of her Canadian citizenship. She had a short hosting stint in the GMA-7 morning show Mornings@GMA. Tisha also had a relationship with Survivor Philippines host Paolo Bediones.
Geoff, on the other hand, was a member of the all-male group Power Boys, which also included Jordan Herrera, Greg Martin, Frank Garcia and Jay Salas.
The Amazing Race Asia 3 started with 10 teams—which includedpairs from India, South Korea, and Thailand—but only three teams made it intothe finish line.
The race began in Bangkok, Thailand and it ended in Phuket,Thailand. In between, the teams were able to go to Vietnam, Taiwan, HongKong, China, India, and Oman.
ADVERTISEMENT - CONTINUE READING BELOW
TARA is hosted by Allan Wu.