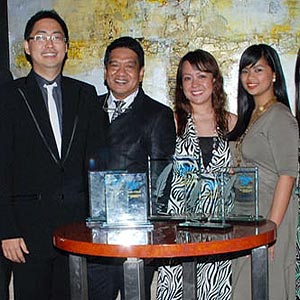 ---
ABS-CBN Broadcasting Corporation bagged five PhilippineQuill Awards while GMA Network received two honors during the event organizedby the International Association of Business Communicators (IABC).
Last November 14, the 2008 Philippine Quill Awards was heldat the Hyatt Hotel and Casino in Manila. The annual event organized by theIABC recognizes the outstanding achievements in communicationsmanagement, skills, and creativity and has become the industry benchmark for world-classPR programs and productions.
The Kapuso Network earned two merit awards: one for"Christmas Shorts" in the Advertising category and another for"Seeding the Future: The 2007 GMA Network Annual Report" in thePublication category.
Jimwell Lopez and Butch Villanueva of GMA Marketing and Chit Arce, head of GMA Corporate Communications, accepted the awards duringthe ceremony.
"It's an honor to win this award because it's not aneasy competition," says Chit in an interview with GMA-7's news program Saksi.
Meanwhile, The Kapamilya Network earned recognition for itssuccessful PR programs, for Deal or No Deal Around the World-Philippinesand its special event Dolphy at 80.
Aside from the two awards, ABS-CBN's employee communicationsprogram "Kapamilya Services," bagged an Award of Excellence in theEmployee/Member Communication category for giving company employees and theirfamilies an easier time in obtaining NSO documents and passports.
Other programs entered by ABS-CBN Corporate CommunicationsDivision that won Awards of Merit include the company newsletter E-Frequency(Electronic Communication category) and ABS-CBN Foundation's advocacy project E-TV(Economic, Social and Environmental Development category).
E-Frequency is the weekly online employee publicationof ABS-CBN that provides concise and up-to-date company news and information bye-mail, while E-TV translates school lessons into visually appealingprograms such as "Sineskwela," "Math-tinik,""Hirayamanawari," and "Epol Apple," that can be used byteachers as reference in their daily class discussions.
Last year, ABS-CBN received six Philippine Quill Awards,including an excellence award for News and Current Affairs' election andcitizen journalism campaign "Boto Mo, i-Patrol Mo," which won anAward of Excellence from the Gold Quill Awards in New York.
ADVERTISEMENT - CONTINUE READING BELOW
The International Association of Business Communicators(IABC) is an international resource of effective communication practice invarious forms, such as public relations, employee, marketing and developmentcommunications, and crisis management.