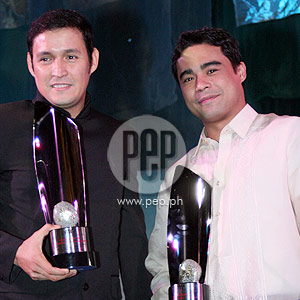 ---

Sid Lucero and Emilio Garcia go down in history as the firstpersons to tie for the Best Actor award in the 49-year history of theThessaloniki International Film Festival. The Filipino actors were recognizedin Greece for their outstanding portrayal in the film Selda (internationaltitle: The Inmate), which is co-directed by Paolo Villaluna and EllenRamos.


This indie film is also credited as the first Filipino movie to compete in thesaid festival, which took place in Greece from November 14-23. Bothdirectors attended the filmfest but the two lead actors were unable to attend.
Francis Xavier Pasion was also present at the 49th Thessaloniki InternationalFilm Festival to present his film Jay, which was screened as part of theIndependence Day section.

According to Leo Dominguez, Emilio's manager, his ward was not able to attendbecause he has tapings for Gagambino three times a week. Emilio learnedabout the good news this morning on the set of the said GMA-7 show.
ADVERTISEMENT - CONTINUE READING BELOW
In a text message sent to PEP (Philippine EntertainmentPortak) this morning, Emilio said, "I'm shocked and at the same time veryhappy. This is my fourth award for Selda and I am happy for all therecognition I received for this film."


It will be recalled that Emilio won as Best Supporting Actor for Selda duringthe 31st Gawad Urian. He was also the Best Supporting Actor during this year'sGawad Tanglaw and was named as the Supporting Actor of the Year during the 24thStar Awards for Movies.
In the Gawad Urian, Sid tied with Jason Abalos for the BestActor award, with Sid being recognized for Selda and Jason, for Endo.
Selda is about a young man (played by Sid Lucero) whois imprisoned for defending his wife (played by Ara Mina). He meets afellow inmate (played by Emilio) who helps him adjust to life inside prison.
According to Ferdy Lapuz of Ignatius Films Canada, the jurypresident of the Thessaloniki IFF, Michael Ondaatje, liked the film very muchand said that Selda is a "powerful film." Mr. Ondaatje is best known asthe writer of The English Patient (1997). Another member of the jury isDiablo Cody, the American screenwriter behind the hit movie Juno (2007).
ADVERTISEMENT - CONTINUE READING BELOW
Selda is represented by Ignatius Films Canada.