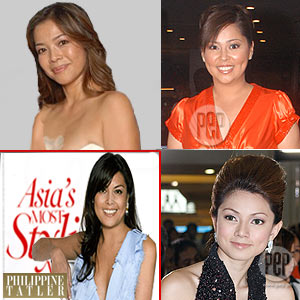 ---
As the first threads of the Embassy "pepper-sprayincident" of November 19 come together, the Philippine Entertainment Portalmoves to get interviews with Patricia Panlilio-Cu-Unjieng, the socialiteaccused of deliberately pepper-spraying socialite Neny Montinola in the face. In the end, it is her boyfriend Ricardo Po Jr., a Boston University graduate, who speaks for her.
PATRICIAON THE PHONE. Late in the evening of November 25, PEP managing editor KarenPagsolingan reaches Patricia Panlilio-Cu-Unjieng by text messaging and asks for her side of story.
By way of answer, Patricia calls Karen. The first thing she asks is what company PEPis affiliated with. When Karen answers that PEP is the online version of YES! magazine, Patricia next asks, "You're affiliated with Summit, right?" Karen answersthat that would be right because YES! is a Summit Media publication.
Patricia then says, her tone casual, "For your information, I havespoken to certain people, and they've already agreed to not do a story aboutit."
ADVERTISEMENT - CONTINUE READING BELOW
Karen answers, "I'm sorry, Ma'am, I didn't hear that."
Patricia repeats calmly, "I've spoken to them already, yourbosses. And basically, it's just to kill it."
To which a puzzled Karen says, "I don't know about this. I'll have to talk to my editor."
The last thing Patricia says to Karen is: "I have nothing tosay. I have no comment."
Minutes after, Karen reports the call to PEP editor-in-chiefJo-Ann Maglipon. The latter instructsKaren to simply proceed with her research and interviews to get a fuller picture of this strange "incident," so that PEP can do a fairer report.
Another few minutes later, Karen gets another call. This time, it is fromRicardo Po Jr., the man whom witnesses say was the date of Patricia on the night of November 19.
Ricardo says, "I am Ricardo Po. Maraming salamat at nag-text attumawag ka. Alam kong kailangan niyo rin malaman ang nangyari kasi hindi namansiya one-sided. You need to hear two sides. I would like to air our side beforeyou publish your story."
ADVERTISEMENT - CONTINUE READING BELOW
RICARDOAPPEARS FOR PATRICIA. An interview is set for the following afternoon,November 26. PEP editors Jo-Ann and Karen wait for Ricardo and Patricia atSerendra's Chelsea restaurant. When the hour comes, however, only businessmanRicardo Po Jr. arrives.
Explaining Patricia's absence, the Boston University-schooled Ricardo soundsevery inch like the protective knight. He says, in altruistic tones, thatPatricia is not around because she is "shy" and "she will just cry" if she hasto answer questions. After all, he says, "She feels she has been declaredguilty in a trial by publicity."
He adds that this is an especially difficult time for Trish because "her father died just a few months ago."Patricia's father is Atty. Jose "Peping" Panlilio, whose roots are inPampanga.
The 40-year-old Ricardo then proceeds to provide PEP with a verydifferent take on what he consistently refers to as the "alleged" pepper-sprayincident.
But first, he states: "My personal policy is any publicity is badpublicity. Word spreads. She's been tried already. There are blogs andeverything, so when the blogs come out, [they include] everything. It's nolonger the issue. We must stick to the issue."
ADVERTISEMENT - CONTINUE READING BELOW
He continues: "Nobody wants this. Nobody needs this. Whenever thenewspapers come out [with] something, in the office I just say, 'People, just keepquiet, because the more you [talk], the more you engage the other person. And[the other person] would say something too.'
"I admit that my first attempt is to say, 'Let's keep it quiet'because we have plenty of time to settle everything adequately. The press, oncethey publish, it's gonna complicate the matter. People who don't know about theincident [come into the picture and] would say, 'Don't do this, do that, dothis.' Of course, my first instinct is to say 'Let's kill this, okay?'"
But he is present for this interview, he makes clear, preciselybecause "I respect the press... My ideology is, if not for the press, [there willbe] a lot of suppression. Many [wrong things] would not be reported and not be,you know, brought to life. And so I appreciated it, your taking time to get myside. You want Trish here, but Trish is very distraught."
ADVERTISEMENT - CONTINUE READING BELOW
Addressing Jo-Ann, he says, "I understand and I respect yourposition. This is freedom of the press. I have one request. Don'tsensationalize."
And for the second time, he admonishes, "Stick to the issue."
He adds, his tone serious but polite, "There is an accusationmyth, there is a denial myth. There are people who say 'Yes, the incidenthappened,' there are people who say, 'No, it did not.' Be fair. I don't knowwhat the article is going to be about. If it's just sticking to the incident,that's okay."
RICARDO SAYS PATRICIA NOT INVOLVED. "We went there around 11:30 [p.m.], Trish and I,"Ricardo begins, "because the brother of [Luis] Chavit invited us to the birthday ofRonald Singson. That's the only reason why we go there [to Embassy]. BecauseI'm a very private person, e, so is Trish. I do like For Members Only, because it's more private."
He adds, "We're into just having dinners, watch TV, we chat, weeat, music, fashion... we travel."
ADVERTISEMENT - CONTINUE READING BELOW
On the night of the 19th, he confirms, he and Trish were at the party with adifferent group from Neny's, but that Trish and Neny "made beso." He adds thatthe "beso" extended to their common friends.
He says they left Embassy at "around 2 o'clock [in the morning].So, we go down. So, we say bye, I say bye, Trish says bye. She's in front, I'mat the back. I'm around three feet behind her. A few friends are in front. We walkout."
When Jo-Ann asks if he saw Neny by the club door at this time, heanswers, "No, I didn't see her anymore. I was behind Trish. She walked out. Iwas following her. She shook hands with a couple of guys on the way out."
Jo-Ann tells him it sounds odd that he did not see Neny, when atleast two guests have said Neny was right beside Patricia at exit time. Ricardogives a complicated answer, which leads to his admission about his so-called"messianic complex."
ADVERTISEMENT - CONTINUE READING BELOW
"You know, I am blinded," he starts, raising his hands to thesides of his face to indicate the blinders on a horse. "You know why? BecauseI'm very protective [of my companion]. I don't like it when there are men whotry to make contact with the wrong parts of the body, okay? I've just seen ithappen many times."
In other words, he says, he was focused on protecting Patricia,and he was not minding whatever else his peripheral vision was picking up. For this reason, heexplains, he did not catch sight of Neny or anyone else anymore.
Then he adds, "I have a messianic complex. People, even though Idon't know [them], I go up to the person and I will say, 'You know, it's reallywrong!' And I get into trouble. My dad always tells me, 'You know, don't try tosave the world. Save yourself.' Always, he tells me that."
ADVERTISEMENT - CONTINUE READING BELOW
Going back to his narration, Ricardo says, "We go down. Whilewaiting for the car, we're standing there about ten minutes. The bouncers arethere. Nothing's happening, ha. We're waiting, car found us, we left. At 2:30,I got a call. Will not mention who [called].
"'Did you see what happened?'
"'What are you talking about? What do you mean?'
"'Neny is there in the E.R. Someone sprayed pepper spray or maceor tear gas on her.'
"'I don't know what happened. I didn't see it. I don't know whathappened.'"
Ricardo says that it was only when PEP got in touch with them that hecalled Patricia: "I said, 'What happened to you, Trish?'
"'What do you mean,' she said. 'I got a call from this person.She's with PEP, ok? She's saying that this is what happened, ok? This tear gas,I don't carry tear gas in my bag!'"
ADVERTISEMENT - CONTINUE READING BELOW
Ricardo now puts forth what he calls the official story: "So, letme tell you, there's a group of people, okay, a number of people who were withus. We decided to leave, and they were standing behind us. They didn't seeanything, okay? That is the official story. But trial by publicity assumesshe's guilty already.
"When there are people saying 'We saw,' and there are also peoplesaying 'We were there and were right beside her,' [it's] not possible. Becauseour exit, very quick. This is like, you know, very quick."
INPRAISE OF TRISH. At one point, Jo-Ann asks Ricardo if Patriciaowns pepper spray, for defense or for whatever purpose.
"Let me say that Trish is not the type that carries weapons,"Ricardo makes the case for his girlfriend while occasionally sipping from his tallglass of iced tea. "She's not the type. No need. Talk to other people, youresearch, and you will see she's very quiet, very sweet, very elegant."
ADVERTISEMENT - CONTINUE READING BELOW
If that is so, Jo-Ann asks, why is the woman getting this kind offlak?
The fellow answers, "A lot of people don't like her. For, youknow, there's a saying in Chinese, 'The better you are, the more people hateyou.'"
At this point, Jo-Ann suggests that he sounds like a man in love,and also suggests that maybe a man in love is not the best judge of character—especially not of the woman he is in love with. He laughs, proceeds to answer, but not before asking to have the tape turned off.
When the tape goes on again, Jo-Ann asks him if Trish has gotteninto this kind of trouble in the past. He corrects that quickly with "allegedtrouble." Point taken, Jo-Ann says, and asks again.
"I tell you," he says, "she's a lady, and she's never hadaltercations with anyone. You know, people speak ill of her, and she will justcry and recover in time. That is the type of person that she is."
ADVERTISEMENT - CONTINUE READING BELOW
Jo-Ann wants to know anyway, "This is the first incident—you'resure?"
"Yeah, yeah," he swears. "There's never been an altercation. Wala,ok? There are people saying she's mayabang or she's stupid or she's like thisand that. But the altercation with anyone? It never ever happened."

RESOLUTION COMING?Of course, Ricardo says, he feels very bad for Neny Montinola. Neny and he havebeen "good friends for maybe 15 years." He describes her as "a beautiful,elegant, and classy lady"—which are, incidentally, the very same words he usesto describe Patricia.
He says earnestly, "Yes, they are both beautiful, elegant, andclassy. Trish is not the type to use pepper spray!"
Still, he repeats, he feels bad for Neny because he understandsthat "something big happened because she's in the E.R. for three hours, andthere's a medical report, and there's a blotter."
He concludes: "I know something happened. But my question is,Do you see Trish in this?"
ADVERTISEMENT - CONTINUE READING BELOW
EMBASSYREACTION. Tim Yap is not happy about any of this. Clearly despondent, he tells PEP managingeditor Karen Pagsolingan at 10:30 p.m. of November 24: "Hay, I don't know whathappened talaga, but of all places, it happened in Embassy! It could havehappened anywhere else. Puwede naman sa iba, di ba? Bakit sa Embassy pa? Justwhen we're already okay with Taguig."
Indeed, just last June, Embassy was closed down by the Taguig CityMayor's Office for several weeks after a balikbayan complained that he wasmauled by Embassy personnel. When the club was finally given permission toopen, it was required to install surveillance cameras.
Tim, the multi-hyphenatedentrepreneur-eventologist-columnist-host, prefers to talk to PEP aboutdifferent things. He tells Karen on November 18: "May napagbati na naman tayo."
He then talks about how he acted as intermediary to get estrangedformer Eraserheads front guy Ely Buendia and drummer Raimund Marasigan to cometogether for a broadsheet pictorial. Tim personally announced this casting coupon November 18 at the Members Only Club.
ADVERTISEMENT - CONTINUE READING BELOW
A month before that, on October 17, he had clearly made a bigsplash when he made Embassy the venue of the "historical" reconciliationbetween another feuding duo: Eat Bulaga!host Joey de Leon and Wowowee's mainman Willie Revillame.
Since the club opened in 2005, Embassy has positioned itself as an"exclusive, classy joint," an image that has attractedmovie stars, scions of wealthy families, models, and fashionistas out to have agood time. But as even Tim has to admit, in its nearly four years of existence, the club hasrecorded both minor and major skirmishes involving celebrities like RichardGutierrez, Borgy Manotoc, and Bong Alvarez.
Now and then, there have also been suggestions of extreme inebriationand even substance abuse in the club, although these suggestions have remainedat the level of gossip.
Now, this latest episode involving two ladies from the so-calledalta sociedad, or high society, not to mention a number of other celebritiesand influential guests, has brought another PR nightmare to Embassy.
ADVERTISEMENT - CONTINUE READING BELOW
When PEP gets in touch with Tim about this, the usually friendly fellowanswers cryptically, "Hindi ko nakita."
But he is not the face and the name of Embassy for nothing, so PEPinsists on getting a statement from him. Finally, Tim responds to our calls ataround 10:30 p.m. of November 24. His statement goes:
"The supposed incident happened on a non-club night. A functionwas booked by a private individual. The supposed respondents are both non-celebritiesand are out of the spotlight. I am not aware of any personal differences theymight have. In my opinion, they should settle things on their own so as not toaffect their family and loved ones."
Nevertheless, Tim says that he asked Patricia's camp about theincident. Reports Tim: "Dinenay nila, e. Wala naman ako doon."
As part of PEP's research, we check with the Taguig City PoliceStation on November 24, at about 7:30 p.m., if a report on a pepper-sprayingincident at the Embassy had been filed.
ADVERTISEMENT - CONTINUE READING BELOW
Knowing that since October 20, the police hierarchy has made itdifficult for media to access police reports without special permits, we ask aregular citizen to make the call. A certain PO3 Cabrera answers: "Meron."
But when asked about the details of the complaint, he responds:"Hindi kasi ako ang desk operations nung araw na yun, e. Pero returninvestigation na yun sa headquarters namin."
The story seems to be unraveling even now, one week after thereported incident. At press time there are rumors that interested parties arebent on making the police blotter on the Embassy incident disappear.
Whether the police blotter disappears or not, however, there arestill the Embassy surveillance cameras to reckon with, as a source of visualevidence one way or the other.
POSTSCRIPT. There are ongoing efforts to find a resolution to the problem.According to Ricardo, "Both parties, as we speak, are seeking a resolution...Actually, there are three parties: Neny, Trish, and Embassy."
ADVERTISEMENT - CONTINUE READING BELOW
At least three times during the one-hour interview, this busyexecutive of a giant corporation says: "We are looking for an amicable way toresolve this right away. One thing, I want this to be on the record. I don'twish this to happen to anyone. I would like to resolve the issue amicably andquickly, before other people start getting involved.
"If there's anything I can do to stop the He Said, She Said, ifthere's anything I can do to bridge the gap, fix it, get it done, and [have them] move onwith their lives... You know, we have a lot of battles. But the biggest war iseveryday life."
Ricardo takes the extra measure of gathering statements from both Patricia and Nenyfor PEP to put out. In the end, he sends this text message instead: "Just spoketo trish and emissary of neny. They both don't want to give statement. Bothwant to resolve this amicably and privately."
ADVERTISEMENT - CONTINUE READING BELOW