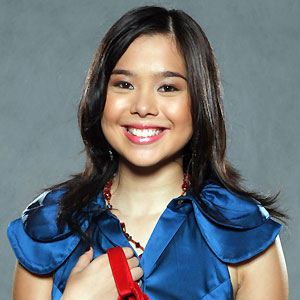 ---
Newcomer Saab Magalona got her first taste of intrigueduring the presscon of the second season of TV5's youth drama Lipgloss,held at Cocina Guagua on Sgt. Esguerra St., Quezon City, last night, November27.
Saab is the fifth of the eight children of Master RapperFrancis Magalona and wife Pia Arroyo. Next to elder sister Maxene, Saab is thesecond of the Magalona siblings who decided to follow in their father'sfootsteps.
A couple of days before the Lipgloss presscon, PEP(Philippine Entertainment Portal) got a report that Saab had left theirhome after a fight with her dad, and is now living in with her boyfriend.
Saab, who came late at the presscon, was obviously caughtoff-guard by the report since she thought that she would be asked about theirshow. But she answered the issue anyway.
"Hindi ako lumayas," she began. "Right now, basically I'mtrying to... I'm just independent right now. Hindi kami magkagalit ng Dad ko—atall. I know how he is, how's he doing. I'm always keeping in touch. I keeptrack what's happening sa treatment niya, chemo, all that stuff. There'sno...hindi kami magkagalit."
Francis M has been diagnosed with leukemia this year and is presentlyundergoing treatment.
Although Saab denied having a fight with her father, sheadmitted that she has a "little rift" with sister Maxene.
"You know, sa lahat naman ng magkakapatid may mgaaway-away," the 20-year-old newcomer explained. "But just now, I think we need timeapart. Kasi, we've been together our whole lives. Now, we're growing up and Ithink that it's time for us to... Kasi we've always been sobrang [close]. Matching kaming suot, magkasama kami in everything. Pareho kami ng birthday, 'sakto, so lagikaming sabay ng celebrations. It's too much togetherness."
ADVERTISEMENT - CONTINUE READING BELOW
Saab added, "Nagka-clash kami. Like, when I have my own... If I disagreewith her a bit, siyempre she can't really understand why... She's my Ate, ofcourse. I know she loves me and I love her, too. But we can't alwaysbe agreeing about everything."
Although Maxene is two years older than Saab, they share thesame birthday: November 23.
Is it because of Maxene that Saab left their house?
"No, not because of her," Saab pointed out. "I just want tobe independent and I want to... Kasi, actually, we don't live at home na, e, allof us [the elder ones]. Kasi, we're all in college. We don't live at home, we live in a condo.
"I used to live with Maxene and my older brother acrossAteneo. But now, I live in a different place na I don't want to disclose. But Idon't live with my brother and sister anymore. But we all don't live at homebecause my parents believe na if you're in college, you have to live on yourown."
What about the rumor that she is now living-in with herboyfriend?
"Hindi, oh my God!" she exclaimed. Saab clarified that the friend she is staying with nowis a girl.
Saab also said that whatever problem she has with Maxenewill soon be resolved, although she admitted that they hardly communicatenowadays.
"We're not as close asbefore. It's something you can't really avoid when you grow up, e. We've beenbest friends our whole lives, but right now—," she said without finishing hersentence.
Saab is now a graduating student of Ateneo de ManilaUniversity, taking up Creative Writing.
ADVERTISEMENT - CONTINUE READING BELOW
Saab disclosed that she is now paying for her tuition,at least, in the last two semesters—thanks to her talent fee from Lipgloss.
Lipgloss also stars Mexine Eigenmann, Mikee Lee, SamConcepcion, Cheska Ortega, Kevin Lapena, Czarina Suzara, Miki Hahn, RodjunCruz, Mary Grace Perido, and Fred Payawan. The latest addition in the cast arePrincess Ryan and Neil Coleta.
Lipgloss, where Saab plays the role of the heroine Meg, isaired on TV5 every Saturday at 6 p.m.