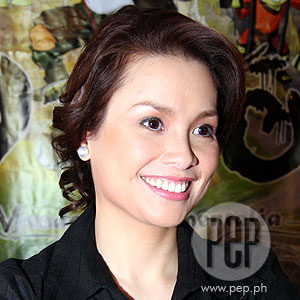 ---
International star Lea Salonga, who has been the singingvoice of popular animated characters in Aladdin (Princess Jasmine) andMulan, will be heard in a Filipino animation movie for the first time. Lea is singing the themesong "Lipad" for the Cutting Edge Productions' animated film, Dayo: Sa Mundo ngElementalia, an official entry to the 2008 Metro Manila Film Festival.
Lea believes in Dayo and this is one of the major reasons she decided to be a part of the movie, which is a combination of a 2-Dand 3-D film animation. Kung nagagawa niyang maging part ng Hollywood animationfilms, bakit nga naman hindi sa gawang Pinoy.
"I know that the film is going to be something worthwhile,"sabi ni Lea. "It's all-Filipino artists. It's a very Filipino story. It's anall-Filipino endeavor. And it's something that is very, very close to my heart.And I'd lent my voice to Disney, so why not lend my voice to something that ishomegrown and made here? And hopefully encourage more animation studios to takethis kind of endeavor and prosper industry building, friendly competition. Andhopefully, be able to produce more of it because, you know, it serves as aninspiration for me to keep on aiming high when I hear a Filipino company, likeCutting Edge, has something like this.
"This is not exactly a deep, cynical animation fromdifferent places, but it's a start. A stepping stone towardssomething greater... And an effort like this should constantly be encouraged inorder to improve animation such as this."
Tinanong ng PEP (Philippine Entertainment Portal) si Lea sapress conference ng Dayo sa Discovery Suites kahapon, December 4, kung mas okeysa kanya ang kumanta ng theme song kesa mag-boses sa isang character ng Dayo.
ADVERTISEMENT - CONTINUE READING BELOW
"Either one would have bean great, but I was not asked,"sagot ni Lea. "And I don't think I will have the time to devote to doing avoice because that would take a lot of time. And scheduling conflict would havemade it impossible. But at least, I was able somehow to be a part of it bysinging the theme song. You know, at least, kahit papaano, nakasali rin ako sapelikulang ito."
WHAT'S NEXT FOR LEA. Dahil katatapos lang ngCinderella run niya sa Pilipinas, ano pa ba ang dapat abangan sa kanyangayon?
Natawa si Lea sa sunud-sunod na tanongsa kanya kung ang susunod niyang project ay ang pelikula nilang muli ni AgaMuhlach. Matatandaang ang huling dalawang pelikulang ginawa ni Lea ay parehong si Aga ang kapareha niya—Bakit Labis Kitang Mahal? (1992) at Sana Maulit Muli (1995).
"Well, I've expressed very openly that I would love to do amovie with him again. And he expressed very openly that he would like to do amovie with me. And I think, it's a matter of finding a project that will fitus, and not into something na hindi naman na bagay sa aming dalawa.
"We're both in our mid-thirties. We have children and we're moremature people, especially as compared to the last movie [Sana Maulit Muli]that we did together when we were both in our early 20s and we had a lotof growing up to do. We are grown-ups now. Hopefully, the project that ispresented to us is something that would show us as grown-up.
ADVERTISEMENT - CONTINUE READING BELOW
"It's not gonna be a teeny-bopper love team. There are youngpeople who can take that department. That's not us anymore. I'm 37 years oldand he's 39. So, whatever story we do has to fit who we are as people. And so,I think, the two of us have to be incredibly and extremely careful with how thestory is going to be. It can't be implausible because if it's something natalagang ako mismo, hindi ako maniniwala sa ginagawa ko, walang maniniwala namanonood. So, it has to be something that I believe would actually happen topeople like us," mahabang paliwanag ni Lea.
PEP asked Lea kung posible kayang next year na matuloy angreunion movie nila ni Aga, na tila nagsimula ang idea nang mag-guest si Aga sanakaraang concert niya, ang Lea...My Life On Stage.
"I'm hoping that it happens next year," sagot nginternational star. "But if it happens the year after, then it's fine too. Lifecan only happen and whatever happens, I'm hoping that while I'm alive, it doeshappen. But I don't wanna rush into something if it's not gonna be right. It'slike baking and you pull the oven door too early, the cake is going to fall.So, it has to be different."
Ipinaalala namin kay Lea na ang last movie nila ni Aga, angSana Maulit Muli, ay isa pa rin sa pinaka-memorable local films hanggangngayon. Napangiti siya rito.
"I'm really happy that people still think that. Na maramipa rin ang nagsasabi na, 'Wow, ang ganda ng pelikula! Umiyak ako sa pelikulanoon. Ang ganda-ganda talaga ng kuwento. Ang ganda talaga ng tambalan ninyongdalawa!' And it's flattering to both of us.
ADVERTISEMENT - CONTINUE READING BELOW
"I had him guest in my concert last May and he brought thehouse down. And it's an indication to me that the two of us as a tandem work.And he's a good team player, and he's a wonderful actor, and he's also incrediblygenerous in giving. And we have text going back and forth, and it's like, 'Whatkind of a storyline are they going to give us?' We have that kind ofconversation. And he's like, 'Huwag kang mag-alala, basta just put your trust in me and the story will be good!'"
Mahirap bang tapatan ang Sana Maulit Muli?
"I don't think it has to be different," ani Lea. "Obviously,there should be love involved or what's the point? But it cannot be the samestory because we are not the same people, and so it's whatever the story thetwo of us do. It cannot be the same as Sana Maulit Muli. It can't be a Part 2.It can't be a sequel. It can't be a continuation of the story. It has to besomething completely different.
"I think the more challenging it is, the more rewarding itis for the two of us. We're both grown-ups as an actor, as people. And ourspouses are excited for us to do the film together. And if we have that kind ofsupport from our better-half, then it's more encouraging for us to do somethingspecial."
Kasama pa rin ba si Aga sa list ng pinakaguwapong lalakipara sa kanya?
"He's up there, definitely!" natawa niyang sabi. "Well, hetakes care of himself. It's not just his physical appearance. Hindi lang namankasi siya magandang lalaki. Kasi maganda rin naman ang loob niya. And he's apretty smart guy. He's good with business and he's a shrewd businessman.
ADVERTISEMENT - CONTINUE READING BELOW
"He's pretty good with his money and it's something that Iadmire. He looks out for his family. And he doesn't blow all his money inanything that is worthless. Obviously, he would splurge or obviously he willspend. But having said that, he knows how to invest and he knows how to planfor his future. He's a genuinely good guy. He's just a genuinely nice person.So, you know, that all contributes to why I think he's incredibly guwapo."
HOME IS WHEREVER SHE IS. The way things are going with Lea's family and hercareer, ang Pilipinas na ba talaga ang itinuturing niyang home base?
"Well, my home is wherever I hang my clothes," sagot niya."Wherever I park my car. I guess, wherever I am, it's home. And right now, it'shere and my husband [Robert Chien] has found a wonderful professional opportunity for himself.He's the president of Ambient Media and he works closely with my brother forFilharmonika also. Their company is also coming out with their own animatedfilm, but it's 3-D and that's the whole different story. I'm sure you'll hearabout it, closer to the time once it's nearing completion.
"Since he has incredible work experience here, we've foundourselves based here in Manila. And I still able to get work abroad. I stillget to do musicals and concerts in the States and wherever I'm needed. Now, I'mactually touring with the show [Cinderella] all over Asia. So, it doesn't really matter where I live because I'm still able to do what Ilove to do. For him [Robert], obviously, it's much more important that we are inone place."
ADVERTISEMENT - CONTINUE READING BELOW
WIFE AND MOTHER. Almost fully booked ang 2009 schedule ni Lea, mostly in different places abroad.Pero sa kabila nito, nandiyan pa rin ang pagiging asawa niya sa mister niyangsi Robert Chien at pagiging ina niya sa kanilang anak na si Nicole.
"I take my daughter when I have to be away. She's a girl,two and a half. Very, very kikay. She's a girl! Much, much girlie than I everwas or ever will be. Very bibo, very smart, and very bright, and very friendly.Loves to talk, loves to sing. She's starting to sing full songs. She's talking alot. She's not yet speaking in full sentences, but she's getting there. By thetime she's three, she will be ready for pre-school," magiliw na kuwento ni Lea.
Will she allow Nicole to join showbiz or theater someday?
"That's really all up to her," sagot ni Lea. "But if I havethe choice, I'd rather have her finish and be a doctor. It's because I've grownup in show business and I see show business' great side and I also see lessgreat sides. And if I can protect her from the less great side, I would but Ican't.
"She will see things [that are] ugly. She will see things lessfavored. She will experience frustration. She will have heartbreaks andheartaches, and wonder if it's right for her. She will experience doubts andrejection and a lot of these things many showbiz artists go through, even thosewho are at their peak. So, I mean, I rather have her do something that isprobably more stable.
ADVERTISEMENT - CONTINUE READING BELOW
"But having said that, she's showing an attitude and aninclination for this work. So, if this is something that she really desires,and not just as a hobby, 'Anak, kung hobby, huwag na lang.' Do it in acommunity theater, do it for the love of, do it in college. But if there is astrong desire and you see nothing else for yourself but that', then I have toencourage her."
May plano na ba sila ni Robert na bigyan ng kapatid si Nicole?
"We have no plans for anything!" natatawa niyang sabi. "Workseems to be taking over for the both of us, my husband and me. But it'ssomething that I have openly expressed and that girl needs a sibling veryseriously. We're hoping for the best. We'll see what will happen."
Sino ang mas na-spoil ni Mommy Ligaya, herdaughter Nicole o si Lea noong bata pa siya?
"Oh, my mom spoilsher [Nicole]!" bulalas ni Lea. "She's a lola and the lola always spoils herapo. And she's the first grandchild and because she's my mom's first apo, sosiyempre mai-spoil siya. 'I got her a new coat. I got her this new shoes. I gother a new book. I got her clothes.' Its like, 'Okay Mom, you save me fromshopping!"
Sa kanilang dalawa raw ni Robert ay walang nang-i-spoil saanak nila. But Lea notices that Nicole is more of a "mama's girl."
"She will say goodbye to everybody. But if it's me, like,'Honey, bye-bye! I'm gonna go now.' She will say, 'Mommy, no. Mommy come, mommycome.' She's more maka-mommy and very close to me. So when I leave, I have todo it when she's focused on something else.
ADVERTISEMENT - CONTINUE READING BELOW
"But, you know, there's some day that she will accept that Ihave to go, and I'll come back. But there is also a thing that is separationanxiety, and it's hard to see her crying when I have to walk out of the doorand have to go to work. But I've read about it and heard a lot of moms thatsay, 'Don't feel guilty. It's normal and her abuela [grandma] naman isthere.'"
LEA ASKS MEDIA NOT TO PRESSURE NICOLE. At present, nasa tamangnote naman daw ang boses ng anak. Three or fouryears old si Lea nang ma-discover that she can actually sing. Tinanong namin siLea kung aware ba siya na hindi pa man ipinapanganak si Nicole ay may pressurena sa kanya, being the daughter of Lea Salonga.
"I know, but I don't want that pressure on her. That isprobably why I want her to completely do something differently from what I do,but it's the same thing. Like KC Concepcion being the daughter of SharonCuneta, Karylle being the daughter of Zsa Zsa Padilla. It's going to be one ofthose inevitable things where there would be a heightened expectation of herbecause she's my daughter.
"Kaya, you know, all I ask for the members of the press,please, do not give her that pressure. Do not pressure her. I don't want her toenter this business because she feels that 'I have to imitate my mom'. Becausethere are kids of actors that say, 'Yun kasi ang ginagawa ng tatay ko, sogagawin ko rin yun.' I don't want her to say that. I want her to say that 'I'min it because I love it. I have a passion for it' and, you know, 'this is theonly thing I wanna do in my life.' I didn't start saying that until muchlater in my life. But if she says that very early on, then I have to encourageher, and hopefully, instill the right direction."
ADVERTISEMENT - CONTINUE READING BELOW
There's no doubt that Lea is the epitome of a local artistwho is well admired, even by other high-caliber artists who wantto penetrate the international scene. Is there anythingelse that she feels she still needs to do or dreams about?
"I don't know if there's anything else that I'd like to door achieve, or anything like that. I have a wonderful family. I have awonderful career. I can't ask for anything more. I'm starting to develop othertalents. Now, I'm writing for the Inquirer every week. That is, you know,proving something that works my mind in a different weight and it gives me adifferent pressure. It gives me a creative outlet so, you know, I'm findingother opportunities to do other things. There isn't anything else that I couldask to do or want to do except keep on doing what I am doing now."