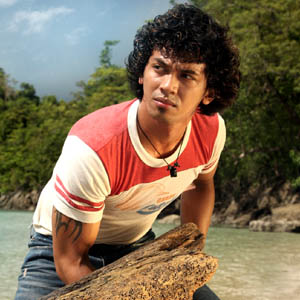 ---
As Survivor Philippines nears its end, driver CrisCartagenas failed to make it into the Top 3 when he was voted out in tonight'sTribal Council. Cris got three votes versus his one vote against JC Tiuseco.
JC together with Rob Sy and Charisse Yacapin complete the Top3.
Cris, on the other hand, became the 15th personto be voted off and the seventh member of the Jury, which will decide who will winthe three million cash prize and the title of the first-ever Pinoy SoleSurvivor. The other members of the Jury, as of now, are Jace Flores, KikoRustia, Vern Domingo, Marlon Carmen, Kaye Alipio, and Zita Ortiga.
It was actually JC who won the Immunity Challenge—acombination of their past challenges—but host Paolo Bediones made him choose betweenthe Immunity necklace and a brand-new car. After giving it much thought, JCchose the car, which is the biggest reward or prize that Survivor Philippineshas given to a castaway, aside from the P3 million that will be awarded to theSole Survivor.
In exchange for the car, JC had to give the Immunitynecklace to one of his tribemates in Chalam. As expected, even by Cris, JC gaveit to his closest ally Rob.
JC won the Immunity challenge almost unopposed. After JCfinished digging seven blocks in the sandpit, Rob, Cris, and Charisse just watched himcomplete the puzzle and raise his flag without any challenge.
During the Tribal Council, Rob reiterated that the Immunitynecklace was given to him by JC without him asking. "Hindi ko hiningi, ibinigaysa akin," JC said with so much intensity that made his tribemates, particularlyCris, and the Jury laugh.
ADVERTISEMENT - CONTINUE READING BELOW
JC, on the other hand, was confident that despite giving theImmunity necklace to Rob, his alliance with Rob and Charisse would keep him safefrom being voted out. And his strategy obviously worked.
Although accused by Cris as "ampaw," Rob managed to win theReward Challenge—obstacle course and firemaking—for the second time. When Paoloasked him to bring along one of his tribemates to a massage and spa as reward, hechose JC, who never failed to tag him along also every time he won the reward.
On Monday's episode of Survivor Philippines, JC, Rob, andCharisse will have their final Immunity Challenge. The winner of this challengegets to choose who will sit beside him/her in the Final Two.
Amazingly, Charisse managed stay on the game this far despite her lack ofphysical prowess and not having a strong alliance in the beginning. Somehow, she managed to survive and now she is the onlyremaining member of the old Jarakay tribe and the last woman standing. Charisse even surprised herself.
If Charisse wins the last Immunity Challenge, it will be interesting to know who she'll bring along in the Final Two. Will it be JC, who seems to be well liked by most of the Jury, or Rob, who has made enemies among the Jury?
If Charisse loses, it's almost guaranteed that JC and Rob will bring along one another to the Final Two because of their strong alliance and "trust" for each other. But will one of them betray the other in their quest for the three million prize?
ADVERTISEMENT - CONTINUE READING BELOW
All these questions will be answered on the final week of Survivor Philippines.