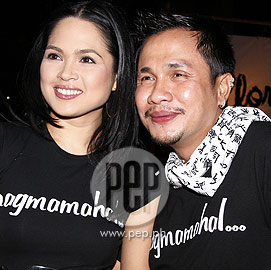 ---
Even though Ploning director Dante Nico Garcia isbusy advocating for his film Ploning in the United States, he took timeto attend the Asian Festival of 1st Films (AFFF), which took place at Singaporefrom December 4 to 10.
Direk Ga (Dante's nickname) introduced his film aboutPloning, a woman from Cuyo, Palawan (portrayed by Judy Ann Santos) but he didnot stay for the awarding ceremony that took place last December 11. Ploningproducer Jourdan Sebastian accepted the trophy in behalf ofDirek Ga.
The effort was well worth it since the first-time director was able to beatthree directors of the films Firaaq (India), Ganglamedo (China),and Little Zizou (India). According to the official website of AAFF, theFilipino director was awarded Best Director for "successfully creating anextraordinary love story filled with local flavour in his film Ploning."
In a phone interview with Direk TikoyAguiluz, he informed PEP (Philippine Entertainment Portal) about the triumph ofPloning in the Asian Festival of 1st Films.
ADVERTISEMENT - CONTINUE READING BELOW
Direk Tikoy, described by AAFF as a leading figure in thealternative cinema movement in the Philippines, was one of the three jurymembers who chose this year's winners. The other members were Hong Kongdirector Yim Ho, Silver Bear winner in Berlinale for the 1996 film The SunHas Ears, and Nadia Tass, one of Australia's most respected and uniquefilmmakers.
The Best Film award went to Firaaq, which is written and directed byactress Nandita Das. She also took home the awards for Best Screenplay and theForeign Correspondents Association Purple Orchid Award for Best Film.
Another Philippine entry, Pisay directed by AuraeusSolito, was nominated in the Best Producer category but it did not bag theprize. Aside from being nominated for Best Director, Ploning was alsoshortlisted in the Best Screenplay category.
This year, a total of 638 submissions came from 26countries for the fourth edition of the AAFF. The list was trimmed down to 28films and documentaries that competed for the 11 awards categories.
ADVERTISEMENT - CONTINUE READING BELOW