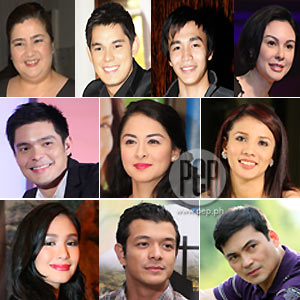 ---
JUNE. The onsetof the rainy season had the entire nation mourning the death of ActionPrince Rudy Fernandez, who succumbed to cancer last June 7. He was 56.
On June 17, five days after Daboy was laid to rest, GretchenBarretto strikes again with the "credit card" incident .
The actress-host-singer had a dinner with her sisterMarjorie and showbiz friends Ruffa Gutierrez and Pops Fernandez, plus anon-showbiz lady named "Jocie" at the Dusit Hotel. When it was time to settlethe bill, the swiping machine declined her credit card, and La Greta supposedlyuttered her now-famous line: "We own the bank!"
Meanwhile, disputes with "in-laws" also became dominated the scene.
Sunshine Cruz, who confirmed her separation from husbandCesar Montano during the early part of 2008, elevated her issuesagainst Ched Manhilot-Cantu, her sister in law, to the courts.
Likewise, Cheska Garcia decided to sever her ties withJennylyn Mercado, the mom of her first pamangkin. In an exclusive interviewwith PEP (Philippine Entertainment Portal), the sister of Patrick said, "Wouldyou invite a person who stepped on your brother a million times? No! No! Whyshould I?"
Another hot topic this month was the engagement of RyanAgoncillo and Judy Ann Santos.
JULY. The secondmajor rift of 2008 involved Claudine Barretto, who had a "salon confrontation"with Angel Locsin.
The issue was brought up to ABS-CBN management, which actedas the mediator. A meeting was held last July 23, attended by StarCinema managing director Malou Santos, ABS-CBN TV head Cory Vidanes, StarCinema AdProm director Roxy Liquigan, Star Magic vice president MarioleAlberto, Becky Aguila (manager of Angel), and Raymart Santiago (husband ofClaudine).
Afterwards, the management issued a statement: "Sa naganap na meeting, nilinaw ang mga isyung ito, kinilalaat naintindihan ang nararamdaman at emosyon ng bawat isa. Naging malinaw anglahat at nagkaroon ng kapatawaran."
But some PEP sources rebutted this, claiming that the twoladies allegedly had a heated argument in front of the bosses and did notarrive at a resolution. There were even talks that the "salon confrontation"did happen, but the reported trigger—which was Angel's bad attitude towards oneof the staff—was allegedly a "made-up story."
ADVERTISEMENT - CONTINUE READING BELOW
Other stories that caught the attention of the fans: RizaSantos's "snob attitude" during the Bench Blackout event, the sudden breakup ofPauleen Luna and Mayor Sherwin Gatchalian, and the birth of Danica Sotto'sfirst baby.
AUGUST. Majorevents, with tinges of contention,ruledthe month. There was the opening of KC Concepcion's first movie with RichardGutierrez, and the birthday concert of Dingdong Dantes and MarianRivera. Both would take place onAugust 27, and this did not sit well with Annabelle Rama, mom and manager ofRichard.
She deemed the schedule of Dingdong and Marian's concert as"sabotahe" and declared war against Wilma Galvante, senior vice president ofGMA-7.
Another shocking news was Francis Magalona's confirmation ofhis leukemia. The Master Rapper issued a statement last August 13, saying:"Ngayon meron akong isang pagsubok na dapat daanan at ang hiling ko lang ay anginyong pang-unawa at suporta. I have been diagnosed with leukemia and I ampreparing for my treatment."
The next day, Pinoys streamed to the Medical City to donateblood for the Master Rapper.
August 16 marked the birthday of Jennylyn Mercado's baby.The young mom gave birth to her son (and Patrick Garcia's) at St. Luke's Hospital viacaesarian section.
The month ended with a sad news: Comedienne Zorayda Sanchezdied of breast cancer on August 28. She was 57.
SEPTEMBER. Seehow complicated a real-life drama could get...The story began with a gap betweena talent manager and her ward. According to an article published by PEP onSeptember 10 , it was caused by "finance-related matters."
The gap widened as the talent made a decision to terminatehis contract, and this provoked the manager to file a 20-million lawsuit lastSeptember 16.
But on top of a legal tussle, the issue gave birth to anotherhubbub, which involved another set of characters.
Said one reporter, "Gabby Concepcion started it all. Una,sila ni Mommy Rose [Faminiano], na dinawit si Nadia [Montenegro], na nasagaddin ang galit dahil nakisawsaw si Cristy [Fermin]."
ADVERTISEMENT - CONTINUE READING BELOW
The simple gap between two people turned into a majortumult, with the three women involved hurling foul words at each other. Rosecalled Nadia "sulsoltant" and "badviser," and Cristy called the former Regalbaby a "bangaw."
Nadia Montenegro snapped back, but her anger was directed atCristy, whom she described as "walang budhi."
Another scene stealer was Kris Aquino, who made a "pa-starka" remark on the gown of Charlene Gonzalez during a fashion show. Witnessessaid Kris said it four times, and Charlene reportedly said, "Kris, do you have aproblem with my dress?"
Kris said it was just a joke,but majority did not agree.
Meanwhile, we also saw some celebrities saying hello to anew phase of their life.
Lorna Tolentino finally confirmed reports that she'stransferring to the Kapamilya network. The deal was inked last October 19, andone of the terms mentioned a television soap with Gabby Concepcion.
Dennis Trillo announced his breakup with Cristine Reyes. Ironically, the Gagambino star never was upfront in defining his relationship with the female lead of Eva Fonda. Both are now focused on theircareers.
Last September 28, Vina Morales admitted her pregnancy. Shedid not talk much due to the complicated status of her relationship with thedad of her baby, but one thing's sure, she's very happy and excited to embrace motherhood.
On a separate note, a part two of Gretchen Barretto's reported ousterfrom the Dasmariñas Village mansion of her partner Tonyboy Cojuangco resurfacedlast September 19 in the column of Ricky Lo. But PEP, with the help of threedifferent sources, deduced: "She is still there and she never left."
And lastly, Riza Santos's "attitude problem" strikes again,and this time, it concerned her "tardiness." The former Ms. Earth-Canada gotthe flak from the former Miss World Second Princess Ruffa Gutierrez, herco-star in I Love Betty la Fea.
OCTOBER. This isperhaps thebusiest month of theyear, so many things were happening at the same time. There was a breakup, acontroversial suspension, an altercation in a bar, two reconciliation stories, andanother baby boom.
ADVERTISEMENT - CONTINUE READING BELOW
Let's start with the Dingdong-Karylle split, which is themost-read breakup issue of 2008. PEP posted the article titled "Confirmed:Dingdong and Karylle breakup; Denied: Marian as third party" last October 29,which was a month prior to the day Dingdong was spotted watching Karylle'stheater performance in West Side Story,and a few weeks before Karylle's television interview, where she dismissedbreakup rumors.
Insiders say the announcement was made two or three monthsafter the actual date of their breakup. Some claimed Dingdong and hisleading lady Marian Rivera had been dating already. But the two denied theallegations.
Cristy Fermin's suspension, which was served last October15, was another controversial story. The official statement of ABS-CBN aboutthe issue read:
"Angsuspensyon ng talent contracts ni Ms. Fermin sa ABS-CBN BroadcastingCorporation ay may kaugnayan sa mga naging pahayag niya sa episode ng TheBuzz noong October 5, 2008. Ang aksyong ito ni Ms. Fermin ay lumabag sailang probisyon ng kanyang kontrata.
"Sapananaw ng kompanya, nadamay ang mga batang walang kinalaman sa kontrobersya sakanyang pahayag.
"Nalabag din ng aksyon ni Ms. Fermin ang mataas na batayan ngpropesyonalismo at integridad sa pamamahayag. Ito ay nagdulot ng kapinsalaanhindi lamang sa kanyang pangalan at kredibilidad, kundi sa programang TheBuzz at sa ABS-CBN."
The major puzzlers here: What fueled the "all-out war"between Cristy and Nadia? Why did Cristy join Rose Flaminiano in lambastingNadia in her tabloid columns? Why did Nadia describe her as "walang budhi?"
Some showbiz denizens asserted that the Gretchen-Dody affairwas the root of their rift. PEP featured the two women and their versions ofthe story. (CLICK THESE LINKS TO VIEW THE STORIES: NADIA and CRISTY.)
Richard Gutierrez's near-brawl incident with StarStruck graduate Aljur Abrenica lastOctober 18 at the Fiamma bar in Makati City launched more than a thousandcomments from the PEPsters. Only a few media and press outfits touched thestory, so showbiz fans relied on PEP for the detailed account.
ADVERTISEMENT - CONTINUE READING BELOW
Initially, Richard dubbed the issue an "invented rift." Hedid not deny that there was some hostility between him and Aljur because thelatter "barged in" on him and his friends, sat down, and drank withthem when he was clearly "uninvited." But all he did was ask thenewbie to "leave the table politely."
But several sources , including Aljur —who broke his silencealmost one month after the incident happened—said there was really aconfrontation and that Richard slapped Aljur's head twice.
Simultaneously happening with the Fiamma bar incident wasthe "historical" reconciliation of Joey de Leon and Willie Revillame, which tookplace at the Embassy Super Club. After more than a year of a very publicword war, the two hosts decided to bury the hatchet.
Joey said, "Tama ang sabi ni Willie, mga tuksuhan lang 'yan. Kaya lang,yung dalawang co-hosts mo [to Willie], paliwanag muna nila kung bakitnakikiiyak sa 'yo?"
Willie quipped, "Alam n'yo naman kami, artista! Ikaw nga ang nagturo sa akinniyan. Pero alam mo, hindi ba na-suspend ako, pero noong na-suspend ka,nakidalamhati rin ako!"
Likewise, in a PEP Exclusive, Gabby Concepcion told PEP about his ex-wifeSharon Cuneta: "Sharon and I are friends now. It's different. When my dad died,things have changed. You know, time has a mysterious way of healing things andI think it's happening."
The fourth pregnancy news this yearwas announced by Angelika dela Cruz. She said, "I am pregnant. I'm very happyand I am very proud." The La Lola co-staralso related that she and her boyfriend already got married last August 19.
NOVEMBER. Afterthe "hiwalayan issue," Sharon Cuneta found herself facing the persistent rumorabout Senator Kiko Pangilinan's "other woman." And this time, she dealt withthe intrigue in a more forthright manner.
She said half-seriously and half-jokingly, "Di ba, parangini-insist nila? Humihingi ako ng pruweba, kahit five to ten million cash,ipabibigay ko doon sa tao. Nakakairita! Pengeng ebidensiya! Sige, isasanla koasawa ko, magbibigay ako ng cash!"
ADVERTISEMENT - CONTINUE READING BELOW
Heart Evangelista became the center of attention when herpaparazzi photos with new beau Francisco Delgado in Boracay circulated. LastNovember 12, the Luna Mystika star affirmedwhat the photos insinuated, and told the press, "Yes, I think I'm in love."
Jennylyn Mercado's comeback was greeted by a rumpus, allegedlycaused by her manager Becky Aguila and her former road manager Mel Pulmano.
The single mom found out that somebody forged her signatureand rediscounted checks on her behalf. Initially, tabloids dropped the name ofMel as the culprit.
In exclusive interviews with PEP, the former staff of Beckysaid she was just a messenger. In phone conversation with her last October30, she stressed: "Hindi ako authorized na mag-withdraw. Alam ni Jennylyn namanager niya ang humahawak ng kanyang pera. Minsan, inuutusan ako bilangrepresentative ni Becky."
In response to Mel's statements, Becky retorted: "Angpagkakamali ko lang, naging mapagtiwala akong masyado at ipinaubaya ko angpagha-handle ng talents sa mga handlers. Kung may ginagawa akong hindi magandasa mga talents, tulad ng ibinibintang ni Mel na ako ang gumagalaw ng pera ngmga talents ko, bakit nasa akin pa rin silang lahat?"
Becky filed 19 counts of Qualified Theft, five counts ofQualified Theft Thru Falsification of Documents, at Falsification of CommercialDocuments at the Quezon City Prosecutor's office.
On Mel's part, "Nagsampa ako noong October 12 sa DOLE,sa Department of Labor. Idinemanda ko si Becky ng illegal dismissal, salarywage, overtime pay, holiday pay, holiday premium, rest-day payment, 13thmonth pay, separation pay, non-payment, and moral exemplary damage, andattorney's fee..."
On a separate note, two socialites made headlines due to apepper spray incident, which transpired at Embassy Fly last November 19.
Patricia Panlilio-Cu-Unjieng, a former model and thedaughter of the late jeweler Fe Panlilio, allegedly used pepper spray to hurtstockbroker and fellow socialite Neny Montinola.
Actresses Maricar de Mesa and Angelu de Leon becamewitnesses and women of the hour that night. The two rushed the pepper-sprayvictim to the hospital.
ADVERTISEMENT - CONTINUE READING BELOW
The last item to earn a spot in the hot list of PEPsters wasKarylle's transfer to ABS-CBN. Her new management STAGES told PEP last November7: "Karylle, warmly welcomed by ABS-CBNexecutives Cory Vidanes and Deo Endrinal, will be seen in ABS-CBN's musicalvariety shows, and soap operas. She is set to record a new album, andreprise her critically-acclaimed portrayal of Maria in STAGES' production ofhit Broadway musical, West Side Story, in 2009."
DECEMBER. Avictory, an unexpected demise, a messy breakup, and reconciliation marked the endingof 2008.
December 7, people both rejoiced and grieved over MannyPacquiao's win in his Dream Match against Oscar Dela Hoya in Las Vegas, andMarky Cielo's death.
The latter became this year's most read, and perhaps, mostshocking showbiz news. Nobody saw it coming.
His death was shrouded in controversies.
First was about its cause. GMA Artist Center, Marky'sfamily, and Antipolo Doctor's Hospital cited "bangungot." Some claimed"suicide." A few said there was a "foul play."
PEP was able to gather different versions of the story.Initially, there was the "gay benefactor issue," which was overshadowed by a"love triangle angle," which was reportedly dismissed by the lady involved. Thelast feed claimed that "foul play" reportedly killed the 20-year-old StarStruck Batch 2 Sole Survivor.
The second controversy was wreaked by the network war.Despite the family's requests for privacy, some news programs of ABS-CBN showeda tight shot of Marky inside his coffin.
Mildred Cadaweng, mom of Marky, tearfully said in her Startalk interview: "Nagtaka naman akonang nalaman ko na lumabas sa news, nandoon yung mukha niya [Marky], kung saan,paulit-ulit akong nag-e-explain at humihingi ng paumanhin kung bakit ayawnaming pakuhanan ng picture... Bakit ginawa nila yun? Talagang masakit ang loobko dun."
Marky was laid to rest last December 15 in MountainProvince.
Just before the Christmas break, the split of Dra. VickiBelo and Hayden Kho became the talk of the town. The beauty doctor, to date,has never said a word about the issue. On the other hand, the former Celebrity Duets contender regretfullyadmitted that he had a suicide attempt and an affair with Katrina Halili.
ADVERTISEMENT - CONTINUE READING BELOW
Last December 29, Katrina affirmed Hayden's statement butshe stressed that the breakup of Dra. Vicki and Hayden was caused by severalfactors. "Kung naghiwalay sila, maraming ibang bagay 'yon. Huwag naman pong akolang. Maraming ibang bagay, ang baduy naman na hiwalay sila dahil sa 'kin lange, ang tagal-tagal nang wala," asserted the StarStruckalumna.
Raymond Bagatsing's wedding in Los Angeles, California alsocaught the Pinoys by surprise. The age difference had most PEPsters talking—the35-year-old award-winning actor married a 60-year-old Pinay columnist namedCora Pastrana.
Four more stories diverted our attention from the holidayrush: Didith Reyes's death, Marian Rivera's tearful interview due to the"plastikada" comment of a member of the showbiz press and Karylle's"pa-smile-smile" on the "buntis issue," and the squaring off of Annabelle Ramaand Wilma Galvante last December 3 at Los Angeles Airport, and of Neny Montinolaand Patricia Panlilio just before Christmas.
In total, suki PEPstersread and talked about more than 4,300 news items posted by PEP contributorsand writers, but we recounted only the news items which made it to the Top 50Most Read list per month.
The intent was neither to relive any kind of pain nor resurrectold issues. We just want to portray that celebrities are just like us ordinarypeople—they get hurt, they cry, they get excited, they laugh, they get mad,they argue, they make wise decisions, they make mistakes.
We get to witness almost everything they do and say. We talkabout them. We take sides in the issues. We support them. We laud them. We ridiculethem. Showbiz has given us a lot of things to do all-year round.
It's high time to thank the newsmakers who became our sourceof entertainment, and the Pinoy showbiz fans in the different parts of globewho patronized their stories.
Ang 2008, pinutakti ngbagyo, pero hindi yata natin ininda. Masarap kasing isipin na sa tuwingnatatapos ang ulan, muling sisikat ang araw. Maligayang pagdating 2009!
ADVERTISEMENT - CONTINUE READING BELOW