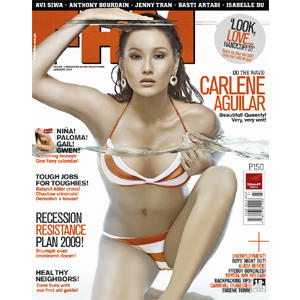 ---
"Eat your heart out!" Beautyqueen-actress Carlene Aguilar says as she makes waves in her very first FHM cover shoot. Dennis Trillo, fatherof Carlene's son Calix Andreas, may be doing just that as Carlene shows off herstunning, post-pregnancy figure by posing in a two-piece swimsuit while"swimming" inside a giant aquarium—a concept which Carlene herself chose andmarks a first in the history of FHM.
"I just want to experience howit is to pose on a cover of a magazine in a bikini," says Carlene, who hopespeople will give positive feedback on her FHMdebut, considering it's been fairly recent since she gave birth. "Iba pa rin pag nanganak na rin ang isang babae,"she says. "I think kahit mom ka na you should never stop being hot.Taking care of your body shouldn't end at motherhood."
Carlene is clearly comfortablewith her body, as her FHM photos showher posing so confidently, not even water can refract her statuesque figure.Perhaps this comes with being exposed to nudity as she takes up Art Studies atthe University of the Philippines.
"Sobrangganda ng katawan ng babae. So ipakitamo yun," she says, pointing out that during the Renaissance, people reallyadmired the physical traits of the human being. "Chubbypa nga ang sexy sa kanila.Weshould be thinking that way, too, so that women who are not confident withtheir bodies will think more positively about themselves."
Would Carlene be willing topose nude? "I can't say I can. Hanggang two-piecelang ako—for other people's eyes lang yun," she jokes, "But I would posenude if I were Picasso's subject, I want to see my body not as it is and I likethat Picasso opens up his subjects in his cubist experiments."
Clearly,Carlene has both beauty and brains. See more exclusive photos of her FHM debut in the January issue of FHM, which comes with an exclusive 2009 FHM Calendar,available in news stands, bookstores, and supermarkets nationwide. For more of FHMonline, log on to www.fhm.com.ph.
ADVERTISEMENT - CONTINUE READING BELOW