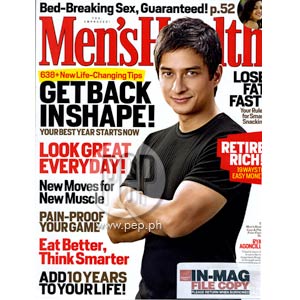 ---
Being engaged broughtout a lot of changes in actor-host Ryan Agoncillo's outlook.
In the January issue ofMen's Health, Ryan openly revealed gaininga sense of purpose in everything he does since proposing to girlfriend JudyAnn Santos.
"Dati when you get towork, you do it to buy a particular toy, a car, or maybe pang-date mo. But now,I'm saving up for a house in a village where you know there's a good schoolnear that you can enroll your child in. Or I'd be saving up for a particularcar that would fit a family. I like it that everything I do has a purpose now."
The feature tackles importantlife lessons learned by the Pinoy FearFactor host throughout the years and how all of these shaped his values anddecision making, personally and professionally.
Ryan confessedfeeling disheartened early last year after finding himself without work: "Nothing was going my way."
To say that depressiontook hold of him, however, would be an exaggeration. Ryan made the most of the lull by discovering more about himself andthe people around him. He also proposed marriage to Judy Ann during that trying period.
"We travelled thePhilippines and the world together. If I wasn't happy then, I would've gonenuts," said Ryan, whose passions include photography, SCUBA diving,motorbike, racing and car drifting.
Currently busy with ABS-CBN's Pinoy Fear Factor and Pieta as well as TV5's Talentadong Pinoy,Ryan fondly looked back: "I had to learn how to earn the most important things,it is through earning respect that you truly appreciate it."
Read more about Ryan inthe latest issue of Men's Health, availablein all leading bookstores and magazine stands nationwide.