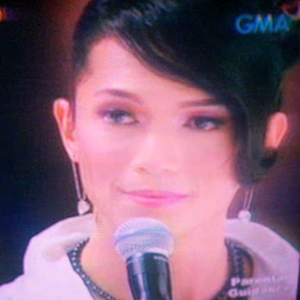 ---
Rustom Padilla came back from a three-month stay in the U.S. last Thursday, January 15. Rustom, who studied modelingin New York, surprised Startalk atthe airport with his feminine classy look and ramp-model bearing.
When Startalkgot hold of Rustom, the first thing they asked was whether airport officials hadany difficulty distinguishing him and his passport photo.
"Medyo," smiled Rustom. "Pero hindi naman. Pero,pinapapunta muna nila ako sa foreigners, so, sabi ko na Pilipino ako. They justasked me to take off my shades. I think natutuwa sila na makita ako. Ma'am angtawag sa akin so, I feel like a woman."
Rustom has taken his sexual preference to a new level by changing his name to suit his lifestyle.
"I'm a woman, so, call me Bebe [pronounced, "bibi"],"the artist known as Rustom Padilla told Startalk."I'd really appreciate it if you call me Bebe. Rustom's not here. Bebe's here,she's alive and kicking! Bebe's a character that people are gonna watch and I'mgonna portray...so, Bebe's here to stay."
Bebe is short for Binibining Gandanghari, and it's arole Rustom definitely wants to portray.
"That's my name," Bebe said. "She is a God-fearing,loving lady. I am a woman. I am a woman. Bebe's a woman...Emotionally, physically,biologically, spiritually, psychologically, socially..." at this point, Bebe'sseriousness faded and he quipped, "Ano pa ang gusto mo, financially?"
Though a lot has changed in Bebe's overall physique,he didn't comment on whether he was drinking estrogen pills or has undergoneany operation. At this time, he can be proud of his vital statistics. "I thinkit's 35-26-35," he said.
ADVERTISEMENT - CONTINUE READING BELOW
Will Bebe's family react once he sees them?
"I'm sure everything will be fine," said Bebe. "Walanaman akong sinasaktan na tao. Wala naman akong ginagawang masama. I do my owndecisions and as long as I know that it is responsible, I'm only asking forpang-unawa."
WALKING THE RAMPAT STARTALK. Bebeguests today live at Startalk to talkabout his plans now that he's back home. Startalk'sButch Francisco gives a welcome remark ("Long live, Bebe!") as Bebe goesonstage to give the viewers a taste of New York style modeling.
Once seated, Joey de Leon immediately went for the"Question": Has he undergone a sex change operation?
"I'd rather not comment about it sa mga panahon naito," Bebe said. "So, I hope napagbibigyan n'yo ako doon."
But for now, is Bebe willing to undergo a sexchange?
"That's a hard decision, so I'd rather not talkabout it," said Bebe. "I'm in the middle of everything."
Did he decline now to have it?
"No comment"
Lolit interjected, "Bakit Bebe? Parang bibi nagansa!?"
Bebe laughed and explained, "Actually, my full nameis Binibining Gandanghari. So, my nickname is Bebe."
Joey, who mused about Bebe's full name, asked,"Bakit Gandanghari, Bebe? Bakit hindi Dalawanghari or Isanghari? Or bakit hindiGandangreyna?"
"I was born with it," quipped Bebe.
NEWYORK STINT. Beberelated how big the preparation was in his travel and study in New York. "Iused to be big before," he explained, referring to his body structure. "So,physically, I had training and did a lot of Pilates para lang mag-change angstructure ko. And then, may training din sa modeling para matuto yungpaglalakad. It's not easy."
ADVERTISEMENT - CONTINUE READING BELOW
By the looks of it, Bebe definitely succeeded in hisgoal since he is no longer recognizable as Rustom Padilla—the handsomedramatic actor who was formerly married to actress Carmina Villaroel andbrother to action star Robin Padilla.
So, what made Rustom change his name to Bebe?
Bebe simply said, "Because I'm not Rustom...I'm Bebe."
Why?
"Because, hindi ba parang katawa-tawa naman kungpangalan ko ay Rustom?" laughed Bebe.
During his time in New York, did Bebe take anydrugs or medication to make him look more feminine?
"Not yet," Bebe said. "Everything was donenaturally. So, yeah..."
CARMINA ANDZOREN. Lolitcould no longer contain her curiosity and blurted out that Bebe looked likeCarmina.
"Alam mo, ganito 'yan," began Lolit, "pag nagkitakayo ni Zoren Legaspi at nakita niya na kamukhang-kamukha mo si Carmina? Paano'yan pag ligawan ka niya?"
"Sabihin ko sa kanya, bumalik siya sa asawa niya,"smiled Bebe.
"Ayaw mo kay Zoren?" asked Lolit.
Bebe laughed. "Hindi, gusto ko,silang dalawa. They have to be together and they'll live happily ever after.That's my wish for them."
So, if ever Bebe falls in love with anactor, who would it be?
"Shy ako," gushed Bebe. "But, you know what,siyempre yung gusto mo yung someone responsible. Someone who'll inspire you."
If Bebe would do a Zoren Legaspi-directed film withCarmina Villaroel, what roles would he and Carmina play?
"Sisters na lang," laughed Bebe.
BEBE'S LOVE ANDFAMILY LIFE. Is there anything romantic happening right now inBebe's life?
"Hindi pa, e," said Bebe. "Secret muna. I'd rathernot comment about it because it's not happening yet. Nasa stage pa lang na I'mnot even sure."
ADVERTISEMENT - CONTINUE READING BELOW
However, since Bebe's writing a tell-all book, wouldhe include his love life?
"Ah, matagal pa 'yan, matagal pa," said Bebe. "Twoyears pa."
Lolit asked, "isusulat mo din ba ang nakarelasyon mona hunk actor?"
"Well, wala akong nakarelasyon na hunk actor,"smiled Bebe. "Again, you might be referring to Rustom. I'm not Rustom."
How did Bebe's family react when he said that Rustomwas dead and Bebe is here to stay?
"Hindi pa nila nakikita si Bebe," Bebe said. "Walapa. Bebe's here to stay."
MOMMY EVA'SREACTION.Bebe's mom Eva Padilla has said that she wasn't happy about Bebe's choice."Wala na tayong magagawa doon. So, tanggap na namin siya. Noong una, hindi kokaya pero kahit hindi ako happy, wala akong magagawa."
Mommy Eva however, had only advice for her Bebe.
"Kahit na siya ganoon, huwag niya gagawin yung labagsa Diyos. Nangako naman siya."
Bebe, who got the message, said "I hope she'll behappy. Rest assured, I'll be a good girl."
What did Mommy Eva mean by, "Huwag ka lang gagawang labag sa Diyos"?
"Well, siguro feeling niya, when you're in this kindof life," explained Bebe, "you tend to be promiscuous. You tend to be sexuallyactive. That's not the case. I value relationships, and I value yung connectionng tao. And I don't think it's bad."
Does Bebe have any plans about settling down in thenear future?
"I don't wanna grow old alone," Bebe said. "That'sfor sure."
IDEAL MODELS.Bebe said that he wanted to be like his fashion icon Audrey Hepburn. Locally, helooks up to Melanie Marquez, another modeling icon.
ADVERTISEMENT - CONTINUE READING BELOW
"Kung mayroon akong ina-admire, e, dahil sa fashionsense. E, Melanie Marquez," said Bebe. "She's a very good model."
EXCITING CHANGESIN CAREER. Now that Bebe's back, what does he have in store forthe public?
"Marami," said Bebe. "They will see her on stage,TV, in movies."
In TV, will he appear as Bebe?
"Yes!" smiled Bebe.
Right now, is Bebe missing anything about RustomPadilla?
"Wala," she said. "Rustom lived a full life, anhonest life. I'm very happy now, that's all I can say."
Now that Rustom is long gone, what does Bebe have tosay to the public?
Bebe calmly said, "Life is short, and donot be afraid to be who you are and what you are because that's the only way tohappiness. Only God can see your heart, and that's the most important thing."
To watch video of Zoren and Carmina greeting Bebe, visit PEParazzi or click here .