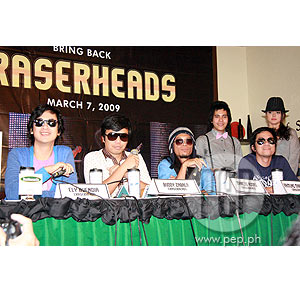 ---
The stage is set forthe second installment of the Eraserheads reunion concert.
At the MTV-Philippines press conference this afternoon, January 19, held at Italianni's restaurant on Bonifacio HighStreet, Taguig City, the band announced that the big event will be held at the SMMall of Asia concert grounds in Pasay City on March 7.
Tentatively titled The Final Set, the concert will onceagain feature Ely Buendia, Marcus Adoro, Buddy Zabala, and Raimund Marasigan onone stage.
The band's first reunion concertlast August 30, 2008 at the Bonifacio Global City open field in Taguig ended abruptly after 15 songs when lead singer Buendiasuffered chest pains and had to be rushed to the hospital. The legendary quartet was supposed to perform 30of their original songs, which comprise the bulk of their entire catalog.
TOTALLYDIFFERENT. All four members graced the pressconference and though the band retained that trademark nonchalance in answeringquestions, they collectively expressed excitement about playingtogether anew as one unit in front of a large audience.
ADVERTISEMENT - CONTINUE READING BELOW
"Playing with theseguys is just like riding a bike," enthused Buddy. "You come on stage, rememberall the old songs. It's pretty normal. But it became more exciting, a lot moreexciting, when people started counting down and people started singing."
A in the first installment, the one-night affair will feature only the Eraserheads with JazzNicholas of the Itchyworms serving as auxiliary musician to complement thearrangement of some of the songs. When they werestill active as a group, the Eraserheads used to enlist the services of multi-instrumentalist Noel Garcia to tighten their live set. Unfortunately, Noel passed away a few years ago after aheart attack.
Raimund dismissed the impression that the upcoming event will only serve as acontinuation of the first reunion. He argued that the band andthe production team prepared something new and different from last year'sconcert.
The fact thatpreparations are being laid out this early also means that the concert is moreorganized. MTV announced that further details will bemade public in the coming weeks.
ADVERTISEMENT - CONTINUE READING BELOW
As for Ely's health,the enigmatic singer-songwriter assured the press that he's doing fine.
"I'm just doing allthat I can to prepare myself physically, at least," said Ely, who just like hisformer comrades came to the presscon sporting a pair of dark shades. Heconfidently added, "So far, yeah, I'm in good condition to play."