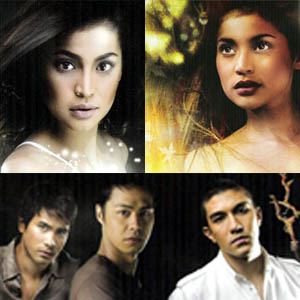 ---
WithIisa Pa Lamang finally out ofcontention, the recently-concluded fantaserye Dyosa breezedits way to the summit of the primetime mountain, according to the latestNationwide Urban TV Audience Measurement (NUTAM) figures for the month ofDecember. The survey was conducted by AGB Nielsen Media Research Philippines.
Registeringa total rating of 30.3 percent, Dyosaedged out TV Patrol World and BeaAlonzo's I Love Betty La Fea, which garnereda grade of 29.1 percent to secure third place. I Love Betty La Fea occupiedfifth place in November, making its current showing far more impressive.
HeartEvangelista's first GMA-7 soap starrer, LunaMystika, likewise proved its mettle by accumulating a rating of 27.8 percent, followedby Eva Fonda's 27.1 percent. Luna Mystika retained the same spot itheld last November, though viewership figures were more impressive then by threepercent.
Occupying the rest of the Top 10 are GMA-7's Gagambino, 24 Oras, Lalola, and Survivor Philippines, and ABS-CBN's Kapamilya Deal Or No Deal.
Despitenarrowly escaping GMA-7's Una Kang Naging Akin'srelentless pursuit, Willie Revillame's Wowoweestill managed to pull off a victory in the weekday programs. For the month of December, theABS-CBN noontime variety show raked in 20.6 percent against Una Kang Naging Akin's 20.5 grade.
Another Kapuso drama series, Saan Darating Ang Umaga?,hung on anew; this time collecting a 17.1 percent rating to stave off Eat Bulaga's 16.9. Ryan Agoncillo's Pieta cornered the fifth slot, followedby Pilipinas, Game KNB?, Daisy Siete, and La Traicion.
Two GMA-7animation series, Street Fighter and Ghost Fighter, completed the list,gaining ratings of 13.9 and 13.2 respectively.
Filipinoring icon Manny Pacquiao's bout against legendary fighter Oscar dela Hoya generatedthe most number of ratings for the entire month. Dubbed as The Dream Match, the boxing spectacle staged last December 7 and shown in GMA-7 amasseda total of 46.0 percent, making perennial weekend daytime favorite Wowowee's rating of 20.9 pale incomparison.
TheTV telecast of Metro Manila Film Festival past favorites, Enteng Kabisote 4 and Sakal,Sakali, Saklolo also made astrong impression with the former notching a rating of 19.5, while the Judy Ann Santos-Ryan Agoncillo film garnered 15.5 good enough for seventh placeoverall. These films were pitted by ABS-CBN against the Pcquiao-De La Hoya match.
ADVERTISEMENT - CONTINUE READING BELOW
Forthe weekend primetime contest, the country's longest-running drama anthologyprogram Maalaala Mo Kaya secured firstplace, bolstered by its 29.3 percent rating. Korina Sanchez's Rated K came in at second with 27percent, while The Singing Bee trailedclosely behind with 26.1 percent.
Here are the Top 10weekday and weekend programs for the month of December, based on a surveyconducted by AGB Nielsen among NUTAM households:
TopWeekday Programs (Daytime)
Wowowee (ABS-CBN) - 20.6%
Una Kang Naging Akin (GMA-7) - 20.5%
Saan Darating Ang Umaga? (GMA-7) - 17.1%
Eat Bulaga! (GMA-7) - 16.9%
Pieta (ABS-CBN) - 16.7 %
Pilipinas Game KNB? (ABS-CBN) - 16.1%
Daisy Siete (GMA-7) - 15.1%
La Traicion (ABS-CBN) - 14.4%
Street Fighter (GMA-7) - 13.9%
Ghost Fighter (GMA-7) - 13.2%
TopWeekday Programs (Primetime)
Dyosa (ABS-CBN) - 30.3%
TV Patrol World (ABS-CBN) - 29.3%
I Love Betty La Fea (ABS-CBN) - 29.1%
Luna Mystika (GMA-7) - 27.8%
Eva Fonda (ABS-CBN) - 27.1%
Gagambino (GMA-7) - 26.1%
24 Oras (GMA-7) - 25%
Lalola (GMA-7) - 23.2%
Survivor Philippines (GMA-7) - 22.5%
Kapamilya Deal or No Deal (ABS-CBN) - 21.6%
TopWeekend Programs (Daytime)
The Dream Match: De La Hoya vs. Pacquiao** (GMA-7) - 46%
Wowowee (ABS-CBN) - 20.9%
Enteng Kabisote 4: Okay Ka Fairy Ko... The Beginning of a Legend** (ABS-CBN) - 19.5%
Cinema FPJ Da King on ABS-CBN (ABS-CBN) 17.3%
Eat Bulaga! (GMA-7) - 16.9%
ASAP '08 (ABS-CBN) - 16.1%
Sakal, Sakali, Saklolo** (ABS-CBN) - 15.5%
Wish Ko Lang! (GMA-7) - 14.7%
Startalk (GMA-7) - 14.6%
Your Song (ABS-CBN) - 13.5%
TopWeekend Programs (Primetime)
Maalaala Mo Kaya (ABS-CBN) - 29.3%
Rated K (ABS-CBN) - 27%
The Singing Bee (ABS-CBN) - 26.1%
Komiks (ABS-CBN) - 26%
Bitoy's Funniest Videos (GMA-7) - 25.1%
Kapuso Mo, Jessica Soho (GMA-7) - 24%
Family Feud Celebrity Edition (GMA-7) - 23.7%
Kap's Amazing Stories (GMA-7) - 22.4%
Mel & Joey (GMA-7) - 21.8%
Goin' Bulilit (ABS-CBN) - 20.9%
**Special
Source:AGB Nielsen Media Research Philippines