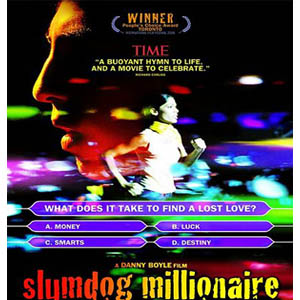 ---
As expected, early favorite Slumdog Millionaire bagged the most number of trophies in the recently concluded 81st Oscar Awards. Dubbed "the greatest show on earth," the Academy Awards this year was held at the Kodak Theater in Los Angeles, California.
The movie about a young man from the slums of Mumbai, India, who joined the Indian version of Who Wants To Be A Millionaire, was honored with a total of eight awards, including Best Picture and Best Director for Danny Boyle. Slumdog Millionaire had 10 nominations in nine categories (two of its songs were nominated for Best Original Song, which was won by "Jai Ho.").
Top acting honors went to Sean Penn (Best Actor) for his role as real-life gay activist Harvey Milk in Milk, and Kate Winslet (Best Actress) for her performance as a guard in a Nazi prison camp in The Reader.
The late Heath Ledger was honored posthumously with a Best Supporting Actor award for his turn as Joker in The Dark Knight. His family—father, mother, and sister—accepted the award on his behalf.
Spanish actress Penelope Cruz won Best Supporting Actress for Vicky Cristina Barcelona.
Except for Sean Penn, who received his second Oscar, the acting winners are all first-time winners; although Kate has been nominated six times while Heath and Penelope have been nominated twice.
Adding to the international flavor of the Oscar Awards are the nationalities of the four acting winners: Sean is American, Kate is British, Penelope is Spaniard, and Heath is Australian. Also, Slumdog Millionaire is a British-produced film with a British director and mostly Indian cast.
ADVERTISEMENT - CONTINUE READING BELOW
What made the announcement of the winners in the acting categories more memorable were the presentors. In the past years, the winners for the previous year present trophies for the opposite category—like Best Actor winner presenting the Best Actress award. This year, five winners from the same category presented the acting awards.
For Best Supporting Actress, last year's winner Tilda Swinton (Michael Clayton) with Eva Marie Saint, Goldie Hawn, Anjelica Huston, and Whoopi Goldberg presented the award.
Best Supporting Actor presenters were Christopher Walken, Kevin Kline, Cuba Gooding Jr., Joel Gray, and Alan Arkin.
Best Actress presenters were Sophia Loren, Shirley MacLaine, Halle Berry, Nicole Kidman, and last year's winner Marion Cotillard (La Vie En Rose).
The Best Actor presenters were Robert de Niro, Ben Kingsley, Anthony Hopkins, Michael Douglas, and Adrien Brody.
Host Hugh Jackman, who was exceptionally good on his debut as Oscar host, did an exciting musical number honoring the Best Picture nominees with Anne Hathaway, who is a Best Actress nominee for Rachel Getting Married, in the opening number. He did another musical number to honor the musical films, with Beyonce Knowles and the young pairs from Mamma Mia (Amanda Seyfried and Dominic Copper) and High School Musical 3 (Zac Effron and Vanessa Hudgens).
Here is the complete list of winners in the 81st Oscar Awards:
Best Supporting Actress: Penelope Cruz (Vicky Christina Barcelona)
Best Original Screenplay: Dustin Lance Black (Milk)
Best Adapted Screenplay: Simon Beaufoy (Slumdog Millionaire)
Best Animated Feature: Wall-E (Andrew Stanton)
Best Animated Short Film: La Maison En Petits Cubes (Kunio Kato)
ADVERTISEMENT - CONTINUE READING BELOW
Best Art Direction: The Curious Case of Benjamin Button
Best Costume Design: The Duchess (Michael O'Connor)
Best Makeup: The Curious Case of Benjamin Button (Greg Cannom)
Best Cinematography: Slumdog Millionaire (Anthony Dod Mantle)
Best Live Action Short Film: Toyland
Best Supporting Actor: Heath Ledger (The Dark Knight)
Best Documentary Feature: Man On Wire
Best Documentary Short Film: Smile Pinki
Best Visual Effects: The Curious Case of Benjamin Button
Best Sound Editing: The Dark Knight
Best Sound Mixing: Slumdog Millionaire
Best Film Editing: Slumdog Millionaire (Chris Dickens)
Best Original Score: Slumdog Millionaire (A.R. Rahman)
Best Original Song: "Jai Ho" (Slumdog Millionaire)
Best Foreign Language Film: Departures (Japan)
Best Director: Danny Boyle (Slumdog Millionaire)
Best Actress: Kate Winslet (The Reader)
Best Actor: Sean Penn (Milk)
Best Picture: Slumdog Millionaire
Special Award:
Jean Hersholt Humanitarian Award: Jerry Lewis