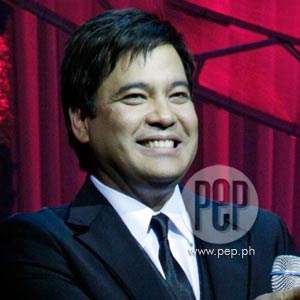 ---
PolyEast Records defends Concert King Martin Nievera against detractors who continuously criticize the singer for his rendition of the "Lupang Hinirang" in the recently concluded boxing match between Filipino ring icon Manny Pacquiao and British fighter Ricky Hatton.
The boxing event billed as The Battle of East and West was held at the MGM Grand Garden Arena in Las Vegas, Nevada, on May 2 (U.S. time). Some observers felt that Martin's version veered away from the original beat and tempo, thus making his interpretation "incorrect."
"PolyEast Records finds nothing offensive or disrespectful in the way Martin sang the Philippine National Anthem. We believe that his version which is one of the best so far was done to 'fire-up the spirit' of Manny Pacquiao and every Filipino watching the fight," reads a statement sent by PolyEast Records to PEP (Philippine Entertainment Portal).
Martin is part of PolyEast Records (formerly EMI Records) roster of artists along with Kyla, Zsa Zsa Padilla, Nikki Gil, and Karylle, among others.
The label added that Martin's performance may have added more fuel to Manny's tank, as proven by the boxer's inspired performance, knocking down Hatton two times in the first round before knocking his opponent out cold in the second round.
"This ultimately was Martin's goal in accepting Manny Pacquiao's offer for him to sing the Philippine National anthem during the Pacquiao-Hatton fight."
The statement clarified that there is no official release "either in video or audio format" of the said performance being sold in the market.
"STILL A PROUD FILIPINO." Attached to the letter is Martin's own statement concerning the entire controversy.
Martin once again defended himself by stressing that he delivered the National Anthem to the best of his ability. It was his intention, according to Martin, to sing and represent the country proudly before a global audience.
ADVERTISEMENT - CONTINUE READING BELOW
He also fired back at critics who insist that his "incorrect" rendition violated Republic Act 8491 or the Flag and Heraldic Code of the Philippines.
The said law strictly states that the "Lupang Hinirang" should be performed or played in accordance to the arrangement composed and envisioned by its composer, Julian Felipe.
Reports said that Cavite Rep. Elpidio Barzaga Jr. recommended filing a case against Martin following the performance.
Here is Martin's full statement:
"About 3 months ago, I was asked by our champion Manny Pacquiao to sing the National Anthem in his fight with Ricky Hatton. I accepted wholeheartedly. This would be my first time to be blessed with the honor of representing my country and singing our national anthem in front of the world.
"It was then my plan to make my moment of honor not about me or anything showbiz. Instead, I wanted to stand center ring as nothing else but a proud Filipino singing his anthem, wanting every word and emotion behind each word to reach not just the cheap seats at the very top of the arena, but heard, felt, and understood even in the non-Tagalog speaking countries all over the world.
"Music is the universal language, so I knew if I arranged it and performed it convincingly, I could make our anthem understood even though it was the only anthem that night that was not in English. I could have just gone thru the motions of singing it over, but no, I wanted to represent and communicate.
"So with all my heart and love for the country I was so proud to represent as well as the fighter I opened for, I sang the anthem the way I did. If I were to tell you in a soft voice, in perfect time and pitch as dictated by history, 'Ang Mamatay Nang Dahil Sa 'Yo,' would you believe me? But if I made sure I said the line with conviction and volume enough to heard over thousands of screams then would you believe me better?
ADVERTISEMENT - CONTINUE READING BELOW
"I cannot apologize for the way I sang it because no one told me the rules nor the laws in years past. Didn't hear about any of these so-called laws when the others before me sang their versions. I didn't get the memo. I will not apologize for giving my all just to sing that song in front of the world. But I do apologize ONLY to the people afraid of progress and change, of course to the lawmakers and to who ever else took offense to my interpretation of probably the most beautiful song I have ever come across. And to everyone else, God bless your open mind and open heart."
The singer ended his message with the words, "Still a proud Filipino, Martin Nievera."