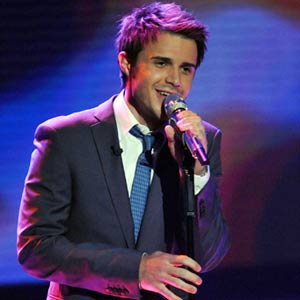 ---
American Idol has crowned 23-year-old college student Kris Allen of Conway, Arkansas, as its new winner. Kris beat 27-year-old stage actor Adam Lambert of San Diego, California, in the finale of American Idol Season 8 held earlier today, May 21 (May 20, U.S time), at Nokia Theatre in Los Angeles, California.
A night before the grand finale, Kris and Adam faced off for their final performances wherein they sang three songs each: their favorites, American Idol creator Simon Fuller's choice, and this season's victory anthem "No Boundaries" (co-written by American Idol judge Kara DioGuardi).
In the first round, Adam performed Tears For Fears' "Mad World," which he first sang during The Year They Were Born week; while Kris performed Bill Withers's "Ain't No Sunshine" from Popular iTunes Downloads week.
In the second round, Fuller chose Sam Cooke's "A Change Is Gonna Come" for Adam, and Marvin Gaye's "What's Going On" for Kris.
Finally, Adam and Kris both performed the victory anthem "No Boundaries" but with entirely different versions; Adam took the rock road while Kris gave it a pop-R&B sound.
The match-up between Kris and Adam is one of the most interesting in the history of American Idol. As host Ryan Seacrest perfectly puts it: "acoustic rocker" (Kris) vs. "glam rock" (Adam). Adam is known for his "theatrics" and his mad vocal range while Kris is at his best when he is playing an instrument, (guitar or piano) acoustic style, and making each song his own.
In the end, Kris prevailed and won the hearts—and votes—of American viewers with almost 100 million votes cast.
Kris's victory is considered by many as a surprise since the American Idol judges—Simon Cowell, Paula Abdul, Randy Jackson, and Kara DioGuardi—favored Adam along with third placer Danny Gokey; to the extent that Simon even reminded the viewers to make sure to vote for the rocker to ensure his place in the Top 2. The other judges were also very generous in giving their comments to Adam. But Kris proved himself by infusing his personal touch in every song.
ADVERTISEMENT - CONTINUE READING BELOW
Kris was almost speechless after Ryan announced him as the new American Idol. Even Kris was so surprised by his victory that he said, "Are you serious? Are you freaking serious? It feels good, man, but Adam deserves this... I'm sorry! I just don't know what to feel right now. This is crazy!"
The more than two-hour grand finale featured spectacular musical numbers from the American Idol finalists and special guest performers.
The Top 13 opened the show with Pink's "So What"; last year's winner David Cook performed his single "Permanent"; finalist Lil Rounds sang "Cue the Rain" with Queen Latifah; finalists Anoop Desai, Alexis Grace, and the rest of the Top 11 with Jason Mraz performed "I'm Yours"; Kris with country singer Keith Urban sang "Kiss A Girl"; the female finalists performed with Fergie and the Black Eyed Peas; fourth placer Allison Iraheta and Cyndi Lauper sang "Time After Time."
Third placer Danny Gokey performed "Hello," and then he was joined by Lionel Richie; Adam rocked the house down with Kiss; Carlo Santana jammed with the Top 13; finalists Megan Corkey and Matt Sarver with comedian Steve Martin; the male finalists with Rod Stewart; Adam and Kris closed the show with "We Are The Champions" accompanied by the remaining members of legendary rock band Queen.
Even new Idol judge Kara Dioguardi took the stage with "Bikini Girl" Katrina Darrell singing "Vision of Love."
Kris succeeded last year's winner David Cook, who incidentally staged a very successful concert with his runner-up, David Archuleta, here in Manila last May 16.
Other winners of American Idol include Kelly Clarkson, Ruben Studdard, Fantasia Barrino, Carrie Underwood, Taylor Hicks, and Jordin Sparks.
For winning American Idol, Kris went home with one million dollars and a chance of a lifetime. Both Adam and Kris got a brand new car from Ford.
ADVERTISEMENT - CONTINUE READING BELOW