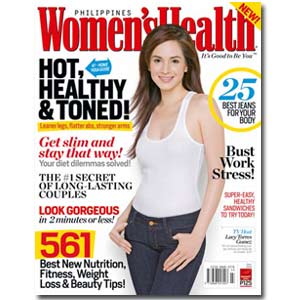 ---
Lucy Torres Gomez is one of the most beautiful faces in show business, but she has always been more than just a pretty face. She stresses the importance of having both beauty and brains, as she tells Women's Health this June, "There has to be more to you than just your beautiful face. When you're 80 and everything's defying gravity already, there has to be something left to you. You need to have some substance."
The substance in Lucy's life consists of building a happy home with husband Richard Gomez and daughter Juliana, sticking to her virtues and values, and knowing who she is. Lucy's secret to happiness is also her secret to lasting beauty.
"It sounds like a cliché, but you should have your peace," she tells Women's Health. "No matter how beautiful you are, if there's turmoil in your life, it will show. It's all about finding your joy, and joy could really be so simple."
One of Lucy's simple joys is finding the right fitness regimen for her—yoga. "When I'm doing it, I'm not counting the hours. Time just flies and I like that," she enthuses.
For those who have yet to find a fitness regimen that works for them, Lucy advises, "You have to find an activity that you really, really take to, then it becomes easy and effortless. It doesn't become a chore. It becomes part of you, part of your lifestyle."
This month's issue of Women's Health has the ultimate guide to yoga for beginners, showing you step-by-step how you can begin doing yoga in your own home. Get hooked on yoga like Lucy and read more about her thoughts on love and marriage in the June issue of Women's Health, available in newsstands, bookstores, and supermarkets nationwide.
ADVERTISEMENT - CONTINUE READING BELOW