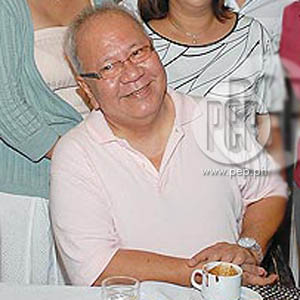 ---
Douglas Quijano is dead.
The veteran talent manager was found lifeless in his Lucban, Quezon home by former Hi! editor and film director Ces Evangelista, who was a house guest, and the talent manager's driver, Francis, earlier today, June 13.
He was 64.
According to Ces, who spoke to PEP editor-in-chief Jo-Ann Maglipon a few hours ago, Douglas usually wakes up early. So when the talent manager was not able to join them for breakfast, they knocked on his door at around 10 a.m. When he did not answer, they forced open the door. That's when they discovered the body.
Initial report said that Douglas died of stroke, although latest reports say that the cause of death must have been heart attack.
Richard Gomez and wife Lucy Torres, two of the most prized talents of Douglas, are currently in San Francisco, California for an event sponsored by GMA Pinoy TV. They are cutting short their trip and they will just complete their last commitment before flying back to Manila.
PEP was able to speak to Richard and Lucy at separate times within the last hour. The actor was very low key and seemed to be musing, even as he was giving suggestions about the arrangements for his manager and friend's wake.
According to Lucy, someone told her that at around 6 p.m. last night, Douglas had been having chills and had seen a doctor. At home, he drank coffee before sleeping to offset the chills.
Everyone in showbiz, including PAMI (Philippine Artists Managers, Inc), has been making calls to each other, expressing shock and deep sadness at the death of someone considered in the PAMI as first among equals.
Joey Marquez, one of the earliest talents that Douglas managed and is said to be his personal favorite, was reported to be heading from Batangas to Lucban as of press time. Joey is expected to be consulted on the funeral arrangements.
ADVERTISEMENT - CONTINUE READING BELOW
The manager's brother, Mark, is also being consulted about the family's wishes for his famous brother.
John Estrada, Gelli de Belen, and other talents managed by Douglas have already been told.
Tito Dougs, as he was fondly called by people in the showbiz industry, was considered one of the most respected talent managers in the country. He was behind the success of some of today's most popular stars, like Richard Gomez and his wife Lucy Torres Gomez, Mark Anthony Fernandez, Jomari Yllana, Joey Marquez, Janice de Belen, Gelli de Belen, Wendell Ramos, John Estrada, Anjo Yllana, and Antonio Aquitania, to name a few.
He also had a hand in discovering Claudine Barretto, Carmina Villarroel, Nadia Montenegro, Eric Fructuoso, and many others.
Aside from managing talents, he also set up his own film company, MAQ Productions. He was also credited as executive producer, line producer, and project coordinator for many movies of Regal Films, owned by Mother Lily Monteverde, and other film outfits.
He wrote the screenplays for the movies Isang Gabi, Tatlong Babae (1975) and Zoom, Zoom Superman! (1973).
Tito Dougs was also one of the founders of PAMI (Philippine Artists Managers, Inc.), an organization of talent managers. He was also one of the first bloggers here in PEP.
In the last few years, Tito Dougs chose to stay away from the limelight and spent most of his time in Lucban, Quezon.
He turns 65 on July 24.
At press time, burial arrangements have been made by Douglas's talents. From Lucban, his remains will be brought to the Chapel 7 of Heritage Memorial Park in Taguig City for the wake.