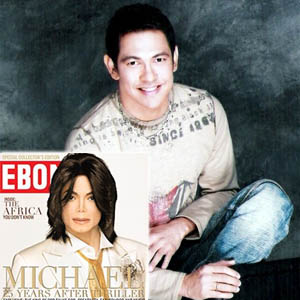 ---
The sudden death of Michael Jackson has left his family and his fans all over the world devastated. Images of fans coming out on the streets to mourn his death and to celebrate his life and music were all you could see on television, newspapers, and the Internet.
Here in the Philippines, one of the biggest fans of the King of Pop is Mr. Pure Energy himself, Gary Valenciano. Gary V's style in performing is very much like that of Michael Jackson. In fact, Gary has been dubbed as the "Michael Jackson of the Philippines."
Gary's music career began in 1982, the same year Michael Jackson's Thriller album, his sixth, was released. Thriller is still the best-selling album of all time.
Gary was on his way to Beijing, China, when he learned about Michael's death. According to his wife Angeli Pangilinan-Valenciano, who was with him that time, "Gary was crying in the plane. We caught it on CNN when it happened, right before we left via PAL for Beijing. GV devastated. He is pensive and cannot talk much. Everyone texting him from all over as he was called the Michael Jackson of the Philippines."
Gary also sent a message to PEP (Philippine Entertainment Portal) and other members of the entertainment press to express his feelings about the death of the King of Pop.
His text message reads in full:
"It is a sad day for the entire world that the greatest performer/artist of our time has passed away. The music industry would have never been what it is today without him.
"Truth be told, I am totally grieved and there is difficulty in finding the words to say. His music and style transcends generations as seen in the way he influenced even the youngest of artists we see today. In some ways, it's like part of me has died too. He was an inspiration to me. I still wonder if he ever read the letter I wrote him when he performed here. It was the least I could do for all [the] years he inspired me.
ADVERTISEMENT - CONTINUE READING BELOW
"Michael Jackson... there simply will never be another quite like him. His death is now the biggest event, but his music and his life were always about something big. I'm thankful that I witnessed him live on stage and that he played his part as he sang and danced his way into my life. I don't know until when this grieving will settle in all those who have been inspired by him.
"He became a laughing stock to some who chose to thrive on the gossip he may or may not have caused, but to me he will forever be the one who moved us the way only he could. May God bless his family. May God console his children. And May God bless all who hurt at the passing of one who will never be equaled, the only one worthy to ever be called the KING OF POP... but Gone too soon."
Michael Jackson came to the Philippines in December 1996 for a two-night concert in Parañaque City as part of his historic world tour.
According to initial reports, the King of Pop died of cardiac arrest Thursday, June 25 (U.S. time), at UCLA Medical Center in Los Angeles, California. But the latest news is that a report of the cause of the pop star's death has been "deferred" and the coroner has ordered further tests after the autopsy has been completed, although the said autopsy showed "no sign of external trauma or foul play." (Click here to read related story.)