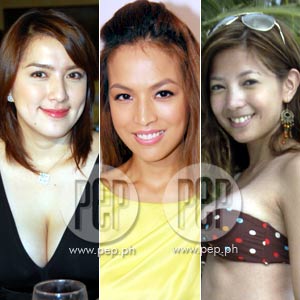 ---
The perjury complaint filed by talent manager and film producer Rose Flaminiano against sexy actresses Aubrey Miles (Aubrey Sandel in real life), Ara Mina (Hazel Reyes in real life), and Maui Taylor (Maureen Ann Fainsan in real life) was dismissed by the Quezon City prosecutors office.
Flaminiano accused the three actresses of lying under oath in connection with the case they filed against the manager at the Housing and Land Use Regulatory Board (HLURB) on October 2, 2008.
The court cited the fact that the perjury complaint might trigger a significant conflict with Flaminiano's still pending HLURB case.
"It is but proper to wait first for the HLURB to make a ruling... because, howsoever the issue in the said case is resolved, such finding would be determinative of the resolution in this perjury complaint," says Assistant City Prosecutor Wilfredo Andres in his three-page resolution.
Ara, Aubrey, and Maui filed a complaint against Flaminiano—known in the entertainment industry circle as "Mommy Rose"—after the controversial talent manager allegedly failed to deliver on her promise to award the three celebrities housing units in exchange for their services to embark on a massive promotional campaign for Rosmont Executive Villas in Tarlac.
ADVERTISEMENT - CONTINUE READING BELOW
Mommy Rose fired back against the three by filing a perjury complaint, accusing Ara, Aubrey, and Maui of deliberately ganging up on her and conspiring to come up with a court case against her.