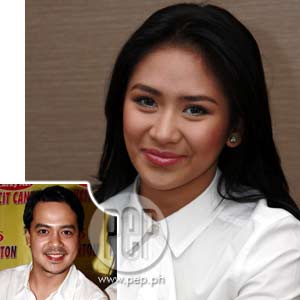 ---
Last Sunday in ASAP '09, some people noticed that Sarah Geronimo was snubbing John Lloyd Cruz while they were hosting one of the show's segments together. In a showbiz news report, the actress-singer allegedly acted so cold that she couldn't even look straight at her former onscreen partner.
However, at the press conference of her new endorsement with John Lloyd, Lucky Me Pancit Canton, held yesterday, July 15, Sarah quickly clarified that it was part of her personality to feel awkward with a person whom she has not seen for a while.
"Kasi nasa part yun ng personality ko po na naiilang," she said. "Halimbawa, kahit na close na kami, pero kapag nagkita kami, minsan may ilangan talaga na nangyayari."
She also added, "Kasi it's been a while since the last time we worked together. 'Yong shoot medyo matagal na rin 'yon. Sabi nga niya [John Lloyd], kahit magkakapamilya nga, kung matagal na hindi nagkita, matagal na hindi nagkakausap, even sa mga kaibigan nagkakaroon ng pagkakailanganan. Pero sabi ko nga nawawala rin 'yon, ngayon wala na."
ADVERTISEMENT - CONTINUE READING BELOW
The Pop Star Princess also dismissed rumors that one possible reason she acted that way was because her mother's name was being dragged into the issue.
Mommy Divine allegedly branded her daughter's former loveteam partner as someone who's "walang hiya and walang delicadeza" while explaining whether John Lloyd courted her daughter. However, Mommy Divine already denied this issue and explained that she was misquoted.
Sarah, who is turning 21 on July 25, believed that her mother wouldn't say such things about John Lloyd Cruz.
She said, "In a way, talagang affected din kami sa mga isyung naglalabasan, especially 'yon nga nada-drag sa isyu ang pangalan ng mommy ko. May mga nakasulat pang write-up na sobra naman silang magsalita sa mommy ko, na nakakagulat."
As much as possible, Sarah did not want to talk about it anymore. "Kasi alam naman namin kung ano talaga ang nangyari. Alam naman natin ang totoo, ang totoong nangyari," she said.
ADVERTISEMENT - CONTINUE READING BELOW
In the end, Sarah stood firm by her mother. "Ako, naniniwala ako sa values na meron kami ng mommy ko. 'Yong pananalita niya, never siyang nagsalita ng ganun at pagsalitaan niya ng ganun ang isang John Lloyd Cruz. Hindi po totoo ang mga nababasa ninyo."
SHARE THIS STORY ASAP" data-url="https://www.pep.ph/news/22478/sarah-geronimo-denies-snubbing-john-lloyd-cruz-in-asap" data-desc="Sarah says there's no truth to a write-up about the alleged negative statements of her mother against John Lloyd." data-image="https://contents.pep.ph/images2/news/34b3aa8b3.jpg"> ASAP" data-url="https://www.pep.ph/news/22478/sarah-geronimo-denies-snubbing-john-lloyd-cruz-in-asap" data-desc="Sarah says there's no truth to a write-up about the alleged negative statements of her mother against John Lloyd." data-image="https://contents.pep.ph/images2/news/34b3aa8b3.jpg"> ASAP" data-url="https://www.pep.ph/news/22478/sarah-geronimo-denies-snubbing-john-lloyd-cruz-in-asap" data-desc="Sarah says there's no truth to a write-up about the alleged negative statements of her mother against John Lloyd." data-image="https://contents.pep.ph/images2/news/34b3aa8b3.jpg">
SHARE THIS STORY
ASAP" data-url="https://www.pep.ph/news/22478/sarah-geronimo-denies-snubbing-john-lloyd-cruz-in-asap" data-desc="Sarah says there's no truth to a write-up about the alleged negative statements of her mother against John Lloyd." data-image="https://contents.pep.ph/images2/news/34b3aa8b3.jpg"> ASAP" data-url="https://www.pep.ph/news/22478/sarah-geronimo-denies-snubbing-john-lloyd-cruz-in-asap" data-desc="Sarah says there's no truth to a write-up about the alleged negative statements of her mother against John Lloyd." data-image="https://contents.pep.ph/images2/news/34b3aa8b3.jpg"> ASAP" data-url="https://www.pep.ph/news/22478/sarah-geronimo-denies-snubbing-john-lloyd-cruz-in-asap" data-desc="Sarah says there's no truth to a write-up about the alleged negative statements of her mother against John Lloyd." data-image="https://contents.pep.ph/images2/news/34b3aa8b3.jpg"> ASAP" data-url="https://www.pep.ph/news/22478/sarah-geronimo-denies-snubbing-john-lloyd-cruz-in-asap" data-desc="Sarah says there's no truth to a write-up about the alleged negative statements of her mother against John Lloyd." data-image="https://contents.pep.ph/images2/news/34b3aa8b3.jpg">