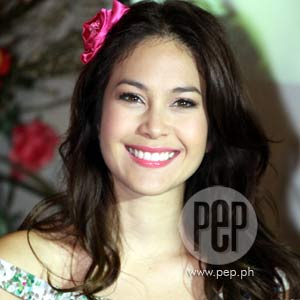 ---
Model-actress Paula Taylor captivated the members of the entertainment press with her refreshing beauty and unassuming demeanor.
At the press conference of Vic Sotto's upcoming movie, Love OnLine (LOL), held at the Moomba Bar and Café in Quezon City, the Thai-British stunner described her leading man as "charming" and a true "gentleman."
"Bossing is like the nicest guy who's funny. He makes it light, like on the set, we're always laughing and there's never really a dull moment. Generally, if it's your first time doing anything you'll be like, 'Oh my God how is it gonna be?' But you know what, he made it like so fun and not bad. I lost all my intimidations and it was great. I was very lucky to work with him," said Paula, who prior to Love OnLine has done numerous local ads for television and print.
Paula—whose real name is Punlapa Margaret Taylor—was born in Bangkok, Thailand on January 20, 1983 to a Thai mother and a British father. She spent most of her growing-up years in Perth, Australia before traveling to other places to work as a model and actress.
Serving as VJ for Channel V Thailand opened a lot of opportunities for Paula. Together with good friend Natasha Monks, Paula joined the popular but physically demanding reality search program, Amazing Race Asia 2.
She recently finished her Hollywood film debut in the supernatural thriller Shadows, opposite Academy Award winning actor William Hurt.
BUSY AND LOVELESS. With a flourishing career in acting and modeling, Paula explained why she remains loveless at the moment.
"I think it's probably because if you're working a lot it's pretty hard to have a relationship, especially coz I'm traveling a lot. I'm traveling Bangkok-Philippines, Bangkok-Philippines, I'm like flying from all over the place. Maybe I'll put that [romance] as part of my Christmas wish list," she smiled.
ADVERTISEMENT - CONTINUE READING BELOW
Paula may seem shy but behind her cherubic face and slight frame is a young woman who's thirsty for life's adventures.
"I just want to accomplish much in life. I just wanna have new experiences, I wanna meet new people and do new things. You only live once [and] you have to do as much as you can."
In the past, Paula has been linked to Manila-based Australian model Marc Nelson. Paula stressed, however, that her fellow Amazing Race participant is just a good friend who happens to be a trusted companion every time she's here in Manila for a vacation or assignment.
Would it be possible for her to fall for Vic Sotto? Paula simply replied, "It's always possible. Love has no rules right?"
She added, "He has a great sense of humor, he's very charming and he's a gentleman. All girls like that."
Vic has only good words for the 26-year-old stunner. "She's a very good actress and she blends well with everyone. Not only me but with the cast, staff, crew, director down to the utility boys. She's really fun to work with."


Produced by OctoArts Films, M-ZET TV and APT Entertainment, Love OnLine (LOL) will open in cinemas nationwide starting August 19.