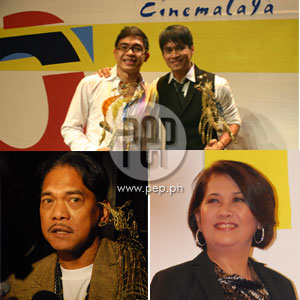 ---
The awarding ceremonies of Cinemalaya Cinco took take place earlier tonight, July 26, at the Cultural Center of the Philippines. This marked the end of the ten-day film festival that kicked off last July 17, 2009.
Last Supper No. 3 was named Best Film of the 2009 Cinemalaya Philippine Independent Film Festival, while Colorum and Ang Panggagahasa Kay Fe tied for the Special Jury award.
Comedian Lou Veloso bested other Best Actor contenders for his performance in Colorum. Ina Feleo, daughter of actor Johnny Delgado and actress-director Laurice Guillen, won Best Actress for Sanglaan.
The winner of the full length feature category received theCinemalaya Balanghai trophy and an additional grant of P200,000. Each full-length feature category finalist was given an initial P500,000 production grant and they must not exceed production costs of P3 million.
This year's finalists were: Ana Agabin for 24k, Vic Acedillo, Jr. for Ang Nerseri, Giuseppe Bede "GB" Sampedro for Astig, Jon Steffan Ballesteros for Colorum, Michael "Mike" Sandejas for Dinig Sana Kita, Jose Lorenzo "Pepe" Diokno for Engkwentro, Veronica Velasco and Jinky Laurel for Last Supper No. 3, Jerrold Tarog for Mangatyanan, Alvin Yapan for Ang Pangangahasa kay Fe, and Milo Sogueco for Sanglaan.
Meanwhile, the winner of the Best Short Film award received a P100,000 cash grant and the Cinemalaya Balanghai trophy.
The ten finalists that competed tonight were: Behind Closed Doors by Mark Philipp Espina, Blogog by Rommel "Milo" Tolentino, Bonsai by Alfonso "Borgy" K. Torre III, Hulagpos by Maita Lirra Lupac, Latus by John Paul S. Seniel, Musa by Dexter B. Cayanes, Si Bok at ang Trumpo by Hubert Tibi, Tatang by Jean Paolo "Nico" Hernandez, Ugat sa Lupa by Ariel Reyes and Wat Floor, Ma'am by Mike Sandejas and Robert Seña.
In his opening remarks, CCP President Nestor Jardin announced that 38,000 viewers watched at the CCP during the last nine days.
ADVERTISEMENT - CONTINUE READING BELOW
Ricky Davao and Eugene Domingo hosted the affair.
Here is the complete list of Cinemalaya 2009 winners:
Best Film: Last Supper No. 3
Special Jury Award: Colorum and Ang Panggagahasa Kay Fe (tie)
NETPAC Award: Baseco Bakal Boys
National Council for Children's Television Award: Dinig Sana Kita
Audience Choice (Full Length): Dinig Sana Kita
Best Director: GB Sampedro (Astig)
Best Actress: Ina Feleo (Sanglaan)
Best Actor: Lou Veloso (Colorum)
Best Supporting Actress: Tessie Tomas (Sanglaan)
Best Supporting Actor: Arnold Reyes (Astig)
Best Screenplay: Nerseri
Best Cinematography: 24K
Best Production Design: Mangatyanan
Best Editing: Astig
Best Musical Score: Dinig Sana Kita
Best Sound Recording: Astig
Best Short Film: Bonsai

Special Jury Award: Blogog
Audience Choice (Shorts): Tatang
Best Director (Shorts): Dexter B. Cayanes (Musa)
Best Screenplay (Shorts): Behind Closed Doors