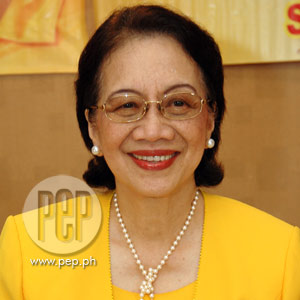 ---
At 3:18 a.m. today, August 1, 2009, the Philippines lost a leader.
Former President Corazon Aquino succumbed to colon cancer earlier this morning in an undisclosed regular room at the Makati Medical Center, surrounded by her closest family and friends.
The official cause of her death was cardio-respiratory arrest.
The announcement was made by Cory's only son, Senator Benigno "Noynoy" Aquino, Jr.
"Our mother peacefully passed away at 3: 18 a.m., August 1, 2009, of cardio-respiratory arrest. She would have wanted us to thank each and everyone of you for all your continued love and support. It was her wish for all of us to pray for one another and for our country. Hinihiling po ng aming pamilya ang konting panahon para makasama namin ang aming mahal na ina," Senator Aquino said.
The senator said that other details will be announced later in the day through a press conference.
Aquino fought cancer for more than 16 months. She was diagnosed with the disease March last year after experiencing episodes of high blood pressure, weight loss, and difficulty in breathing.
ADVERTISEMENT - CONTINUE READING BELOW
The 2005 Philippine Cancer Facts and Estimates ranked colon and rectal cancer as the third leading cause of cancer deaths in the Philippines. Colon cancer, which targets the digestive system, mostly affects people over the age of 50.
The 76-year-old former president underwent a laparoscopic colectomy last May to remove the cancer tumors. Although the procedure is the best way to treat the condition, Aquino's cancer continued to develop to the fourth stage. Her family also agreed to stop all chemotherapy treatments last July 3 because her body had become "too weak."
She stayed confined in the hospital for more than a month.
Concern for the former president's well-being escalated last July 24 when a stream of friends and relatives, including her oldest brother Pedro Cojuangco and youngest brother Jose "Peping" Cojuangco and sister-in-law Maur Aquino Lichauco, rushed to her bedside.
Senator Benigno "Noynoy" Aquino III, the only son, said then that his mother was already being fed intravenously, and treated with morphine, a painkiller.
ADVERTISEMENT - CONTINUE READING BELOW
Aquino's last word to her surviving children—Benigno, Maria Elena A. Cruz, Aurora Corazon A. Abellada, Victoria Eliza A. Dee, and Kristina Bernadette A. Yap, more popularly known as actress-TV host Kris Aquino—was to take care of each other.
In a press briefing held before lunchtime today, the Aquino family's spokesperson, Ms. Deeddee Siytangco, announced that the remains of the former President will be ready for public viewing at 5 p.m. this afternoon in La Salle Greenhills. The Aquino family also decided to have a private funeral instead of a state funeral.
Former President Aquino will be laid to rest on August 5, Wednesday, at the Manila Memorial Park.
Cory will be buried beside the remains of her husband, the late Senator Benigno Aquino Jr., who was assassinated upon his arrival in Manila from the United States on August 21, 1983.


"That's my mom's plan from the very beginning," said Senator Noynoy Aquino.
ADVERTISEMENT - CONTINUE READING BELOW
HONOR. Press Secretary Cerge Remonde, who is currently traveling in the United States with President Gloria Macapagal-Arroyo and members of her cabinet, announced through a live phone patch that Malacañang is set to declare a national week of mourning. It may be recalled that Aquino had decried the prevalence of corruption in the government of President Gloria Macapagal-Arroyo, even asking her to resign from her post in July 2005.
Aquino is a world-renowned advocate for peace in Asia. Her stint as the rebuilder of democracy in the Philippines after martial law earned her numerous awards, including a citation from the US-based academic group Fulbright Association.
Before she died, world dignitaries had sent messages of support. US Secretary of State Hillary Clinton personally wished her well. Moreover, since Aquino, was a devout Catholic, she was given a letter written by Pope Benedict XVI, expressing "spiritual closeness" to her suffering.
EARLY CHILDHOOD. Corazon Cojuangco Aquino was born on January 25, 1933 in Tarlac, the sixth of eight children of Demetria Sumulong, a pharmacist, and Don Jose Cojuangco, a wealthy and influential sugar baron.
ADVERTISEMENT - CONTINUE READING BELOW
In 1943, Cory graduated as class valedictorian at St. Scholastica's College, an exclusive school for girls in Manila. In 1946, she attended a year of high school in Assumption Convent Manila, before being sent to the United States to continue her studies. She studied high school in Notre Dame Convent School in New York.
In 1953, she finished her BA French degree at the College of Mount St. Vincent, a small Catholic women's college in the Riverdale section of the Bronx. She originally planned to be a teacher and an interpreter.
MARRIED LIFE. When she returned to the Philippines after graduation, Cory decided to pursue a law degree by enrolling at the Far Eastern University. In 1954, however, she gave up her studies to marry Benigno "Ninoy" Aquino, Jr. The marriage brought together two of the most prominent Philippine families—the Cojuangcos and the Aquinos.
Although Ninoy was slowly gaining prominence as a politician, first as governor of Tarlac and then as a member of the Philippine Senate in 1967, Cory preferred to stay out of her husband's limelight, dedicating herself to their five children and to entertaining guests. Nonetheless, Ninoy greatly took into consideration, and sometimes followed, his wife's counsel.
ADVERTISEMENT - CONTINUE READING BELOW
POLITICS. When former President Ferdinand Marcos declared martial law in 1972, Ninoy was among the hundreds of oppositionists and activists imprisoned for "subversion." Undaunted even while in prison, he ran for a post in the 1978 Batasang Pambansa elections under the political party LABAN.
Cory, accompanied by her daughter Kris, broke her silence by campaigning for her incarcerated husband. Due to reported massive cheating, however, Ninoy and his political party lost the elections. In 1980, Senator Aquino was allowed to live in exile in the U.S. with his family. They settled in Boston for three years.
In 1983, Ninoy returned to the Philippines, only to be assassinated minutes after his plane landed. Cory Aquino followed shortly to prepare the funeral, and eventually began to participate in protests against the Marcos regime.
Due to public unrest, Marcos announced a snap election in 1986. Cory agreed to run against the dictator, despite her hesitation. Like her husband, Cory lost the elections. But thousands took to the streets to protest the allegedly rigged result. The protest, now touted as People Power 1, expelled Marcos from the presidency and installed Cory as the first woman president in Asia.
ADVERTISEMENT - CONTINUE READING BELOW
Cory's presidency restored peace and order in the country—she led the enactment of the 1987 Philippine Constitution, and raised the trust of the Filipino people in the military and the police, among other accomplishments. Several coup attacks mounted by Marcos supporters, meanwhile, proved unsuccesful in uprooting her presidency.
RETIREMENT. Despite continued popularity with her constituents, Cory decided to retire to private life after her presidential term. On her last State of the Nation Address delivered at the House of the Representatives on July 22, 1991, the former president stressed her retirement and shook off special privileges that could continually be attributed to her.
"I could have done the popular thing in the last administration, and arranged a nicer retirement for myself. But my instructions to PNB, DBP, GSIS, SSS and Landbank were explicit: no behest loans, and no special favors whether to relative, friend or political supporter," Cory demanded.
Meanwhile, she also passed presidential powers, along with its consequent responsibilities, to her successor, Secretary of Defense Fidel V. Ramos, who ruled until 1998.
ADVERTISEMENT - CONTINUE READING BELOW
Cory continued to support popular political causes, however, like the ouster of former President Joseph Estrada in 2001. She also condemned current President Gloria Macapagal-Arroyo in 2005 for electoral fraud.
She also supported the candidacy of several politicians in several posts, like the mayoral candidacy of Manila Mayor Alfredo Lim in 1998, and her son Benigno III, in his succesful bid for a seat in the Senate in 2007.
HONORS. Cory Aquino belongs to the roster of internationally renowned Filipinos.
One of her earliest recognitions were the Eleanor Roosevelt Human Rights Award, United Nations Silver Medal, and the Canadian International Prize for Freedom, all in 1986.
In 1994, Aquino was cited as one of the 100 Women Who Shaped World History in a reference book written by Gail Meyer Rolka and published by Bluewood Books in San Francisco, California.
In 1996, she received a citation from the US-based Fulbright Association, recognizing individuals who have made "extraordinary contributions toward bringing peoples, cultures, or nations to greater understanding of others." Recipients include 39th US President Jimmy Carter and former South African President Nelson Mandela.
ADVERTISEMENT - CONTINUE READING BELOW
In 1999, TIME included Cory in the list of the 20 Most Influential Asians of the 20th century. The magazine also cited her in 2006 as one of the 65 Great Asian Heroes, along with Indian peace advocate Mohandas Gandhi, Chinese reformer Deng Xiaoping, the Tibetan Dalai Lama, and Singaporean prime minister Lee Kuan Yew.
In 2002, Cory became the first woman to be a member of the Board of Governors of the Board of the Asian Institute of Management, the center of business and management research in Asia. She was on the board until 2006.
In 2008, the Europe-based A Different View selected the former president as one of the 15 Champions of World Democracy, alongside 16th US President Abraham Lincoln, African-American civil rights advocate Martin Luther King, Jr., and Czech essayist and politician Vaclav Havel.
DEMISE. On March 24, 2008, Cory Aquino was diagnosed with colon cancer. Earlier reports indicated that she responded well to chemotherapy, but her condition became critical in July 2009, when she was confined to a hospital in Makati City due to loss of appetite. Later on, the Aquino family announced that they had decided to cease chemotherapy and other medical interventions.
ADVERTISEMENT - CONTINUE READING BELOW
On August 1, 2009, the former president succumbed to cancer. One of the country's most respected personalities is gone, bringing with her an era of democracy and well-fought freedom. But her legacy lives on—her words in her last SONA will continue to ring true.
"I hope that history will judge me as favorably as our people still regard me because, as God is my witness, I honestly did the best I could. No more can be asked of any man."