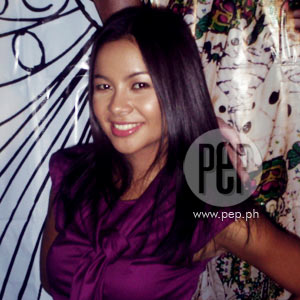 ---
A bubbly Sitti Navarro met the entertainment press last Friday, July 31, in Red Box in Trinoma to promote Contagious, her fourth studio album under Warner Music. In the album, the country's "Queen of Bossa Nova" redefined contemporary hits from Annie Lennox, Antonio Carlos Jobim, Sade, Sarah McLachlan, and other singers, to fit her unique singing style. (Click HERE to read more about her new album.)
Although Sitti already has three successful bossa nova albums under her belt since her 2006 debut—Café Bossa, My Bossa Nova, and Ngayong Pasko—she claimed that she still feels constrained by her genre.
"Medyo nali-limit din ako sa genre... I was talking to Warner na marami pa 'kong gustong ilabas na limited by the arrangement, or with the treatment of the song," Sitti explained.
But the singer said she cannot verge out of the singing style in her current recording projects because bossa nova has its own limitations.
"Kasi siyempre yung attack on bossa, it should always be light and flowing... Hindi ka puwedeng gumawa ng kung anu-ano sa bossa, kasi it will destroy the essence," she said.
To cope with the limitations, however, Sitti said she injects new embellishments or arrangements to her songs. She also performs different musical styles in her various gigs.
"On our gigs, may mga bossa din but not so much. Nagla-Latin din kami most of the time and some jazz. And pag tinopak din kami, nagpa-pop din kami," Sitti said.
Sitti, a Business Economics graduate from University of the Philippines and a consistent dean's lister, also remembered criticisms that her popularity in the bossa nova genre is just a trend that will eventually pass on. To cope with this, the singer says she is trying out several avenues in showbiz. She also has her UP degree ready just in case.
ADVERTISEMENT - CONTINUE READING BELOW
"Hindi ako nag-iisip ng mga career fallback!" laughed Sitti. "I made sure that I finish my degree—Business Economics. So kahit four years out of college na 'ko, masasabi ko pa rin na degree holder ako. Pero marami pang avenues for me to push myself or to try different things. I tried hosting [Pinoy Big Brother Season 2] and I also tried acting [Isabella and Your Song]."
THEATER DEBUT. Sitti also revealed that she'll be debuting in theater this year. Even though she still does not have the permission to discuss the details of the play, she told the press that she will play a supporting role.
"What I can say for sure is the character I'll be playing in this play, ano siya, physically and sexually abused siya... It's a support role, which is also welcome for me kasi medyo nagsasawa na ko sa sarili ko," Sitti said.
To prepare for the role, Sitti is taking voice lessons under Annie Quintos of The CompanY. Going back to school to take up a master's degree, therefore, is out of bounds.
But performing in theater, where movements are exaggerated, is very much different from the quiet feel of bossa nova. What if her fans don't approve of this change?
"I just look at it as a way of offering a new side, a different side of me to the people," she replied. "They can always choose naman. If they want to see me as lagi na lang bossa nova, they can always listen to the CD or go to the gig. But if they want to see me as a person, as an actor, to see if I have the chops, then can watch the play."
ADVERTISEMENT - CONTINUE READING BELOW