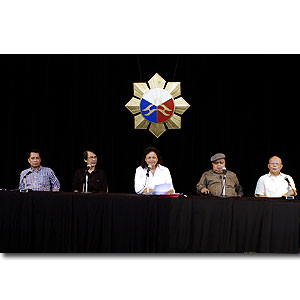 ---
The Cultural Center of the Philippines (CCP) has deplored Malacañang's appointment of four National Artists which bypassed the "established process" in the selection of the awardees.
In a press conference today, August 4, at the CCP Complex in Pasay City, CCP Chair Emily Abrera said they were saddened when Pres. Gloria Macapagal-Arroyo chose to add four other artists to their list of nominees without consultation. One of their original choices had also been removed.
On July 29, Executive Secretary Eduardo Ermita announced that the President named seven new National Artists: Carlo J. Caparas, Pitoy Moreno, Cecille Guidote-Alvarez, Francisco Mañosa, Lazaro Francisco, Manuel Conde, and Federico Aguilar Alcuaz.
Of these seven, only Francisco, Conde and Alcuaz were original choices. Ramon Santos, a world-renowned Filipino composer, had been dropped from the list.
"We wish to clarify that we were never consulted about these final choices, nor have we been officially informed about them, to this day," Abrera said.
ADVERTISEMENT - CONTINUE READING BELOW
The CCP has not decided yet on the date and the venue of the awards ceremony.
HISTORY. The National Artist Awards was established on April 27, 1972 through Proclamation No. 1001 signed by former President Ferdinand Marcos. It aims to recognize Filipino artists who have made "distinct contributions" to Philippine arts and letters.
CCP was given the responsibility of administering the Awards in 1973. It was later commissioned to share duties with the newly-established National Commission for Culture and the Arts (NCCA) in 1992.
Although the two government agencies do research and deliberate on nominated artists before coming up with their final picks, the President has the prerogative to add his/her own awardees.
Among the criteria to be considered in the nomination of national artists are: Filipino citizenship, artistic influence, prestige, an outstanding body of work and a contribution to the country's "sense of nationhood."
Executive Order no. 236, which Pres. Arroyo signed in 2003, provides National Artists with a cash award of up to 100,000 pesos at the time of conferment, a monthly life pension, medical and hospitalization benefits, a life insurance coverage, and arrangements for a state funeral.
ADVERTISEMENT - CONTINUE READING BELOW
STRONG BACKLASH. The gravity of the National Artist distinction, therefore, have allowed critics to strongly disparage two of the Malacañang's picks, namely Cecile Guidote-Alvarez and Carlo J. Caparas.
At the CCP presscon, Abrera questioned Guidote-Alvarez's citation, pointing out that the rules specifically state that any member of the Board of Selections in both the NCCA and the CCP are automatically disqualified. Guidote-Alvarez currently sits as the head of the NCCA and as presidential adviser on culture and the arts.
Meanwhile, comic book artist Gerry Alanguilan commented in the online lifestyle magazine Spot.ph that Carlo J. Caparas could not be cited as National Artist for visual arts and film because the writer-producer did not draw his most popular works.
"The puzzling thing is, CJC is NOT an illustrator. He has never drawn any of this comic book stories, least of all his most popular creations. Panday and Pieta were drawn by Steve Gan. Bakekang was drawn by Mar Santana. How can someone who is NOT a visual artist get the National Artist title for visual arts?" Alanguilan argued.
ADVERTISEMENT - CONTINUE READING BELOW
NATIONAL ARTISTS REACT. Meanwhile, National Artist for Literature F. Sionil Jose, who was also present in the CCP presscon, shared his doubts on Caparas's moviemaking skills.
"This I can tell you, there is no movieof Carlo Caparas that I have watched in entirety, I always walk out," F. Sionil Jose told the press.
National Artist for Theater and Design Salvador Bernal said he was "aghast" when he learned that four artists who have not passed the screening will be conferred the award.
"Personally, I have been through the process, and I would like to say that the process for the selection of our National Artists has been rather rigorous, practically nominees passing through the eye of the needle," he said.
National Artist for Literature Bienvenido Lumbera asserted the Malacañang announcement has "produced a scandal."
"What makes this even more outrageous is that Ramon Santos, who received a good number of votes in the panel selection, was dropped from the list. The basis for him being scrapped, one doesn't know," Dr. Lumbera lamented.
ADVERTISEMENT - CONTINUE READING BELOW
A CCP official, who asked not to be named, told PEP (Philippine Entertainment Portal) that Santos actually won the most number of votes during the selection process. Santos still has not spoken about the whole brouhaha up to this day.
REFORMS. CCP President Nestor Jardin believes that the scandal would have been avoided if the law would specifically state the limits of the presidential prerogative. The current law, he added, is open to lobbying.
"I think a new law should be created to strengthen the National Artist award. A law that would perhaps avoid politicizing. A law that would probably include measures that would safeguard integrity of the award," he explained.
Atty. Lorna Kapunan, a member of the CCP Board of Trustees, claims that the President does not have the right to insert her own choices into the National Artists selection. She explained that a provision in the selection rules limits the presidential power to "confirmation, proclamation and conferral" only.
ADVERTISEMENT - CONTINUE READING BELOW
"The president has no prerogative as regards to National Artists award... She can create as many awards given by the President herself, but that is not the nature of the National Artist Award," she argued.
Kapunan also proposed that the whole case be brought to the Supreme Court.
"As some politician has said, that if you are being baked, you just lie down, grin and bear it... The time to do that has ended, we will go to the Supreme Court to question this exercise of 'prerogative,'" Atty. Kapunan declared.
PROTEST ACTION. A group of National Artists will mount a protest action on Friday, August 7, to "mourn the death of the National Artist awards."
An invitation circulating on the Internet reads: "Iniimbitahan kayo ng mga National Artists na sina Ben Cabrera, Bien Lumbera, Rio Alma, F. Sionil Jose, Arturo Luz, Salvador Bernal na makilahok sa isang luksang bayan para sa pagpanaw ng makabuluhang National Artist awards. Pakiusap, panluksang pananamit."
ADVERTISEMENT - CONTINUE READING BELOW