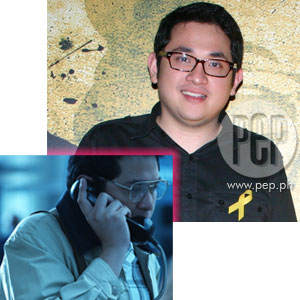 ---
Paolo Benigno "Bam" Aquino admitted that he was initially reluctant to portray his uncle, the late former Senator Benigno "Ninoy" Aquino Jr. ANC's Start-up host was tapped to re-enact the last few days of the slain political leader in the documentary-drama The Last Journey of Ninoy: As Told Through the Last Interview of Cory.


This high-definition film will be screened at the Powerplant Mall on
August 21, 2009, in time for the 26th death anniversary of former Senator Ninoy Aquino.


Directed by Jun Reyes, this 52-minute docu-drama begins in Boston, Massachusetts, United States of America, on August 12, 1983, and covers the days leading to Ninoy's decision to return to Manila on that fateful Sunday, August 21, 1983. It also looks back on his long journey as a private family man and as a statesman imprisoned seven years and seven months by then President Ferdinand Marcos.
Bam's father and Ninoy's younger brother, Paul Aquino, provided Ninoy's Thought Voice in the film.
AFRAID TO ACT. "It was really hard," Bam confessed to viewers after the invitational screening held last night, August 13, at Cinema 4 of the Power Plant Mall in Rockwell Center, Makati City. "They actually asked me to do this about a year and a half ago. I was saying no all the way until two or three months before we shot it because I wasn't confident enough to act."
Since he's mainly a television host, Bam kept resisting the offer to do the part until he found out that many people involved in producing the film were actually doing it for free.
ADVERTISEMENT - CONTINUE READING BELOW
"So, the least I could do was to come around. I had to get assurance that I wasn't really going to act," said the young leader and entrepreneur. "Sabi ko, tatayu-tayo lang ako sa tabi, tapos 'yong shadow lang 'yong makikita. And they tricked me, 'no. They said, 'Yes, you're not gonna act, you're not gonna do anything.' On the first shooting day, we had an acting coach, so I knew that they were up to something."
Co-produced by Unitel Productions and the Benigno S. Aquino Jr. Foundation (BSAF), The Last Journey of Ninoy also features a never-before-seen interview with the late President Corazon Aquino taken last March 2009. The film was supposed to be shown in time for the 30th death anniversary of Ninoy, but the producers felt that this year was the perfect time to show the film to the public.


In fact, the preview of The Last Journey of Ninoy was supposed to take place last August 4, 2009. Unfortunately, Mrs. Aquino died on August 1, and the BSAF decided to postpone the screening to give themselves time to grieve.
Rafael "Rapa" Lopa, project director at the Benigno S. Aquino Jr. Foundation, says that his aunt Cory Aquino was unable to view the completed project. But he said that he knew deep in his heart that the much-loved former president was watching with them that night.
NINOY AND CORY DO THE TELLING. In an exclusive interview with PEP (Philippine Entertainment Portal) after the screening, Rapa pointed out why they decided to create this docu-drama.
ADVERTISEMENT - CONTINUE READING BELOW
He said, "There've been many documentaries [on Ninoy's life and martyrdom] already, pero they've been the traditional, may nagna-narrate, etc. So, sabi ni Direk Jun, 'I think there has to be a new way of doing this,' and also there's a stress on the whole idea na it's not so much on the conspiracy theory. Although, of course, that's very important to document also... But right now, we feel if we really want to achieve the whole idea of getting the legacy of Ninoy and Cory Aquino to the consciousness and hearts of young Filipinos, this is the best way: to tell their story themselves."
Through this project, Unitel and the BSAF aim to continue the legacy of Ninoy and let future generations of Filipinos know more about him—more than just seeing his face on the Philippine 500-peso bill.
The film uses available news clips, videos and film footage, like the famed speech of Ninoy in Boston in 1981; photographs, interviews, plus dramatizations or re-enactments—details of which, unknown to many, are revealed for the first time.
The Last Journey of Ninoy: As Told Thorugh the Last Interview of Cory willbe screened at the Power Plant Mall Cinema 4 on Friday, August 21, 2009, in time for the 26th death anniversary of former Senator Ninoy Aquino. For ticket inquiries, call the Power Plant Mall Cinema at 898-1440.