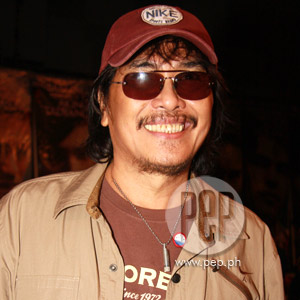 ---
Manuel "Manoling" Morato, former Movie and Television Review and Classification Board (MTRCB) chair, expressed his approval anew of Carlo J. Caparas being hailed National Artist for Visual Arts and Film by President Gloria Macapagal-Arroyo. (Click here to read related article.)
In an article written by Jerry Esplanada for today's Philippine Daily Inquirer, Morato stated that he would rather have a Caparas art work than a Cesar Legaspi painting. Cesar Legaspi was honored as a National Artist for Visual Arts in 1990.
"Carlo is a damn good painter and artist. I have quite a few of his works. His is an inborn talent, unlike [Cesar Legaspi] who studied it all," Morato said, in reaction to a statement by Legaspi's daughter, singer/actress Celeste Legaspi, saying that naming Caparas a National Artist was "an insult to the memory" of her late father. (Click here to read related article.)
Pushing the point, Morato added, "I don't even have any of [Cesar] Legaspi's works in my collection. I got rid of them. Same with the works of [other National Artists] Bencab [Ben Cabrera] and Arturo Luz. I won't hang their works in my collection and desecrate the works of Goya, Van Gogh, Toulouse Lautrec, Picasso, and other old masters that I own."
ADVERTISEMENT - CONTINUE READING BELOW
Manoling Morato, who likes referring to an ancestry that's supposed to be wealthy, has a history of engaging in word wars with members of the arts-and-culture circle with a progressive bent. These include the late directors Lino Brocka and Ishmael Bernal, the activist and also former MTRCB chair Armida Siguion Reyna, and now National Artists Bienvenido Lumbera, Virgilio Almario, and Salvador Bernal, and F. Sionil Jose.
Lumbera, Almario, Bernal, and Jose protested against the inclusion of Caparas and National Commission on Culture and the Arts (NCCA) executive director Cecille Guidote Alvarez to the list of National Artists at a rally held last week at the Cultural Center of the Philippines in Pasay City. They were joined by National Artists Eddie Romero, Ben Cabrera, Arturo Luz, and Napoleon Abueva, who came in a wheelchair. (Click here to read related article.)
Other artists—writers, painters, directors, dancers—who joined the 800-strong protest were Gilda Cordero Fernando, Edna Vida, Nonoy Froilan, Johnny Delgado, Laurice Guillen, Carlos Siguion Reyna, Bibeth Orteza, Phyllis Zaballero, and Jimmy Abad, among others. Karina Bolasco, head of Anvil Publishing, said it was the biggest gathering of protesting artists under President GMA's watch.
ADVERTISEMENT - CONTINUE READING BELOW
The former censors chief—a known ally of Pres. Arroyo, who appointed him director of the Philippine Charity Sweepstakes Office (PCSO)—said that the controversy over the National Artists awards showed that "so much falsehood, insincerity and hypocrisy have infected our culture."
Morato elaborates, "They think too much of themselves. They should stop outsmarting each other, much less act like jurors to judge those coming after them. While they destroy others, they destroy themselves in the process. Detractors of duly selected awardees this year only managed to cheapen themselves and brought themselves to public scrutiny as well that they, too, are not deserving of the honors they received from the Palace."
Aside from Morato, the Komiks King—as Caparas is sometimes called because of his successes in that genre—also got support from Volunteers Against Crime and Corruption (VACC) head Dante Jimenez, boxing champ Manny Pacquiao, Senators Bong Revilla and Jinggoy Estrada, Komisyon ng Wikang Filipino chair Joe Lad Santos, and Polytechnic University of the Philippines president Dante Guevarra.
ADVERTISEMENT - CONTINUE READING BELOW
PERSONA NON GRATA. Meanwhile, Carlo Caparas's sister, Paciencia "Paz" Caparas-Aguilar, declared that her brother's critics—such as actor Leo Martinez and singers Celeste Legaspi and Jim Paredes—are "not welcome" in Barangay Ugong in Pasig City. The Caparas family traces its roots to the place.
"As far as we are concerned, they are persona non grata," Aguilar said in the same article written by Esplanada.
She also answered those who question her brother's capability to draw his own works. One of these was comic book artist Gerry Alanguilan, who commented in the online lifestyle magazine Spot.ph that Caparas could not be cited as National Artist for Visual Arts and Film because the writer-producer did not even draw his most popular works.
Aguilar said, in quotes translated by Esplanada from Filipino to English, "That is not only a lie, that is an insult to our family. As a young boy, Carlo was already helping the family with his drawings."
ADVERTISEMENT - CONTINUE READING BELOW
Caparas is the seventh of nine children of the late Salvador and Florentina Caparas, both natives of Pasig. He was a glass-factory worker and a security guard before becoming a comics novelist and director.
Among the comic books Caparas wrote were Panday, Bakekang, Totoy Bato, Joaquin Bordado, Pieta, Kamandag,and Ang Babaeng Hinugot sa Aking Tadyang—all of which were adapted into a television series.
He was also known for his "massacre movies," such as Kuratong Baleleng, The Cory Quirino Kidnap Story, and The Untold Story: Vizconde Massacre 2 —"God Have Mercy on Us.
Caparas's output is prodigious, but critical acceptance of his works has been spotty. Among critics, his comics authorship has generally found more favor than his movie direction, although both his comics and movie works have been commercial successes.
In the comics genre, the late Mars Ravelo—who is not yet a National Artist—tops Caparas for sheer number of characters who have achieved iconic status, not to mention for breadth of imagination. Ravelo's works have also enjoyed huge commercial success in print, on the big screen, and on television, considered the most powerful medium today.
ADVERTISEMENT - CONTINUE READING BELOW
Ravelo's works include: Darna, Dyesebel, Captain Barbell, Lastikman, Bondying, Flash Bomba, Dragonna, Facifica Falayfay, Ging, Jack and Jill, Kapitan Boom, Maruja, Roberta, Rebecca, Si Gorio at Si Tekla, Tiny Tony, Varga, and Trudis Liit, among others.