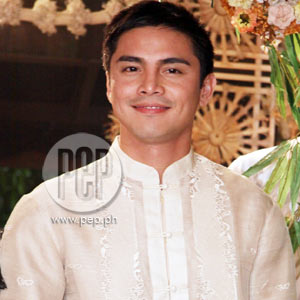 ---
"Time is actually the easiest to manage!" beamed actor-entrepreneur Marvin Agustin to PEP (Philippine Entertainment Portal), when asked about his time-management technique.
Easy to say for a person who for years has juggled various tasks, complete with their various taxing demands, all at the same time.
PEP caught up with Marvin last August 14 at the Mega Atrium of SM Megamall in Mandaluyong City after his exciting pasta dish cook-off against Chef Gino Gonzales. Marvin, along with Chef Gino and event host Suzi Abrera, was invited by Neoflam to test its latest wares made from the brand's non-toxic material called Ecolon.
"I guess if you're enjoying what you're doing, everything's manageable," said Marvin.
The past four years saw Marvin's venture in the restaurant business grow steadily since completing his studies at the International School for Culinary Arts and Hotel Management.
To date, Marvin owns a chain of restaurants specializing in Japanese, Filipino, American, and Italian cuisines, scattered strategically around the metropolis. The 30-year-old actor is planning to open more restaurants in the future to meet the increasing demand.
ADVERTISEMENT - CONTINUE READING BELOW
MARVIN, THE ARCHER. Hands full with both acting and business concerns, Marvin has remarkably found enough time to engage in his chosen sport.
"The good part with archery kasi is walang age requirement, walang height requirement and it's good for us Filipinos. Meron tayong chance to be really known because of archery," he said.
Marvin's fascination with archery goes beyond a simple pastime activity. "I've been playing for almost two years," he revealed.
The Adik Sa 'Yo lead star continues to train religiously under the guidance of his Korean coach, Chon Won Tae. Marvin will soon be leaving for Korea to compete for the World Championship to be held on September 1.
"It teaches me discipline," Marvin said about the sport whose strict training regimen has made him fit and trim. "[Discipline] that I can really apply not just in archery but also in the acting world. Personally, it teaches me to be patient, how to be more precise, how to pay attention with details. It teaches you everything that you would need to be balanced."
ADVERTISEMENT - CONTINUE READING BELOW