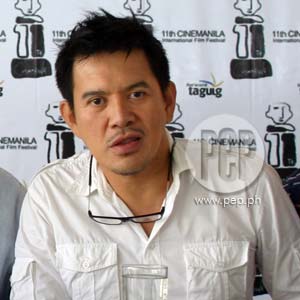 ---
Once more, internationally renowned Filipino filmmaker Brillante Mendoza made waves at the recently concluded 62nd Locarno International Film Festival (LIFF) in Switzerland. The European filmfest, which ran from August 5 to 15, invited Mendoza to sit as one of the members of the Jury for the Filmmakers of the Present Competition.
Fresh from winning the best director plum for Kinatay at the Cannes International Film Festival, which incidentally also held its 62nd annual film festival this year, Mendoza was back at Locarno IFF with great honor and pride.
"Tuwang-tuwa nga sila nang manalo ako sa Cannes. Kasi ang Locarno naman talaga ang kinonsider kong nagbigay ng break sa akin, when they accepted Masahista for competition in 2005," Mendoza told PEP (Philippine Entertainment Portal) in an email message yesterday, August 16.
He added, "The other jury members: Matas Bise (Chile), Denis Cote (Canada), Ghassan Salhab (Lebanon), and Angela Schnelec (Germany) are all award-winning filmmakers in their own country, who have also won awards in Cannes and in Locarno."
ADVERTISEMENT - CONTINUE READING BELOW
SERBIS AT LOCARNO. Aside from the task of choosing this year's winners at Locarno IFF, each of the judges, according to Mendoza, was given the opportunity to screen his/her film of choice in the 11-day festival.
The screening wasn't intended for competition though, and Direk Brillante chose to screen his film Serbis (2008), last year's Philippine entry to the Cannes Film Festival Main Competition category.
Why not Kinatay (Journey Into Darkness), which gave him the best director award at the Cannes last May 2009?
"I chose Serbis because it was supposed to be my second feature after Masahista, which I presented in the said festival, in 2005," Mendoza explained.
Mendoza's directorial debut, Masahista (The Masseur), won the Best Picture (Video category) award at the 2005 Locarno International Filmfest. It served as Mendoza's take-off point—his "passport" to international fame—as film director.
The initial recognition led to a string of other international awards for Mendoza's successive feature films, namely: Kaleldo (2006), Manoro (2006), Foster Child (2007), Tirador (2007), Serbis (2008), and Kinatay (2009), which all won an award or two from the various international film festivals they competed at.
ADVERTISEMENT - CONTINUE READING BELOW
"My plan at that time was to do a trilogy of underground sex prostitution in the Philippines," Mendoza said. "But a lot of unexpected development happened along the way, kaya hindi [muna] natuloy ang paggawa ko ng Serbis at that time."
Mendoza's attendance in Locarno was also received with much enthusiasm by fellow Filipinos.
Ma. Theresa Lazaro, Philippine ambassador to Switzerland, in a statement issued through the Department of Foreign Affairs (DFA), said: "The choice of Mendoza as a member of the jury in one of Locarno's Film Festival category is a recognition of the Filipino's artistry, creativity, and technical mastery."
How was Serbis received by the foreign viewers at the Locarno International Filmfest this year?
"Maganda ang pagtanggap nila, kasi fresh pa sa mga tao dito ang [news ng] pagkapanalo ko sa Cannes!" Brillante happily noted.
Not to mention that, back home, Serbis is a frontrunner in the Gawad Urian awards—given by the Manunuri ng Pelikulang Pilipino, a respected local film critics' group—next month. Serbis has 10 nominations in different categories—including best picture, direction, screenplay, and lead performance for actresses Gina Pareño and Jaclyn Jose.
ADVERTISEMENT - CONTINUE READING BELOW
THE WINNERS. As Locarno Jury member, Mendoza also informed PEP of the result of the deliberation, sent thru an earlier email message:
"We just finished with our deliberation here at the 62nd Locarno International Filmfest," he noted. "Piombo Fuso (Cast Lead) by Stefano Savona [of Italy] won the Jury Prize. It's a documentary about the Gaza Massacre by the Israeli in Palestine.
"The Anchorage, by C.W. Winter and Anders Edstrom of USA] got the Golden Leopard. This is a story about an old woman who lives alone in the forest and tries to co-exist with nature. Both films got thirty thousand CHF [Swiss francs]."
Mendoza is scheduled to be back today, August 17, to wrap up work on his new indie film about senior citizens.
Meanwhile, the Filipino director is also preparing for a retrospective of his films in two festivals, one in South America and another in Europe.
"Brazil is giving me one, in September. The festival organizer of Lisbon, in Portugal, also finalized another retrospective for me, in January 2010. I'll update you with other stuff when I get back. See you, Ciao!" ended Mendoza's email to PEP.
ADVERTISEMENT - CONTINUE READING BELOW