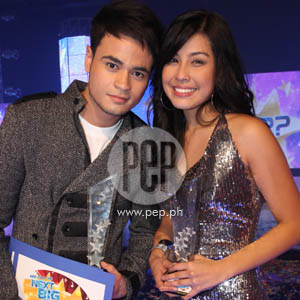 ---
After weeks of intense singing battles and grueling eliminations in Are You The Next Big Star?, GMA-7 has found two more stars worthy of inclusion in its talented roster. Frencheska Farr, 16, and Geoff Taylor, 23, emerged as winners of the original reality singing contest, beating an elite crop of 14 others to win the title.
Are You The Next Big Star? featured a talented "Circle of 16"—a group of young singers who auditioned from around the country. Two contestants were eliminated every week, as decided by the combined points from SMS voting and the scores from judges. Only one male and one female contestant could become the Next Big Star.
The reality show was hosted by Regine Velasquez and Keempee de Leon. Judges included Pops Fernandez, Danny Tan, Mon Faustino, Annie Quintos, and Vernie Varga. Randy Santiago, another contest judge, was absent during the finale.
Only six contestants made it to the show's finale, which was held last night, August 23, in GMA-7's Studio 7. Tondo-native Jay Perillo, 20, and Las Piñas resident Zyrene Parsad, 23, were eliminated after the finale's second round. Meanwhile, Bulacan councilor Alex Castro, 23, and Antipolo resident Camille Cortez competed during the third round.
ADVERTISEMENT - CONTINUE READING BELOW
Next Big Stars Francheska and Geoff were each awarded P1 million in cash from SM Supermalls, a brand new condo unit from Avida Towers, New Manila, a recording deal with GMA Records, an exclusive management contract with GMA Artist Center, and P100,000 worth of clothes from Danny Tan and Pepsi Herrera.
The two were also given a chance to record their victory songs, composed by the show's musical director Raul Mitra and Raul's wife Cacai Velasquez-Mitra. Geoff, who had previously lost in the first season of ABS-CBN's Pinoy Dream Academy, was given "Heto Na" to record, while Francheska, a former performer from the popular stage show Wanders, was given "Show Must Go On."
GMA-7's Senior Vice President for Entertainment Wilma Galvante awarded the title. Network executives present in the finale show were VP for GMA Talent Development and Management Ida Henares and GMA Records Officer in Charge Rene Salta.
ADVERTISEMENT - CONTINUE READING BELOW
Relatives and fans of the finalists were also present among the audience, each of them wearing color-coded shirts corresponding to their bet—pink for Zyrene, orange for Frencheska, purple for Camille, yellow for Alex, red for Jay, and black for Geoff.
Special guests included Ogie Alcasid, Basil Valdez, Kuh Ledesma, Kyla, Joey G. of Side A, Jett Pangan of The Dawn, Renz Verano, Julia Clarete, Maricris Garcia, Gian Magdangal, Geneva Cruz, and Marc Tupaz of Shamrock. Eva Castillo also sang a Whitney Houston duet with Regine Velasquez.
The top 16 also performed the song "Stand Up" with the show's judges.
ROUND ONE. During the first two rounds of the show's finale, finalists were set up in pairs and made to perform with an already established singer. Judges were not allowed to post comments in these rounds, unlike in the previous episodes.
The girls sang first during round one.
Zyrene, who previously hosted a morning show in NBN 4, sang "Sino ang Baliw?" with Kuh Ledesma. Camille, a lounge singer, sang the Bon Jovi classic "Bed of Roses" with Renz Verano. Frencheska ended the set with the song "I Finally Found Someone" with Joey G. of Side A.
ADVERTISEMENT - CONTINUE READING BELOW
When Regine asked composer and Next Big Star judge Danny Tan who won the girls' Round One, he did not hesitate to say Frencheska's name.
During round one of the boys, meanwhile, Jay performed first, singing the song "Kung Ako'y Iiwan Mo," with veteran balladeer Basil Valdez. Next was Alex with Ogie Alcasid, singing the Eraserheads' eternal hit "Huling El Bimbo." Last to sing was Geoff with Jett Pangan, performing Journey's "Open Arms."
Singer and judge Vernie Varga chose Alex as the best singer of the round.
ROUND TWO. Contestants were given another round to showcase their singing prowess.
First to sing was Frencheska, who performed with R&B Princess Kyla. Next up was Zyrene, who sang Beyonce's "If I Were a Boy" with Pinoy Pop Superstar Season 3 winner Maricris Garcia. Last was Camille, who sang Kelly Clarkson's "Since You've Been Gone" with Eat Bulaga! host and Rock Diva Julia Clarete.
ADVERTISEMENT - CONTINUE READING BELOW
Musical director and judge Mon Faustino chose Camille as the round's winner.
For the boys' round, Geoff sang first with Geneva Cruz, performing "What About Love." Jay then sang Heart's "Alone" with Philippine Idol runner-up Gian Magdangal. Last to sing was Alex, who performed Bon Jovi's "I'll Be There For You" with Marc Tupaz of Shamrock.
When judge Pops Fernandez chose Alex as the round's winner, a mixture of boos and jeers erupted from the audience. Most people in the audience thought Jay, the crowd favorite, gave a better performance. The audience was also surprised when Jay was eliminated, with Zyrene, after the first two rounds.
FINAL ROUND. For the final round, contestants were allowed to compete with a song of their choice. Their fate also rested on the judges, because text votes would no longer be included.
First up was Alex, who chose to perform Rivermaya's youth anthem "Awit ng Kabataan." He rocked the stage, complete with back-up dancers, and received a round of applause from the audience.
ADVERTISEMENT - CONTINUE READING BELOW
Geoff, meanwhile, chose to be mellow with Southborder's "Kahit Kailan." The audience instantly admired the young singer's performance, cheering him on when he hit the famous high note in the song's bridge.
The girls' battle, on the other hand, turned into a battle of sexiness when both chose sexy dance songs.
Camille chose Michael Jackson's "Dirty Diana," singing it while grooving with her backup dancers. Her fast arrangement of the song got the audience cheering for her.
It was obvious, however, that Frencheska won the round for her song "Queen of the Night." Her slow and soulful arrangement, which gradually developed to a dance track, showcased both her personal charm and her singing power.
The two new Kapuso Next Big Stars are now all set to conquer the world of showbiz.