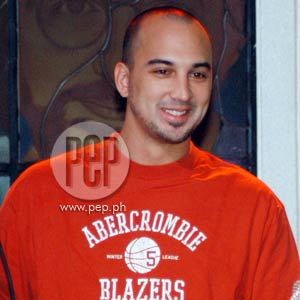 ---
After living nearly two years in the United States, actor and host KC Montero finally returned to Philippine soil and vocally expressed his pleasure to be back again. At the airport, he was interviewed by Startalk to know what his plans are.
"I was summoned back," explained KC to Startalk last September 5, 2009. "I was summoned back by the company that owns MTV [Music Television] and I'll be doing something really big here in October and I can't say what it is, but they told me that they need me to be their main guy."
KC is not alone, by the way. With him is his adopted son, Heaven. Thirteen-year-old Heaven is Geneva Cruz's child with former Introvoys drummer Paco Arespacochaga.
"He's gonna be staying here for a bit, so it's cool for him to be reunited with his mom and live in the country for a while," smiled KC. When asked if he and Geneva have talked about having a child of their own, he said, "We actually talked about that and we're planning to do that. Maybe within this year. We'll see."
It was once circulated that he and Geneva had called it quits. He debunked such rumors, saying, "Oh, no. That's not true. She's actually in the hotel, waiting."
When confronted with the rumor that Geneva and champion boxer Manny Pacquiao had something going, he joked, "I wish! I love Manny! But that's not true. I guess I'm kind of weirdly honored 'cause I'm a huge fan of Manny, but I'm a bigger fan of my wife."