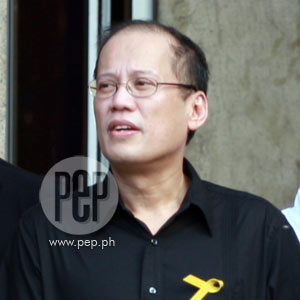 ---
Some bloggers are having a field day poking fun at Sen. Noynoy Aquino's supposed quote in his interview with Philippine Daily Inquirer's website, which was posted on September 8, a day before Noynoy announced his candidacy for the presidency in the 2010 elections.
The article written by Maila Ager, "Aquinos still not keen on Noynoy's Palace bid," talked about the possibility that the senator would vie for the presidential post. Towards the end of the article, the following paragraphs appear:
While he was comfortable talking about politics, Aquino wants to keep his love life private.


He said he already asked his youngest sister and popular TV host Kris not discuss his love life in public.


"I talked to my sister and I did ask her that's the part of my life that I want to be private as it can't develop in the public like in a fishball. I think she understood it...She texted me and apologized," said the senator.
After the article came out, some bloggers copy-pasted Noynoy's quote and made it a topic in their blogs.
What caught the bloggers' attention was the word "fishball" in Noynoy's quote. While the word may sound okay when spoken, it doesn't seem right when read. "Fishball," as we all know, is a popular street food.
The camp of Noynoy is now reacting because his supposed quote has become a subject of ridicule among bloggers.
In fact, on Chuvaness.com, the following comments were posted:
"We're two lost souls swimming in a fishball." - Pink Floyd as reinterpreted by Noynoy — sugarcages
"And that, ladies in gentlemen, is from a presidential wannabe." — majesticow
"either someone needs to have his/her ears checked and cleaned or Noynoy needs to improve on his pronunciation :)" — pan_de_sal
And this issue is fast becoming an untoward mess, especially now that Noynoy has declared his intention to run for the presidency.
ADVERTISEMENT - CONTINUE READING BELOW
According to Noynoy's camp, considering the Senator's fluency in both Filipino and English—he is an Economics graduate from Ateneo de Manila University—he could not have meant "fishball" when talking about his lovelife. What he actually meant was "fish bowl" and the writer just made a typo error or misheard the Senator, and the editor failed to correct it.
Noynoy is now romantically linked to Valenzuela City Councilor Shalani Soledad, although the Senator's sister Kris Aquino says that their relationship is still "new."