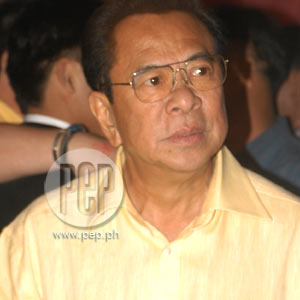 ---
The militant women's coalition, Gabriela, cries foul over Malacañang's treatment of the controversial case involving deputy National Security Adviser Luis "Chavit" Singson and his former live-in partner Che Tiongson who accused him of physical and verbal abuse.
In an exclusive phone interview late afternoon yesterday, September 10, Gabriela party-list Rep. Liza Masa told PEP (Philippine Entertainment Portal) that the President should not ignore the issue; she must take action.
"Unang premise nila mali. Unang statement nila domestic problem, hindi lang siya domestic problem," the solon said.
Last Monday (Sept. 7), Lorelei Fajardo, deputy Presidential Spokesperson, said in a statement that the highest office in the land should not be dragged into what Malacañang tagged as a "domestic problem."
Fajardo added that Gloria Macapagal-Arroyo was outraged over what happened, adding that they will ask Singson to take a voluntary leave of absence "out of delicadeza." Singson, a close ally of the President, has since refused to comply.
In another phone interview with PEP yesterday afternoon, Fajardo said there isn't even an administrative case filed against Singson, because the incident happened outside his Cabinet job. But they are awaiting the findings of an investigation being conducted by National Security Adviser Norberto Gonzales, Singson's immediate superior, before deciding the actions to take.
"Gonzales is conducting an ongoing investigation," Fajardo said. "It is his [Singson] personal problem as far as the President is concerned. Kaya lang namin siyang pagsabihan."
STATE DUTY. Rep. Liza Masa believes, however, that the President should have imposed sanction.
She explained that Republic Act 9710 or Magna Carta of Women, signed into law by the President last August 14, 2009 states that it is the State's duty to ensure that the rights of women are upheld.
Section 5 of the new law, HB 4273, reads: The State shall ensure that all women shall be protected from all forms of violence as provided for in existing laws. Agencies of government shall give priority to the defense and protection to women against gender-based offenses and help women attain justice and healing. Towards this end, measures to prosecute and reform offenders shall likewise be pursued.
ADVERTISEMENT - CONTINUE READING BELOW
This means, Rep. Masa said, that Arroyo should have taken action beyond mere advice.
Rep. Masa added that Singson cannot use as defense Article 247 (Death or physical injuries inflicted under exceptional circumstances) of the Revised Penal Code because it does not directly apply to his case.
The Article states: Any legally married person who having surprised his spouse in the act of committing sexual intercourse with another person... if he shall inflict upon them physical injuries of any other kind, he shall be exempt from punishment.
"Not true, kasi yung sinasabi ng provision na yun, puwede siya [Singson] na i-absuwelto kung married sila. E, hindi sila married!" Masa argued.
The solon also deplored columnist Ramon Tulfo's statement that Singson's actions should be interpreted in terms of today's "macho society," which accepts philandering men, and frowns upon women doing the same thing.
RESPECTING WOMEN. Dr. Rosalinda P. Ofreneo, faculty member of the Department of Women and Development Studies, University of the Philippines, Diliman, said the "macho society" is still very much evident today.
"A macho society means that the man has the power over the woman... Society is generally patriarchal, meaning that men are on top, dominant in the fields of politics, culture, jobs, hierarchy in government, even in the family," Ofreneo told PEP in a personal interview last night.
But she said this situation does not mean Singson has the right to wield that power.
"Walang right, it's just a problem of tradition, and custom," she explained. "Society should intervene and rescue the women."
The only remedy for the situation, she said, is the clear legislation and implementation of laws for women's rights.
"That's what the law seeks to remedy. That will only work if there's consciousness-raising, especially among men, amending men against violence, e," she said.
Ofreneo asserted that the President should use the newly-passed Magna Carta of Women on Singson to reinforce her approval of it.
ADVERTISEMENT - CONTINUE READING BELOW
"Even the law cannot save Chavit. He has to be accountable for what he did!" Prof. Ofreneo asserted.