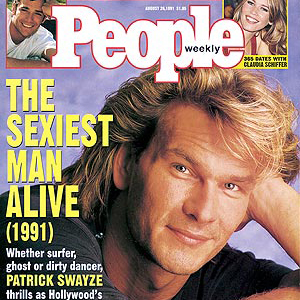 ---
Hollywood actor Patrick Swayze died of pancreatic cancer yesterday evening, September 14.
Swayze was best known for his roles as the sexy rebel Johnny Castle in Dirty Dancing (1987) and loving partner Sam Wheat to Demi Moore's Molly Jensen in the worldwide blockbuster Ghost (1990). He was diagnosed with the disease in March of 2008. Despite having cancer, he continued working, finishing 13 episodes of the TV drama The Beast.
He refused to take painkillers as this, he said, would have taken the edge off his performances.
Fans were saddened when they learned about Patrick's disease and are now grieving his loss.
His publicist Annett Wolf said Patrick died peacefully with his family by his side in Los Angeles.
Patrick started his career in Hollywood in the roller-skate disco movie Skatetown USA (1979). He did a few TV stints before landing a role in Francis Ford Coppola's movie adaptation of the S.E. Hinton novel The Outsiders (1983). The movie starred Patrick with fellow up-and-comers Rob Lowe, Tom Cruise, Matt Dillon, Ralph Macchio, Emilio Estevez and Diane Lane, all of whom achieved leading-role status in Hollywood.
But it was his misunderstood bad-boy role in Dirty Dancing that really jumpstarted Patrick's movie career. This coming-of-age romance paired Patrick with young actress Jennifer Grey. She plays an idealistic young woman on vacation with her family in a Catskills resort, who starts a romance with the resort's sexy and much-older dance instructor Swazye. The film made great use of both his grace on his feet and his muscular physique. (watch video)
In his other important film Ghost, Swayze was unforgettable in his pot-moulding scene with Demi Moore, wherein the couple was sensually shot with The Righteous Brothers' Unchained Melody playing on the background. (watch video)
He was also hailed "The Sexiest Man Alive" by People Magazine in 1991.