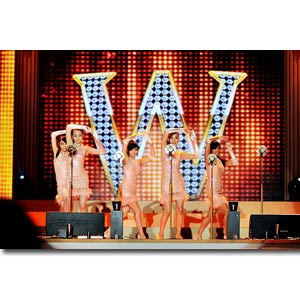 ---
Pinoys can finally meet their favorite Korean stars in November—but only if they demand it.
To celebrate the 60th anniversary of the Philippines-Republic of Korea Diplomatic Relations, the Korean embassy is holding a cultural festival November this year. The festival will also cap year 2009 as the "Philippines-Republic of Korea Friendship Year,"as stated by Proclamation No. 14298 signed by Pres. Gloria Macapagal-Arroyo last May 2008.
PEP had a chance to talk to Kiejoo Kim, Counselor for the Korean Embassy in the Philippines, last Thursday, Sept. 17, at Shangri-La Plaza Cinema 3 during the press screening for the upcoming Korean Film Festival in Shangri-La Plaza Cinema 3.
Kim said his Embassy is planning to bring Korean performers to the country.
"We are looking forward to a lot of events in November," he said. "There will be a cultural event, and we are going to invite cultural performers from Korea so that we can share our cultural legacy."
ADVERTISEMENT - CONTINUE READING BELOW
PEP asked Kim if the Korean Embassy is planning to include among the cultural performers the Korean pop (K-pop) stars currently making waves in the Philippine music scene today.
"I'm not in a position to guarantee who we can bring to the RP," Kim answered. "We will try our very utmost to bring our well-renowned Korean stars so that we can really enjoy together with the Filipino people."
But Kim quickly added that the plan can push through easily if Pinoys loudly voice out their demand, using surveys, blogs, signature drives, and other platforms.
"I think if there is a certain, a great number of audience, I think that should be a very convincing rationale that we really have to bring them here," Kim affirmed.
Besides, Kim said, the cultural festival will be borne out of "gratitude" felt by the Koreans to the Filipinos, who helped them achieve democracy and freedom in their country 54 years ago.
ADVERTISEMENT - CONTINUE READING BELOW
In 1950, the Philippines sent 7,000 troops to the East Asian country to fight in the Korean war, which ended five years later. It was fought between the Republic of Korea (South) and the Democratic People's Republic of Korea (North).
"They sacrificed very much for a noble cause of defending democracy and freedom, and that's really why we feel so grateful to the Filipino people. That's the backdrop of the very sound relations between the countries," he said.
Kim added that this "sound" relationship made way for the two countries to forge close ties and enhance cooperation in other fields, like education.
Kim explained that similarities between the two cultures paved way for Koreans to migrate to the Philippines. This is why Pinoys enjoy Korean pop culture, he added.
"I think it's because of cultural affinity, and the way we feel grateful for the Filipino people. I personally feel quite amazed how the Filipino people enjoy and appreciate telenovela from Korea. That is so impressive, we really appreciate that you enjoy the Korean culture so much."
ADVERTISEMENT - CONTINUE READING BELOW
Examples of drama series that became hits in the Philippines are Autumn In My Heart, Jewel In the Palace, Full House, Stairway to Heaven, and Lovers In Paris—the last two currently being adapted by GMA-7 and ABS-CBN, respectively, as local versions.
And even if Korean songs are not played over the Philippine radio, legions of Pinoy fans are still using the Internet to enjoy music from K-pop stars like Wonder Girls, Rain, SNSD, Super Junior, DBSK, Se7en, BoA, TVXQ, 2PM, Big Bang and Sandara Park's 2ne1.
FILM FESTIVAL. To celebrate the "Philippines-Republic of Korea Friendship Year," the Korean Embassy is holding a week-long Korean Film Festival, featuring seven award-winning films from the East Asian country.
Leading the list of films to be shown is Oldboy, winner of the Grand Prix during the 2004 Cannes International Film Festival. Directed by Park Chan-wook, it tells a twisted story of murderous revenge and redemption.
ADVERTISEMENT - CONTINUE READING BELOW
The other films are Barking Dogs Never Bite (comedy), Sa-Kwa (romance), Beyond the Years (drama), The Show Must Go On (drama), Driving My Wife's Lover (drama), and Forbidden Quest (period piece).
Kim said the films were chosen according to how they could impart the Korean way of life to Filipino viewers.
"The films can show the life of the people, the nation, the country to other countries in a very condensed way. I think they are quite representative with the life of Korea," he said.
But can Pinoys enjoy the films too?
"As you are enjoying Koreanovela, there is 100 percent sure reason that you can enjoy Korean films," Kim said.
The Korean Film Festival will run from Sept. 23 to 29 at Shangri-La Plaza Cineplex Cinema 3.