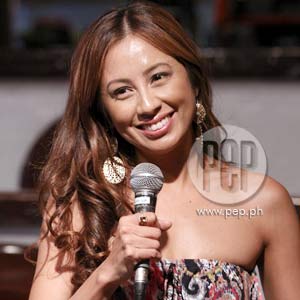 ---
For those who are not yet familiar with her, Stephanie Reese can be considered a source of pride for Filipinos because of her achievements in the world of theater and music.

In fact, she will make history when she becomes the third Filipina to perform in Carnegie Hall in New York this November. The Fil-Am singer follows in the footsteps of Regine Velasquez and Lea Salonga, who both performed in the famed concert venue.

But before she performs in front of international audiences, she will hold a repeat performance of her theatrical solo concert titled I Am Stephanie Reese. This event has been moved to next Monday, October 12, at the Music Museum in Greenhills. The producers decided to move the date because of the looming threat of typhoon Pepeng.

Instead of donating the proceeds of her concert to Gawad Kalinga, she will give them to the victims of typhoon Ondoy.

Stephanie was cast in the lead role of Kim in the German production of Miss Saigon. She also played Esmeralda in the Disney production of the Hunchback of Notre Dame and she was cast as Princess Tuptim for The King and I, which was staged in London's West End. She then returned to the United States and wrote, directed and starred in her autobiographical one-woman show titled The Journey.

She also wrote and directed a musical Christmas show, The Gifts, that featured her and children of different ages and backgrounds. It has now been produced in three cities including Seattle, Virginia Beach and in Los Angeles for the Make A Wish Foundation.

She has had the chance to perform with renowned singers such as Barbra Streisand, Bette Midler and Sarah Brightman. For her outstanding performances, Stephanie was dubbed as "The Standing Ovation Queen."

"I've been singing since I was a little girl, since I was about maybe, four years old. My mom said that crying was singing for you," quipped Stephanie whose mother is a Filipina and her father, an American.

"Neither them are singers but they do have love of music. And my lolo and my lola love music and they always have music playing at the house and my lola used to sing to me everyday."

It's been her fourth trip to the Philippines for the past three and a half years. STAGES has been managing her career in the Philippines.

"I go back and forth and I've fallen in love in the Philippines."

Stephanie has been very vocal about her plan to stay longer in the Philippines and be able to establish a name here.

"Yeah, very much! I just signed in STAGES and Carlo Orosa, so, I hope that this is the beginning of wonderful career here. That's my dream!"

PEP (Philippine Entertainment Portal) then asked Stephanie why she wants to establish herself in the Philippine music scene, unlike other Filipinos who dream of having the kind of career that she has in the U.S. and even in Europe.

"You know, I have an international career and I've been very blessed with an international career. But there's something that when you are a Filipino- American, you're longing for your roots, so much! And I've found my roots here and I've found my higher purpose for my singing here in the Philippines."

Stephanie confessed that singing and performing have always been her passion. She is also into writing and directing shows.

"I write songs and I wrote a one-woman show and I direct my own show. I also directed a key production of Annie for children and also, I worked with children with HIV in the States."

Being a philanthropist is one title that we can add to her long list of professions. When did she start becoming involved in charity work?

"Yes, I think it started...when I started doing stuff with Rise n' Shine, which is a camp for children with HIV or AIDS. And then from that, I started volunteering, doing things for the hospitals, retirement homes, nursing homes and then from there, it didn't take long before I ended up doing benefit acts, meeting with Gawad Kalinga and becoming a very strong and dedicated Gawad Kalinga advocate."

Stephanie revealed that it was GK that introduced her to the Philippines. In fact, she's currently building a village for 30 families and she continuously holds charitable concerts to raise funds for the organization.

"And it was really Gawad Kalinga that made me learn my roots that's why I'm really indebted to them."

Stephanie smiled when asked what was the difference of performing abroad and performing in front of Filipino audience.

"The Filipino audience, I would say, is more critical. They're the hardest audience actually to perform in front of. Because you have so many amazing talents here so, I think you have to be twice amazing to make people really love you here. But abroad, maybe because in the States some of my stature [is in] singing opera, people are very encouraging, they are very easily [pleased].

"You know, when you are artist in the States, there are a lot of supports around you from different groups and it's a very large country. But here, they are very meticulous about what they like. I'm sure you know."

Among the Filipino artists, Stephanie was able to sing with Martin Nievera in the United States. And she admitted that she likes Lani Misalucha but she remains a huge fan of Lea Salonga. She even declared: "She has been my idol since forever!"

How did Stephanie feel when she was able to follow Lea's footsteps in Miss Saigon?

"Oh gosh, I feel it is an honor and a blessing. I mean, I sleep with a Miss Saigon album under my pillow and I had Miss Saigon t-shirt, everything. And all the things that she's done is really an honor, she paved the way for all of us."

To buy tickets to I Am Stephanie Reese, just call 721-6726, 0917-8861960 or STAGES in Makati City at 818-1111 loc. 225.
ADVERTISEMENT - CONTINUE READING BELOW