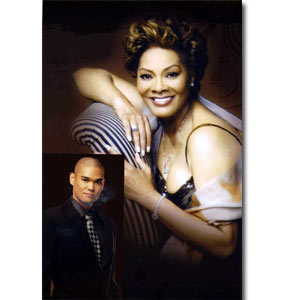 ---
Legendary American singer Dionne Warwick arrived in Manila earlier this morning, October 1, amidst the threat of typhoon Pepeng gaining strength overnight and making landfall landfall on Saturday, as announced by weather bureau PAGASA.
Nevertheless, the show will certainly go on for the multi-awarded and chart-topping singer.
Dionne Warwick, 69, will stage a concert tomorrow evening, October 2, at the Araneta Coliseum in Cubao, Quezon City with local R&B artist Jay-R as special guest.
"I'm happy to be back in the Philippines," Dionne told the local media during a press conference held at the Crowne Plaza hotel in Ortigas Center, Quezon City.
She added, "As I said earlier, the Philippines has been very, very kind to me, very supportive of my career."
With the entire country still reeling from the devastating effects of the recent typhoon Ondoy, Warwick said she hopes to at least soothe the hearts and minds of the Filipinos even for a single night through her music.
"At this time of crisis, I certainly hope to bring a little bit of joy to you through my music. I hope that it would somehow ease some of the pain that we've all been going through."
Proceeds of the concert will be donated to the typhoon victims. Unknown to many, Dionne is also a humanitarian having served as United Nations Global Ambassador for the Food and Agricultural Organization. She also continues to work tirelessly with various organizations dedicated to empowering and inspiring others.
For Warwick, whose next stop will be in Hong Kong after the Manila engagement, it is only appropriate to share with those who are in need of aid and support at these trying times.
"I think it's absolutely the way it should be," said Dionne resolutely, "that the concert is going to be dedicated to the victims and, hopefully, whatever it is that can still be given would be of service to others."
ADVERTISEMENT - CONTINUE READING BELOW
FOUR DECADES OF HITS. Billboard magazine hailed Warwick next to Aretha Franklin as the female singer with the most chart hits during the rock era covering 1955 to 1999. Warwick has accumulated a staggering total of 56 hit singles in the Billboard Hot 100 in the course of her career spanning four decades.
Born on December 12, 1940 in New Jersey, U.S.A., Dionne popularized the classic hits "Don't Make Me Over," "Anyone Who Had a Heart," "Walk on By," "You'll Never Get to Heaven (If You Break My Heart)," "Reach Out For Me," "I Just Don't Know What To Do With Myself," "Promises, Promises," "I'll Never Fall In Love Again," "A House Is Not A Home," "Always Something There To Remind Me," "I'll Never Love This Way Again," "Déjà Vu," and many others.
In 1985, Dionne joined longtime friends Gladys Knight, Stevie Wonder and Elton John in recording the song "That's What Friends Are For." That same year, Dionne joined a handful of artists in recording the charity single, "We Are The World." This song was written by the late King of Pop Michael Jackson and Lionel Richie.
Filipinos should brace themselves to hear the hits and the familiar well-loved tunes, said Dionne.
What's her secret in maintaining the quality of her voice despite the years?
Dionne smiled: "The only thing that you can do to keep your voice is rest and it's something no one, not anyone of us in the entertainment industry ever gets enough of."