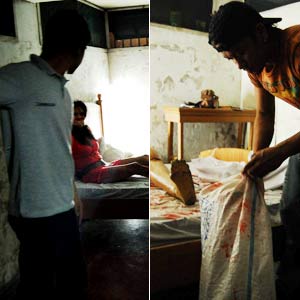 ---
Brillante Mendoza's Kinatay once again earned for him a Best Director award in the 42nd Sitges International Film Festival held recently in Spain. The honor comes on the heels of his Best Director plum at the Cannes Film Festival in France.
The movie, which has the international title The Execution of P, also won the Best Original Soundtrack for Teresa Barrozo.
Kinatay is about a criminology student (Coco Martin) who becomes a witness to the brutal rape and murder of a prostitute (Maria Isabel Lopez).
Also known as the Sitges International Fantastic Film Festival of Catalonia, organizers of the filmfest described Direk Brillante's work as follows: "an uncomfortable, abrasive film camouflaged with a stifling ultra-realism where the camera captures, in first person, the story of a kidnapping that will make even the bravest' hair stand on end."
Aside from Kinatay, Raya Martin's period film Independencia was also part of this film festival. But it was part of the SO Noves visions - Fiction section while Kinatay was part of the main competition.
ADVERTISEMENT - CONTINUE READING BELOW
Sitges described Raya Martin as "the prodigal son of Filipino cinema. [He] has endowed this film gem with a beautiful black and white and a nostalgic [sentiment] similar to My Winnipeg by Guy Maddin. Independencia delves deeply into Filipino history and does it through textures characteristic of period cinema. An aesthetic and moving delight. Caviar for film lovers."
This Thursday, October 15, Brillante's latest obra titled Lola will be the opening film of the 2009 Cinemanila International Film Festival. The Anita Linda-starrer will kick off the 11th edition of the filmfest that will run from October 15-25 in Taguig City. Lola was recently chosen as the surprise entry to the 66th edition of the Venice Film Festival.