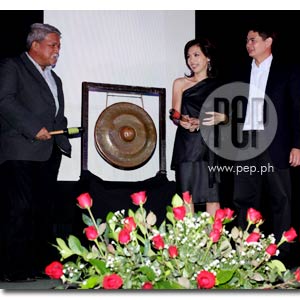 ---
Giant bulols were set up at Market! Market! in Taguig City to welcome guests, members of the press and foreign guests who attended the opening of Cinemanila International Film Festival last night, October 15.
The Ifugao rice god is considered a deity whose presence ensures a good harvest. These bulols have served as the symbol of Cinemanila since it started out eleven years ago.
Among those who graced the red-carpet event were acclaimed directors who have brought honor to the Philippines through their body of work. Brillante "Dante" Mendoza was present to watch the Philippine premiere of his film Lola, which was the opening film of the 10-day film festival.
Raymond Red, the director of the closing film Himpapawid, also attended the opening night before he left for the country today, Oct. 16, to attend the 22nd Tokyo International Film Festival. The director of Himpapawid (international title: Manila Skies) left with lead actor John Arcilla. It will be screened on October 25 to mark the end of Cinemanila 2009.
ADVERTISEMENT - CONTINUE READING BELOW
Kimmy Dora star Eugene Domingo was present to show her support for the annual filmfest. She is part of Armando "Bing" Lao's directorial debut titled Biyaheng Lupa. In this road trip movie set in a bus, she is cast as an OFW who brings her child to the province. Other cast members include Angel Aquino, Jaclyn Jose, and Coco Martin. It will have its world premiere on October 19 at 8 p.m.
Other guests included Susan Africa, one of the stars of Biyaheng Lupa; Ketchup Eusebio, who plays a jailed suspect in Lola; Ronnie Lazaro, one of the characters in Himpapawid; Marife Necesito, who plays a nanny in the Gael Garcia-starrer Mammoth and Maria Isabel Lopez, who is part of Brillante's film Kinatay.
Giselle Sanchez served as host of the brief program.
Anita Linda, the lead actress of Lola, led the invocation and she asked God to bless our countrymen who were adversely affected by the floods.
ADVERTISEMENT - CONTINUE READING BELOW
Cinemanila founding festival director Amable "Tikoy" Aguiluz VI revealed that they thought about postponing the event in light of the recent tragedies brought about by the typhoons. However, they decided to push through with Cinemanila and offer a tribute called Project Tropical Storm.
"We are not insensitive to what happened to all of us," says Direk Tikoy. "In fact, the recent events proved to all of us that filmmakers are not ivory tower artists. We have seen that filmmakers in the tradition of [Lino] Brocka have become citizens of the Philippines. We have seen how they reacted to the recent tragedy and helped out those who needed help and continued making films. We will show a compilation of moving images culled from Facebook and contributed by filmmakers through Project Tropical Storm. We will show these in an outdoor screening on the last day of the festival."
The ethnic rock group Pinikikan performed their unique brand of music while a group of rappers performed an original composition regarding Cinemanila.
ADVERTISEMENT - CONTINUE READING BELOW
Taguig mayor Freddie Tinga and his wife Kaye assisted Direk Tikoy in ringing the gong, which officially signaled the beginning of Cinemanila 2009.
This year's edition, which has the theme "Moving Forward with Moving Images," offers 100 films for moviegoers until October 25, 2009. The films will be screened at Market! Market! and the U-view screening room of Fully Booked in Bonifacio High Street.
American screenwriter Paul Schrader is also scheduled to give a master class on scriptwriting on October 20 (3 pm) at Cinema 4 in Market! Market! Taguig. A special screening of his new release, Adam Resurrected, follows afterwards.
Organizers have yet to confirm the arrival of Mexican actor Diego Luna (Y Tu Mama Tambien, Dirty Dancing 2, Milk) in the country.
For this year's edition, there are six entries in Digital Lokal: Anacbanua, touted to be the first Pangasinense film about a poet's return to his hometown in Pangasinan; 69 ½, about a filmmaker who accepts an offer to make a pornographic film; Ang Beerhouse, a love story about a man who falls for a girl working in The Red Light Beerhouse; Biyaheng Lupa, a road trip movie; Dolores, which tackles the plight of a girl who is sexually abused by her family members; and Iliw, a love story set during World War II.
ADVERTISEMENT - CONTINUE READING BELOW
The awarding ceremony of Cinemanila will take place on October 23.
CLICK HERE to read more about the Digital Lokal entries and their screening schedules.