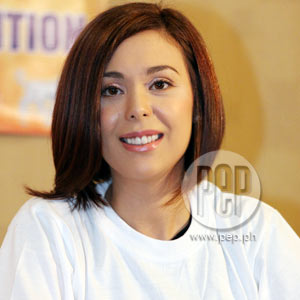 ---
Nancy Jane (formerly known as Nancy Castiglione) supports the Psoriasis Philippines' Hug Me campaign, which was formally launched yesterday, October 29, at the Imperial Palace Suites in Quezon City.
Psoriasis is a chronic, non-contagious disease that affects the skin and joints. The disorder varies in severity from minor localized patches to complete body coverage. More than its actual inconvenience and health risks, psoriasis affects a person's social and emotional disposition.
The campaign aims to raise awareness that psoriasis is not a contagious disease. Through education and information, concerned organizations hope to eradicate or at least lessen discrimination against those who are afflicted with the skin disorder.
Nancy is free of the disease but she has seen and known a few people suffering from psoriasis since high school.
"I have a cousin, whom I'm very close to back in Canada, who has psoriasis. So when I was asked by my fiancé's co-worker and was told about the organization, I had no problem attending because I actually know a lot about psoriasis and I think that it is important that people are educated and aware. Kasi, di ba, kawawa naman 'yong mga bata and mga adults din kasi umiiwas 'yong mga tao sa kanila because hindi nila alam na hindi siya contagious," she told members of the entertainment press.
ADVERTISEMENT - CONTINUE READING BELOW
A DIFFERENT NANCY. Nancy's desire to join a noble advocacy was also brought by the change in her lifestyle and outlook ever since she became a mother to twin boys, courtesy of her non-showbiz boyfriend who reportedly is the son of a hotel magnate from the South.
She described motherhood as "exciting" and the "biggest and craziest role I've ever taken in my entire life."
When she got pregnant, Nancy was in the midst of reinventing her showbiz image from an actress to a singer-performer. She gave birth in Canada last March 25.
"Mahirap, especially 'yong four months na nasa Canada kami, lalo na kasi walang helper," revealed Nancy. She also mentioned the possibility of her getting married in the immediate future.
"It was really, really, difficult. Pero it was nice at the same time because me and my fiancé, we learned a lot about each other... He's very hands-on in taking care of the babies."
ADVERTISEMENT - CONTINUE READING BELOW
Nancy returned to the country in her desire to resume her stalled career. It helps that her boyfriend understands her need to continue working as long as "the baby will always come first, we'll discuss things together and we're pretty good with that naman."
Being a mother taught Nancy the value of selflessness and putting her personal needs second only to her children's welfare.
"Dati ang iniisip ko lang sarili ko pero ngayon hindi na puwede," said Nancy, and then she beamed, "Baby first!"
CLICK HERE to watch her video interview